The year 2020 can go fuck itself and the horse it rode in on! And if that horse was 2019, it can go fuck itself too!
Every year (2016, 2017, 2018, 2019), I review my spreadsheets and journal entries of things I've done all year and pull out the good stuff.
Fun Fact: this post is exactly 2,020 words.
Current Brands of 2020
I downsized again this year and left with only three brands.
1. Swim University
This is a site about pools and spas I started in 2006. It's my main source of income. It makes money with affiliate links and digital products.
This year, the site made more money from digital products than affiliate commissions. In 2019, 70% of the revenue came from Amazon. This year, only 35% – 40%.
2020 traffic increased by 6.25% compared to 2019 – from 4,756,472 to 5,053,869 visitors. However, the biggest improvement was digital product revenue.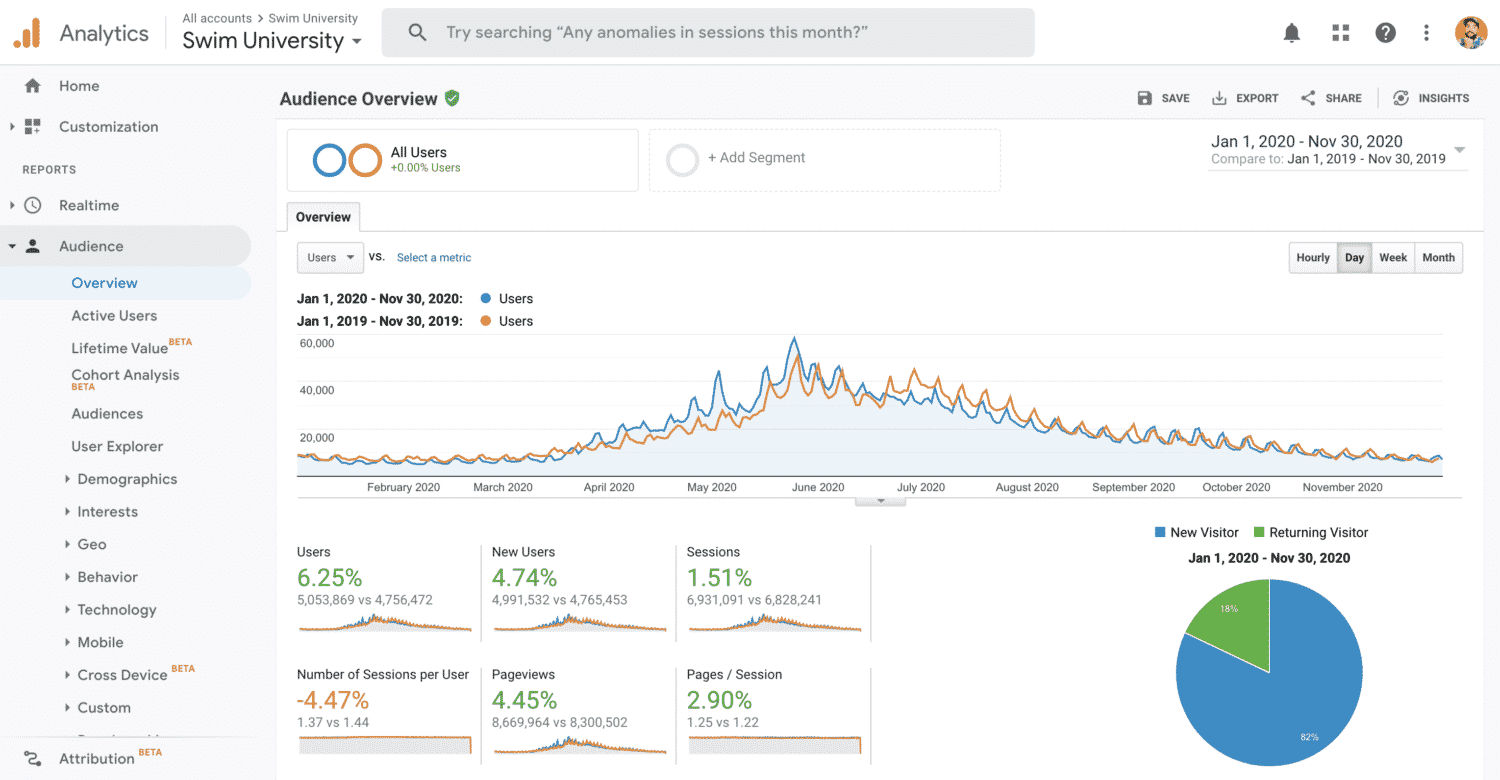 Affiliate Revenue: $162,730 ($283,052 in 2019)
Digital Product Revenue: $235,962 ($82,038 in 2019)
YouTube Ad Revenue: $34,662 ($11,373 in 2019)
Total: $433,355 (18.6% increase)
Brew Cabin
This is a site about homebrewing started in January 2017. Only one new post was added this year and it ranked #1 in less than a week!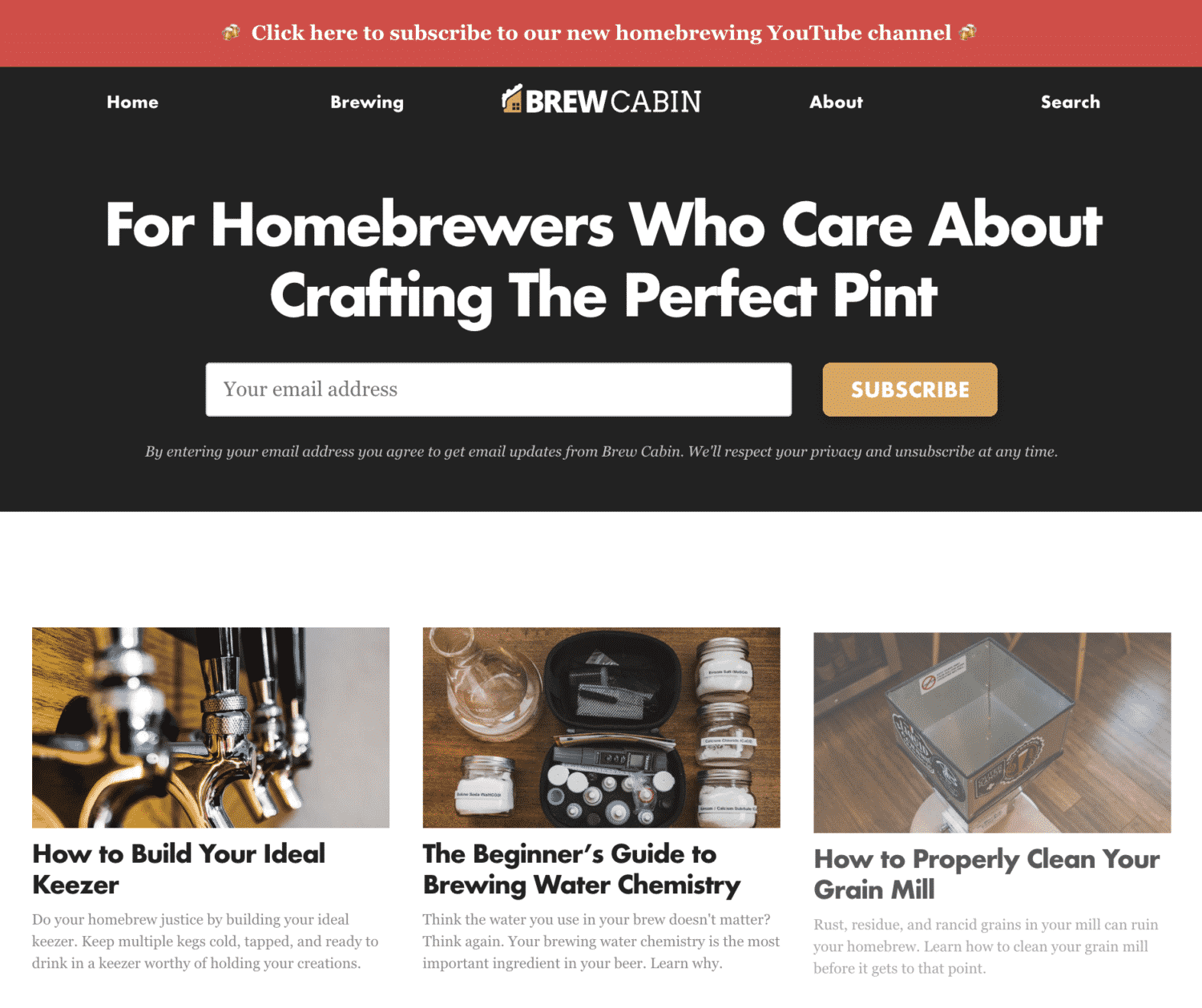 2020 traffic increased by 40.94% compared to 2019 – from 311,515 to 439,052 visitors.
This site only makes money with affiliate marketing. The goal for early 2021 is to create my first homebrewing video course to sell.
Affiliate Revenue: $10,709 ($9,221 in 2019)
Money Lab
Hey, you're on the site right now! Started in March of 2016, it makes money with some affiliate commissions and mostly digital product sales.
Here's a current list of products we sell.
2020 traffic increased by 87.83% compared to 2019 – from 34,822 to 65,406 visitors.
Affiliate Revenue: $2,746 ($2,898 in 2019)
Digital Product Revenue: $59,944 ($25,054 in 2019)
Total: $62,768 (124.5% Increase)
BTW: All my websites look the same because I use my own WordPress theme: Carbonate. It's lightweight, fast, and clean.
[pro]
Lasso
For most of the year, I worked on Lasso with Andrew Fiebert. It's a WordPress plugin for managing links. You can read about the project here and here.
But in early October, I decided to stop working on it. I was stretched too thin. And Lasso demanded more of my time than any other project.
I still love Lasso. I'm proud of what we built. Can't wait to see what Andrew does with Lasso in the future.
The Best Challenges and Experiments of 2020
Last year, completed five challenges/experiments. This year, I did six.
1. The Money-Making Podcast Experiment
The goal was to find out if a niche podcast in a category with low competition gain listeners, sell more products, and increase revenue?
I learned that Apple is a terrible discovery engine for podcasts. And you need an existing audience (or outside promotion) to have a successful show.
The experiment contains a detailed blueprint to build a professional podcast. If you're interested in starting one despite my findings, read the experiment here.
2. The Pinterest Avalanche Challenge
The challenge was to create 100+ images to increase traffic, affiliate link clicks, and product sales. 
In the end, I needed more time and dedication. If you're interested in a Pinterest strategy, read here.
3. Extreme Makeover: SaaS Edition
I spent time learning software design and it inspired me to rebrand Lasso. The makeover took about five months to complete.
It's a detailed post documenting the design overhaul of a software product and sales page., including links to my inspirations and education. Read here.
4. Operation: Fuck Amazon
On April 14th, in the midst of a pandemic, Amazon cut my affiliate commissions in half. So I went on a rampage. Sort of.
My mission was to earn more revenue through non-affiliate sources and that's exactly what I did! Read the mission here.
5. The Great Website Optimization Experiment 2: Electric Boogaloo
This was a follow-up to the Fuck Amazon post to increase product sales at Swim University.
I outlined out I gathered existing data to set milestones, created a list of tasks, and measured the results. In the end, some things worked and some didn't. Read here.
6. Redesigning My Email Marketing Funnels With ActiveCampaign
This is a follow-up to my post titled, "Redesigning My Email Marketing Funnels with ConvertKit."
I switched from ConvertKit to ActiveCampaign for two reasons: loopable and seasonal automations, and to save money. While I still love ConvertKit (aff link), I'm happy with my new automations and strategy with ActiveCampaign (aff link).
Read the full experiment here.
The Best Article of 2020
I don't write a lot of articles, but when I do, they're big and filled with hairy details about my business. Last year I wrote two. This year, I only wrote one.
The Lifestyle Business Manifesto
This is the most important article I've ever written. It includes a lot of heavy topics but ends on a positive note.
It's about my journey starting with my brother's death and all the following events that changed my life forever and for the better. Read the full post here.
The Best Things That Happened in 2020
Let's start with the good shit this time.
New Products Were Born and Revenue Increased
In 2020, across all brands, I launched four new products:
YouTube For Bloggers
PageSpeed for Bloggers
The Pool Winterization Video Course
The Money-Saving Guide for Pool Owners
My goal in 2021 will be to find ways to consistently promote these products and continue to increase revenue.
Faster Page Speed Across All Brands
I wanted to use my theme and show people how to make a site insanely fast. So I built a course all about how to increase the speed of a WordPress site.
When the pandemic hit and Google algorithms updated, my sites gained traffic. I attribute this to the speed and design of my sites.
YouTube Success with Swim University
This past year, we earned $77,394.85 from YouTube alone!
On March 24th, Steph took over the YouTube channel and published an animated video about getting rid of ducks in a pool. Since then, the channel exploded!
She created a tight publishing process from scripting to uploading and saw unexpected SEO and revenue growth. So we created YouTube for Bloggers.
Brew Cabin Grew Despite No New Content. AGAIN!
When I sold Roasty, I got emails informing me how explosive Roasty's growth had been after I sold it. They wanted to know how the new owner did it. So I asked.
He said I built an awesome site. And his efforts were made easier because of it. And this is true for all the sites I've built. Why am I so confident?
For the second year in a row,  not a single piece of new content was added to Brew Cabin. And despite no "fresh content," the site grew by roughly 41% in traffic.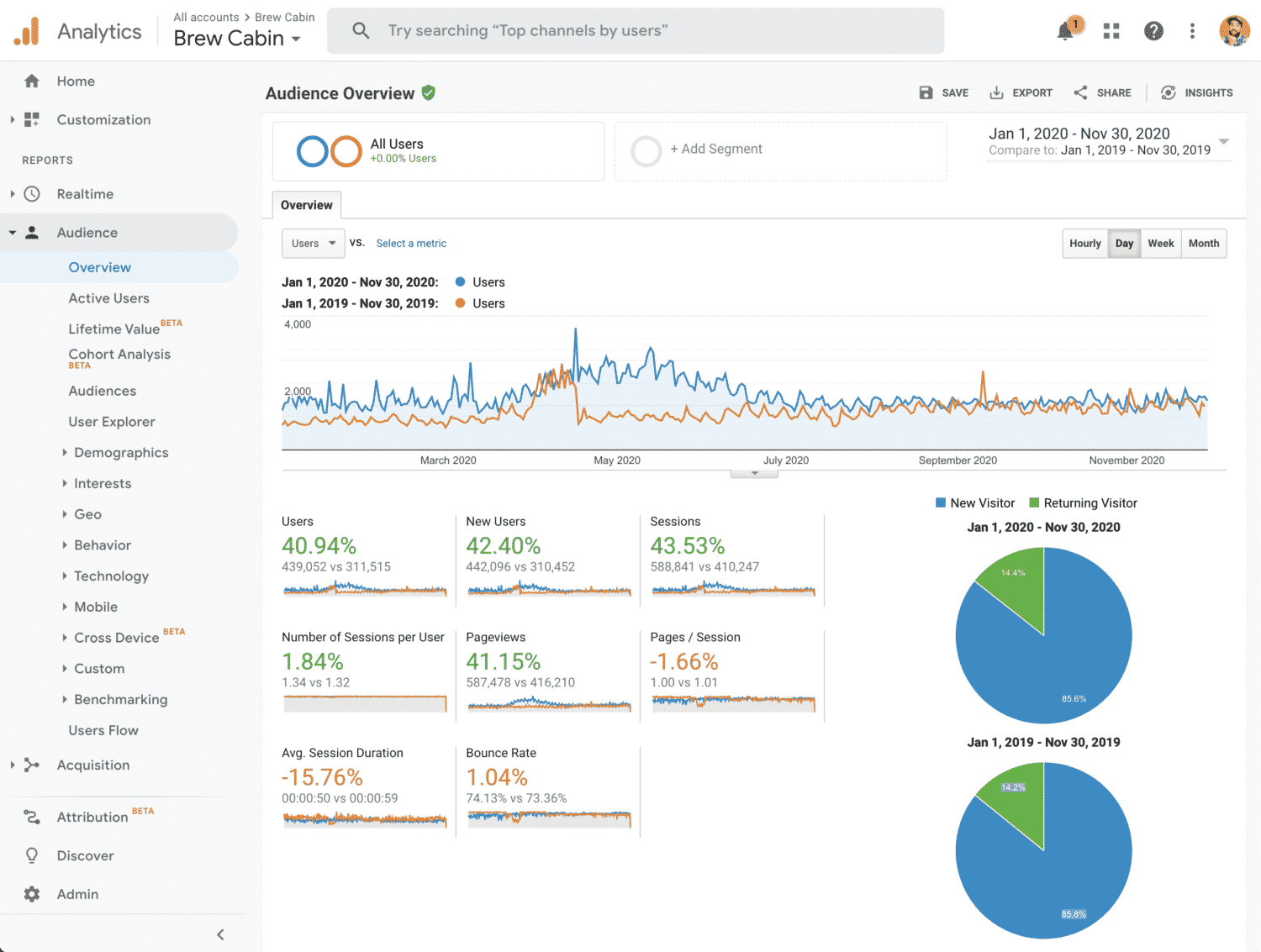 Everything I know about building an authority site like this is available in my SEO for Bloggers video course inside Money Lab Pro.
The Not-So-Great Things That Happened in 2020
Let's start with the obvious.
The Motherfucking Global Pandemic
In February, I got sick. Worst "flu" I ever had. And it happened at the beginning of the COVID-19 pandemic. I believe I had it but wasn't tested.
Thankfully, right before I got sick, my mom flew into town. I haven't seen my parents since. Horrible timing since we've had so many deaths in our family recently.
This led to the Amazon thing.
Affiliate Revenue Made a Sharp Decline
I've mentioned multiple times how Amazon fucked me (here and here). I lost more than half of my affiliate revenue this year.
I feel really bad for anyone out there who made their money with Amazon. I would love to know how others overcame this hurdle.
But my old saying hit home again:
All it takes is ONE board meeting at that company to completely destroy your business.
No More Podcasts: Money Lab, LMM, SwimU
The last episode of Listen Money Matters was published May 10th, 2020. Andrew's wife and I have been advocating for the podcast to end.
We wanted the podcast to be great, which meant putting in a lot of work. But I didn't want to do it and Andrew didn't have time. Plus, ad revenue dropped significantly.
In the end, it wasn't worth producing and I put Money Lab on the chopping block too for the same reasons.
Facebook Marketing Fail
After the launch of Lasso 2.0 (I think around April), we dabbled in Facebook ads. At the same time, I did the same for Swim University products.
This is like my 40th attempt with Facebook ads and I've failed every time. Even when hiring someone else to do it. It's like my brands are Facebook adverse or something.
I hate Facebook as a platform and company. Yet, I keep trying to get in bed with them. I have to believe this will be the last time I run Facebook ads. I have to.
Michelle Leaving
In June, Michelle (Swim University's Editor-in-Chief) informed me she was leaving. It was a bittersweet moment.
I was grateful for all the work and support she provided for over three years. But could I find someone to replace her? Or change directions with my business?
Spoiler alert: it was the latter. Michelle was leaving to pursue her own business and it got me thinking about how I want to run my business in the future.
Leaving Lasso
During my move, I spent eight days without opening my computer. And I felt guilty about it. Lasso was a partnership and I wasn't pulling my weight.
I had no desire to log into Intercom or code anything new. Andrew sensed that and asked if I wanted to be bought out of Lasso.
At first, hell no! I worked too fucking hard and wasn't about to just give up. But after a few weeks of thinking about it, I agreed to leave the project.
I wish Andrew the best of luck. There is no ill will. I continue to use Lasso for all my brands. And I will always help in any way I can in the future.
Last-Minute Fun Facts About 2020
Bought a House and Built a Brewery: you can read about the entire thing here.
No More conferences, No More Books: This is on purpose. I no longer need inspiration. I know what I'm doing and I need more time to do it.
What's The Plan For 2021?
I'm focusing all my time and attention on growing my brands equally by producing great content.
Last year, my goal was to hit $500,000 in annual revenue. I didn't get there. But I did this year. In 2021, I would be happy to hit the same revenue goal.
Here's a quick list of things I'm thinking about  in 2021:
Creating digital homebrewing courses.
Write one new article a month for each of my sites.
Publishing weekly videos for Swim University and doubling-down on YouTube
Publishing weekly/monthly videos for Brew Cabin and Money Lab.
Thank You
Thank you for enjoying Money Lab over the last five years. I want this to be a haven for authentic information about running an online business.
The best part of running Money Lab is talking to you. Reaching out and keep it coming! I still answer my own emails. Believe it because it's true and I don't lie.
My mantra for next year is:
Relax. Don't worry. And have a homebrew." – Charlie Papazian
Not exactly a business mantra and that's the point. If you haven't yet, I really want to encourage you to read the most important post I ever wrote.
2020 was a shitty year. And for me, 2019 was worse. Despite my east coast pessimism, I remain upbeat and driven to make a better life for myself and those around me.
We may have never met, but trust me when I say this. I love you. Seriously. Thank you from the bottom of my thick Italian heart.
Fuck, I just cried writing that. Carry on!
Matt Giovanisci
I own three authority sites across different niches, including Swim University, Brew Cabin, and Money Lab. They earn a combined total of roughly $1,000,000 a year. I design and code all my sites. Write the words. Film and edit the videos. Produce the podcasts. Illustrate the graphics. And I have a small team that helps too.