If this is your first time here, I recommend reading the about page. You should also check out the original challenge this monthly recurring revenue challenge stems from.
I've been working on a software product for the last six months with Andrew Fiebert. He's the developer (CTO) and I'm the marketer (CMO).
The product is a $49/month premium WordPress plugin that manages affiliate links. It also lets you quickly add affiliate links to posts as either in-text links or product display boxes like this:
My Obvious Choice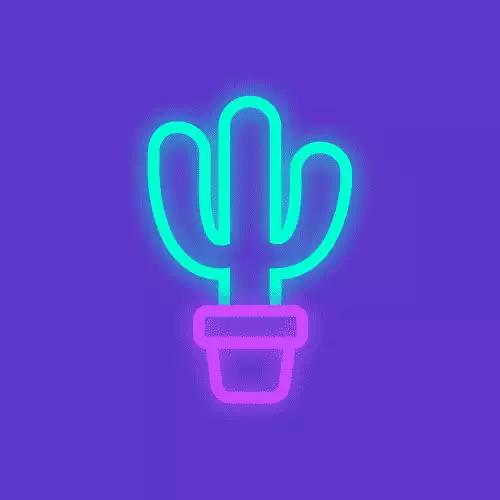 Lasso: The All-In-One WordPress Plugin for Affiliate Marketing
My very own WordPress plugin that lets you add, manage, and display your affiliate links from any program, including Amazon. Increase conversions. Find new affiliate link opportunities. Earn more revenue! Less than 5 minutes to set up.
Start Your Free Trial
Matt Giovanisci (me) earns a commission if you click this link and make a purchase at no additional cost to you.

Lasso is similar to plugins like Pretty Links and Easy Azon but on STERIODS!
The Challenge
Launch LASSO to the public on June 1st, 2019 and reach $15,000 in monthly recurring revenue (MRR) in six months. The deadline to reach that amount will be November 30th, 2019.
Andrew is going to have his life changed. In November, he and his wife are expecting twins. So we want to get a bulk of the work finished before that happens.
Plus, as someone who challenges himself to complete projects in extremely short timeframes, I know a constraint will help. It'll allow us to focus on what's important and utilize our strengths as a competitive advantage.
Once that's complete, the goal is to remove ourselves from the day-to-day operations of running a software company, letting it run with the help of hired hands.
However, Andrew and I must first lay the groundwork to afford these future hires. And we must act fast!
We're starting this post a month early to document the process of building the assets we need before the official launch.
The Plan
Since we have such a short timeframe, We asked ourselves some important questions:
How can we get a lot of customers in the first month?
How can we use our combined strengths to grow insanely fast?
What tactics can we deploy that'll have the quickest and most impactful results?
This is mostly focused on marketing since the product is finished. We've been beta testing with paying customers since March 2018. Bugs have been squashed and new features have been planned.
Andrew will focus his unique skills on improving the software and fixing issues as we onboard new customers.
I'll be using a few of my unique skills to market the fuck outta this thing including podcasting, website development, video production, and writing.
Here are the tactics we came up with:
1. Build The Greatest Product Sales Page of All Time
We believe the most important asset to sell our product is the sales page. Duh.
But we don't have time to slowly build traffic to our sales page from outside sources. So what if the sales page was so good, that people shared it because of how amazing it is?
I once collected 1,600 email addresses in two days from one post that went viral. And I did it again with this page. So this is one of the unique skills that I can use to our advantage.
The plan is to build an interactive sales page that walks you through all the ah-ha moments you can have by using the plugin on your site. It'll also include a bunch of easter eggs that people will continue to find and share.
2. Create Six Ridiculously Epic Guides to The Most Important Online Business Topics
Originally, we planned to rank for a bunch of small keywords. But since we only have six months, this didn't seem like a wise thing to do.
Our goal is to get a lot of eyeballs on our brand in the first month. So that means shifting the tactic from ranking in Google to shareability. Very similar to the product sales page.
Andrew reminded me of an idea I had a while ago about creating a small number of custom-designed pillar posts instead of constantly publishing content forever.
We will create the end-all-be-all of online business content!
How to Build a Website
SEO
Affiliate Marketing
Email Marketing
Podcasting
Video
The goal is making the content so shareable that we get a lot of qualified traffic immediately through social media and word-of-mouth.
As time passes, we hope to rank for the big-ass keywords we target. And if that doesn't happen, we'll surely rank for a bunch of longtail keywords in the pursuit.
This is our "go big or go home" SEO strategy, which I talk about in my SEO for Bloggers course. Yup, plugged that bad boy like a pro! Oh, and I might as well use Lasso to draw serious attention to it, like this:
My Best Course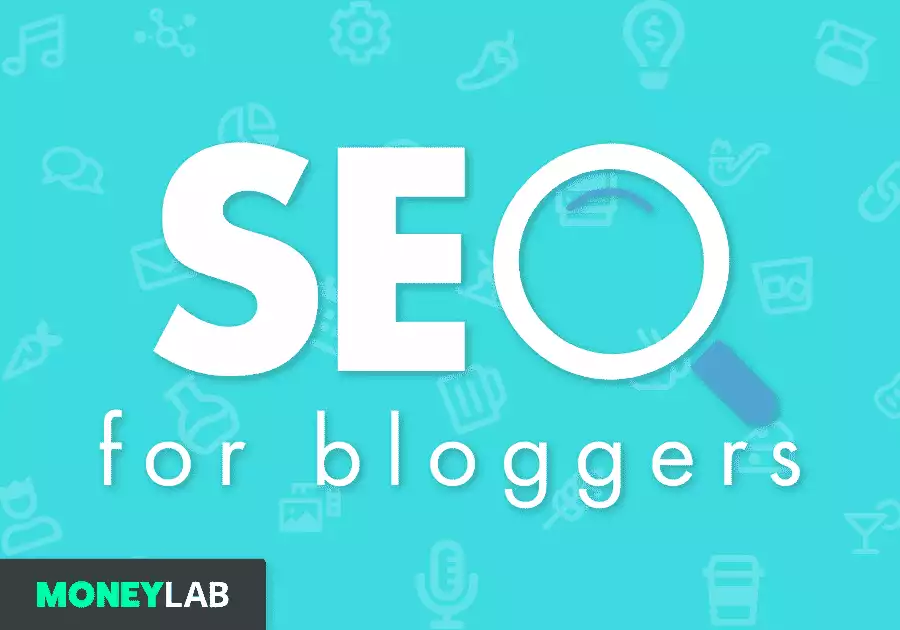 3. A Podcast Roadshow
Andrew kept referring to this idea as a "roadshow" and I liked it! It's essentially getting booked on as many podcasts as possible to talk about Lasso. Podcasting is one of my strengths.
Included in the roadshow plan is an email outreach program. We'll email site owners that list and review related plugins and ask if they'd be kind enough to add Lasso.
We're also starting a lucrative affiliate program for anyone who wants to help promote Lasso. We know this is a killer strategy from apps like ConvertKit and Transistor.FM.
In fact, we recently had Justin Jackson (co-found of Transistor) on the podcast where he mentioned that around 30% of traffic to their landing page was from affiliates.
Oh, and yet another reason to add a Lasso display box in this post! BOOM!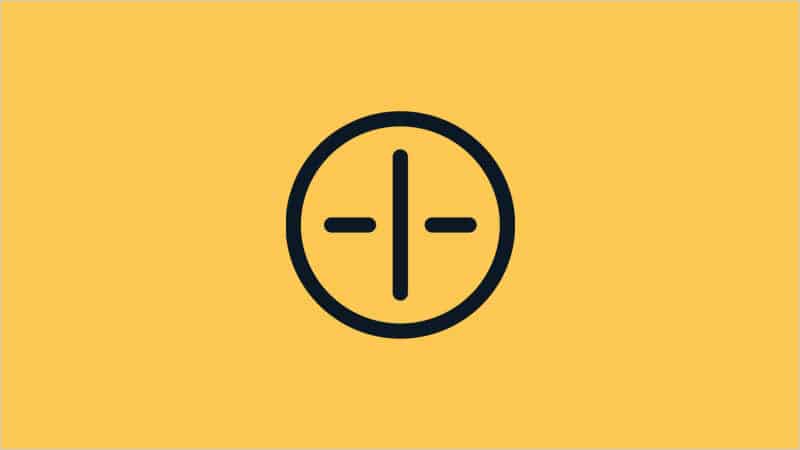 Designing The Greatest Product Sales Page of All Time
The sales page took me a month to create and it still needs work. The goal was to build something unique and interesting to be shared. Shared not just because Lasso is a great product, but also because of the sales page itself.
I want the sales page to be an example of a great sales page. I want it to be lumped in with pages like Stripe (which everyone cites as a great example – I polled people multiple times).
The Video
This took me two days to create. Scripting and filming on one day, editing the next. I spent a lot of time crafting the story of what it would be like for someone to use Lasso on their own website. In fact, that was the aim of the entire website: get people to experience what it's like to use Lasso on their own website.
The video is not a traditional sales video. Instead, it's a tightly scripted walkthrough of how a user (me) can use all the features in Lasso to earn more money. It focuses more on the features, which I know is not a traditional way to create a sales page. They say it's all about the BENEFITS. But I wanted to try something out.
I scripted everything in Apple Notes and filmed the screencast with ScreenFlow 8. I had 20 minutes of footage I wanted to be edited under five. The idea came from a conversation I had with Sean Ogle. When I showed him my FIRST first draft of the sales page, he was confused. But when I showed him the actual software in use, he was blown away.
He said, "just make a video showing what you just showed me!" I took that to heart and made it happen.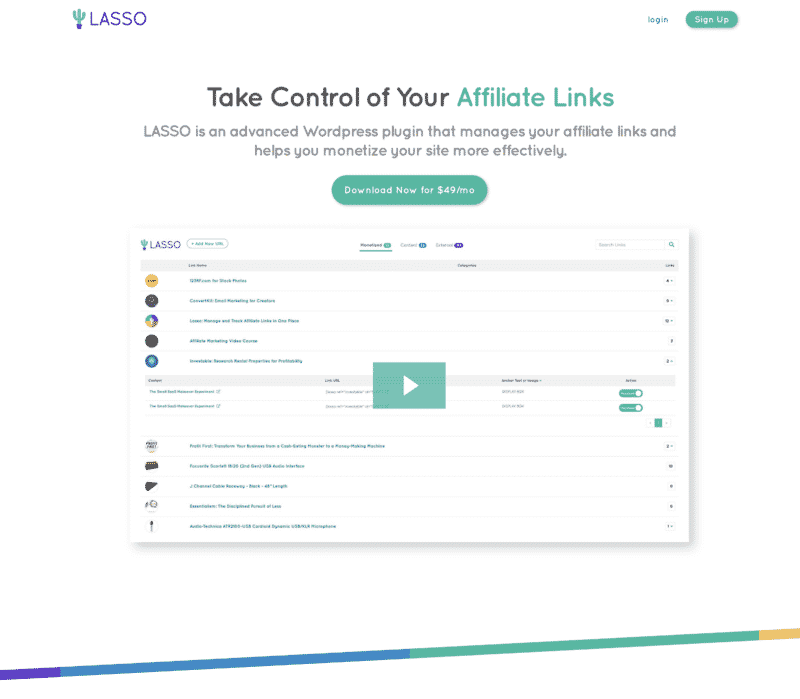 We're using Wistia to host just the one sales video so it's still free to use.
The Interactive Elements
My first attempt at this was overboard and confusing. Sean Ogle was one of the people who made that clear to me. And deep down, I knew it too. I don't have any screenshots though. I quickly fixed the issues and simplified it.
I created three interactive pieces that showcase some of the best parts of Lasso. I coded everything myself (with help from Andrew) in Coda 2. This was the most I ever had to deal with Javascript, so it took me longer than it would just to create a simple HTML/CSS sales page.
The first piece is showing all your affiliate links in one area with a dropdown effect that works exactly like the software itself.
You can click the dropdown to the right to see where all your affiliate links appear across your website. The data is there to demonstrate. I made sure to choose affiliate links that people in our industry would understand, like ConvertKit.
Next is showcasing the display boxes and I did this by recreating the WordPress Editor and animating what happens when you add one to your posts.
Again, I used ConvertKit as an example of continuity.
Finally, I recreating the feeling of magically turning any existing link on your website into a tracked affiliate link by using our 3-state toggle feature. This is a huge wow factor when using Lasso.
The Big Creative Easter Egg
One of the biggest ideas I had to make the site more sharable was this idea I called The Tone Shifter. Essentially it's a button that lets you choose the tone of the website copy.
I created four different themes of copy for the entire site and a way to easily switch between them.
So far a few people have already shared the sales page because of this and I haven't even officially promoted it yet.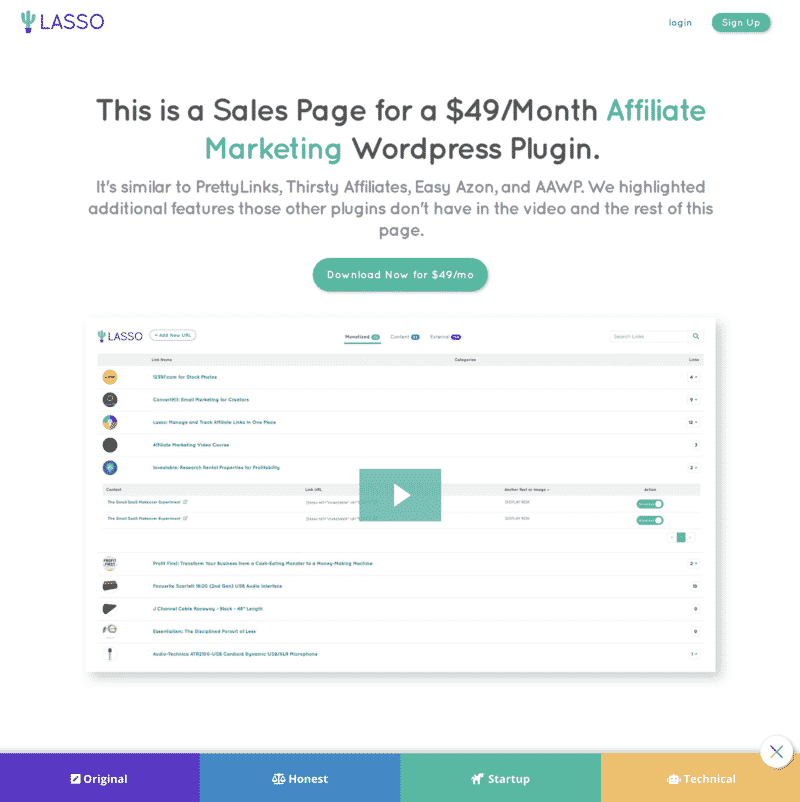 Obviously, if you wanna see these elements and video in action, go to the sales page.
The Feature Pages
There is more work to be done on cleaning up the main sales page and creating additional feature pages. These will be dedicated pages on each feature with their own interactivity, videos, testimonials, case studies, and more.
These are still being worked on as we push new features to the software and get some real-world feedback.
The Online Roadshow
I'm currently working with Interview Connections to get me booked on a bunch of podcasts to promote Lasso in the next few months. The goal here is to get qualified traffic to the sales page. It's an experiment since we've both never done this before, so I'll have more updates about this in the future.
We paid them $5,000 to get me booked on 15 relevant podcasts. I'm hoping to get booked on shows that have more than 100 reviews. And my other goal is to ask the hosts to become affiliates for Lasso.
Meanwhile, if you have a podcast and would like to have me as a guest to talk about affiliate marketing, just email me.
I had my "discovery call" with their team. They asked me a bunch of questions to put together a one-sheet for me. I'm also going to take whatever ends up being on the one-sheet and adding it to my popular podcast guest page. They'll also use this page to help get me booked on some podcasts.
June 10th Monthly Recurring Revenue Update (5 Months Remaining)
When I first started talking about Lasso on this site, we've had roughly 300 people sign up for our waiting list at GetLasso.co. Of those 300 people, we've had roughly 40 people convert into customers. Not a bad conversion rate!
Currently, we're at $1,457 MRR. We've got a long way to go!
Our goal is to get to at least 350 customers by the end of November 2019. That should get us into the $15,000 MRR range.
Of those 42 Active Customers, two of them are Andrew and I. Yes, we are both paying $49 a month for our own software. Why? Because we believe it matters. Plus, we had to test to make sure the payment system worked, so we were the first two customers.
Most of these customers came from Money Lab, either from reading these updates or listening to the podcast. I'd be shocked to find out if people came from elsewhere since we really haven't promoted it yet. I mean, I promoted it a little on Twitter and Facebook, but my reach is not very big.
RE-designing "The Greatest Product Sales Page of All Time"
Sooooooooooo it's been a full month since that last update and we haven't increased revenue at all. No new customers; only churn. Fuck.
Our original marketing plan didn't work. Or it didn't work YET.
The podcast roadshow is being booked, but no episodes have been recorded or gone liv. And the idea of creating our own content has been debated and killed. We realized how hard it would be to compete with our friends who already rank for good keywords.
So instead, we plan to leverage those connections.
And on top of that, the idea of creating a successful sales page based on gimmicks didn't work. We didn't have enough traffic to the sales page to really know for sure. But we have a hunch that our sales page is doing a shitty job at converting visitors into customers.
Visitors didn't realize that the page was interactive no matter how much attention we tried to draw to it! And just showing what the plugin does without explaining how it'll help you make more money isn't working.
This was an effort to demo the product without paying for it. But I think people need to see how Lasso works with their own content and links. And that means we're now offering a free trial.
I'm redesigning the whole sales page. I'm removing the interactivity and the gimmicks and focusing more on the sales copy. I think it'll do a better job of converting.
We've gotten feedback from customers, friends, and family that the current sales page doesn't explain why anyone needs Lasso. It just explains the technical side of how it works.
I knew this before designing it; that was actually the goal. I was trying to avoid the "make more money" copy. But I think trying to reinvent the wheel just set us back.
The New Headline
Andrew and I discussed the new approach over Zoom. We need to get to the heart of was Lasso does. Yes, it's an affiliate link manager, but what's the benefit?
After talking with Corbett Barr on what he thought of our product, he compared it to dunning software. This is software like ChurnBuster or ChargeBee that helps you recover failed credit card payments.
He also used the phrase, "you're leaving money on the table." And as much as we tried to avoid using phrases like, "Lasso will help you earn more money," I think we were just shooting ourselves in the foot. That's the FUCKING BENEFIT OF Lasso!
So we looked at our competitors and nailed down a headline we're gonna run with for a while: Make More Money With Every Link.
The new design will be focused on this core benefit. And a lot of the inspiration of the design will come from Intercom.
Welp!
It's November 12th as of writing this. Just a few weeks left to hit $15,000 MRR with Lasso.
Are we gonna do it? Are we rolling naked in cash on a bed in a fancy hotel getting paper cuts in hard to reach places?
Nope.
However, we've grown. It wasn't like we totally failed, but we didn't totally succeed either.
We hit a mere $2,049 MRR.
So What Happened?
We had a lot of issues to solve once we started getting customers. Since this is a WordPress plugin, everyone's setup is different. I believe building a plugin is infinitely harder than a standard SaaS product that you control on your own server. Way fewer variables to contend with.
This is not Andrew and I's full-time gig either. We only have one full-time developer working on the software and he's mainly fixing bugs and building unit tests so bugs happen less frequently.
And we didn't really focus on marketing and promoting that much during this "challenge." Most of our attention has been on improving the product and making things bulletproof for future customers. This is good for the long-term but didn't help our goal of reaching $15,000 MRR.
The good news is, we're on an upswing. Our numbers look great! We have good retention, low churn, and high lifetime customer value.
All we really have to do is promote the product to the right group of people. And one of the things we learned these past few months is we were telling the wrong people about Lasso.
What Are We Doing About It?
Lasso is for people who take affiliate marketing seriously. These are business owners whose primary income is promoting affiliate links. When they see Lasso, they instantly understand and see its value.
Unfortunately, Andrew and I don't have many relationships with these folks. Most of our friends on the Internet don't focus their income efforts on affiliate marketing. So we're forced to rely on our existing audience to tell us where those people hang out.
I did a podcast with Spencer from Niche Pursuits. This was not something that was booked through the podcast interview service we hired – I just know Spencer personally. His show was the perfect place to promote Lasso because his audience understands the value of what we're offering.
His show brought in a good number of customers. So I'm looking to book myself on more shows like his. Speaking of which, if you know of any or run one yourself, hit me up!
We're also dabbling with Google Adwords and Facebook Ads to find the right audience and bring in more eyeballs. We're learning a lot here.
What we realized is that it's all about finding the right audience. There's nothing wrong with our sales page. It works. The numbers look good when the right people see it and understand the value.
Final Recap and What's Next?
For the next few months, Andrew and I are finding time to improve Lasso while dipping our toes in the paid advertising space. As I said, this is mainly to find the right audience that connects with our product.
We're happy about the conversion rate and retention numbers. As the product improves, so will the word-of-mouth audience. That'll be a great bonus.
If you're like us and take affiliate marketing seriously, I recommend trying LASSO. It's free for 14 days (honestly, the free trial was one of the best marketing decisions we made).
My Obvious Choice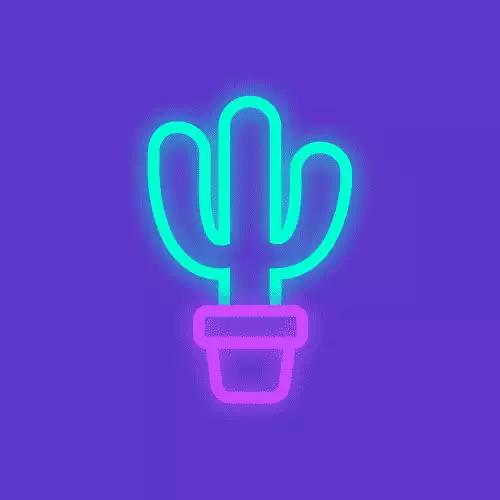 Lasso: The All-In-One WordPress Plugin for Affiliate Marketing
My very own WordPress plugin that lets you add, manage, and display your affiliate links from any program, including Amazon. Increase conversions. Find new affiliate link opportunities. Earn more revenue! Less than 5 minutes to set up.
Start Your Free Trial
Matt Giovanisci (me) earns a commission if you click this link and make a purchase at no additional cost to you.

The lesson I keep learning with doing these software challenges and experiments is it's not as easy as every other type of online business. Software is hard because there are so many variables to success. No matter how many articles you read about others who've succeeded, things will not work out exactly as advertised.
Bugs happen. Customer complaints happen. Features don't get shipped on time. When you work on solving an issue, another pops up. It's like a shitty game of broken Whack-a-mole. You never truly win and it's not that fun, yet you can't stop playing until you concuss every stupid mole with your foam mallet.
That said, Lasso has dramatically improved my own businesses and our existing customers. That makes everything worth it. Slow and steady will win this race. Our goal is still $15,000 MRR, but the goal post is just a bit further away and I'm just not that good at sports.
Practice makes perfect! See you on the field.
Triple sports reference FTW!
Peach out 🍑
Matt Giovanisci
I own three authority sites across different niches, including Swim University, Brew Cabin, and Money Lab. They earn a combined total of roughly $1,000,000 a year. I design and code all my sites. Write the words. Film and edit the videos. Produce the podcasts. Illustrate the graphics. And I have a small team that helps too.