by Matt Giovanisci
|
Last Updated:
December 1, 2018
|
Subscribe
to get emails
This project is marked: running
We're currently in the middle of performing this challenge. There's a lot going on. Feel free to take a gander.
If this is your first time here, I recommend reading the about page. You should also check out the last two software-based challenges here and here.
A year before this challenge, I launched a premium WordPress plugin in 40 days. It was an affiliate link manager called Earnist. That was in November 2017.
Unbeknownst to me at the time, my friend (and former business partner) Andrew Fiebert was working on a similar plugin called Lasso.
We teamed up again in July 2018 to co-host each other's podcasts. But he didn't want Lasso to compete with Earnist. This threw me back a bit. He asked if I would shut down Earnist and join him on Lasso. That felt like a blow to my ego.
Until I saw Lasso.
"Holy fucking shit," I said. He walked me through what he had built and I was floored. It was everything I wanted Earnist to be and more. He had nailed it and I couldn't refuse the offer.
So we agreed to merge the projects together and started a separate company called Lasso Analytics, Inc. I will be a 30% owner.
Lasso is a bigger plugin than Earnist. In fact, the plugin is only one piece of the overall software. Hence the reason we're viewing this as a SAAS product. That and its monthly recurring revenue model.
Andrew invested in developers to help build it. But it has taken him a year and still hasn't launched. Why?
Well, when you don't have a scope or launch plan, you end up adding more features to the product. This is called "feature creep." And Lasso is a feature-rich plugin. But none of the pieces are fully finished.
Now that I'm helping, I'm forcing us to launch on a deadline. It's what we do here at Money Lab.
The Challenge
To fucking launch the goddamned product already!
To do that, we're putting a lot of the nice-to-have features on hold while we focus on the ones that matter. We KNOW what matters because we use the product ourselves. It does all the same things as Earnist plus a lot more.
Currently, the plugin works very similar to Earnist. You can…
add and manage custom affiliate links in one dashboard. You can also search and add Amazon affiliate products without leaving the plugin.
publish your affiliate links in beautiful display boxes in posts and pages (like this). And Amazon products can include real-time prices that automatically update every 24 hours.
add custom hover-over disclaimers to your affiliate links (like this).
cloak your affiliate links just like you can with Pretty Links and other plugins like it. For example, you can turn:
But Lasso is Earnist on steroids! So it'll also…
automatically scan your site and collect all your links in one dashboard. And you can instantly monetize any link on your website with a click of a button.
offer suggestions for monetizing your website and make sure every affiliate link on your site is working and optimized for making money.
track all your affiliate link click data in Google Analytics.
import links from other plugins like Earnist or Pretty Links, so you don't have to add those links all over again.
I re-read a book called Getting Real by the Basecamp guys. I pulled some quotes that I shared with Andrew on a recent call. We both agreed and laid out an aggressive launch plan based on these principles:
"Build software for yourself."
"Constraints force creativity and also force you to get your idea out in the wild sooner rather than later."
"Launch on time and on budget. Never throw more time or money at a problem, just scale back the scope."
"It's better to make half a product than a half-assed product."
What We're Starting With
For starters, we already have the name of the plugin and the overall branding. Andrew and his wife Laura did that a while back. And I didn't really change much. I just cleaned up the logo design and pick a palette of brand colors.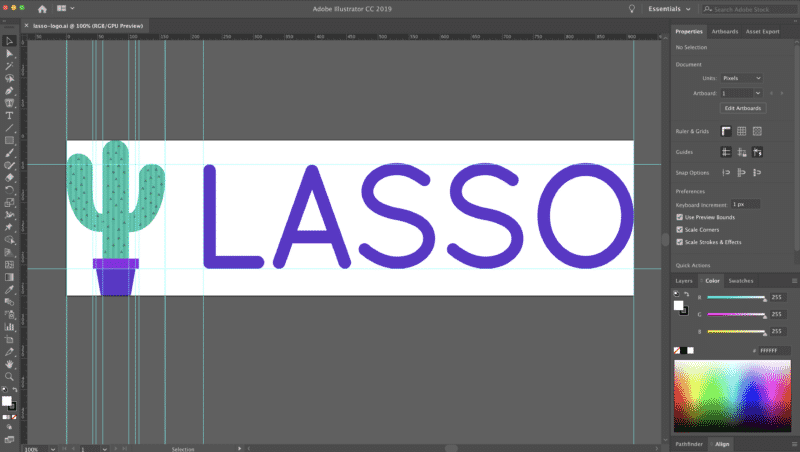 I've been using Adobe XD to design every page of the plugin. This is my first time using XD and I fucking love it!
It has saved us a lot of time by planning out EXACTLY what version 1.0 will be without coding.
As I said, Andrew and his small team of developers have been working on this project for a year. And while a lot of BIG features were added, the core plugin still needed refining.
But that means there's a lot of great code already in place. All we have to do is clean it up and put a fresh coat of paint on it.
That's where I come in 😉.
If that all sounds cool, let me show you the designed pages of Lasso. Check out this video walkthrough of my Abode XD design files.
If you're interested in switching from Earnist to Lasso, email me and I'll send you a special link.
The Launch Plan
We created this plan in Asana. Andrew and his team will be coding while I build all the marketing materials.
1. Build The Landing Page, Waitlist, and Email Templates
I'm in charge of all things WordPress with this project. GetLasso.co (the marketing side) is hosted with WPEngine. But once you log in, pay, or do any web-app-related things, that's Andrew's department. It's coded with Python and hosted on Heroku.
We're building a simple landing page to let anyone join our "waiting list." If you're interested in getting fast access to Lasso, you can visit https://getlasso.co/ right now!
Once you join the list, it'll display your position in line. You'll have a special link that you can share with your other affiliate marketing friends. If anyone joins through your link, you get bumped up the list.
You know? Standard growth hacking shit for SAAS companies. #gerthhacking
Also, we're keeping Lasso exclusive. We don't millions of customers flooding in. Yes, millions! That's a realistic expectation [he types with zero sarcasm].
We want to make sure we're taking care of every customer. I want to personally talk to everyone using it. These are some more principles from Getting Real:
"Start dropping hints. Let people know what you're working on. Post a logo. Post to your blog about the development. Stay vague but plant the seed." Hey, we're doing that right now but with more detail! So meta.
"A few weeks ahead of launch, start previewing features. Give people behind-the-scenes access. Describe the theme of the product." Oh shit! Doing that too! Did I even need to read this book?
"Encourage people to sign up so you've got a foundation of emails to blitz once you launch." Please join the waitlist for Lasso! There, did it.
"Test your app via real-world usage. There's no substitute for real people using your app in real ways. Get real data. Get real feedback. Then improve based on that info." No commentary needed.
We're doing all the marketing emails through a free MailChimp account. That part is simple. However, I want to make "every letter matter." Another principle from the book.
So I'm paying very close attention to the copy. On everything. The plugin, the sales pages, the emails. EVERYTHING!
Copywriting is interface design. Great interfaces are written. If you think every pixel, every icon, every typeface matters, then you also need to believe every letter matters. When you're writing your interface, always put yourself in the shoes of the person who's reading your interface. What do they need to know? How you can explain it succinctly and clearly? Do you label a button Submit or Save or Update or New or Create? That's copywriting."
2. Finish Coding and Designing the Plugin
I designed the plugin in Adobe XD. This took a couple tries. Andrew and I had a lot of conversations about the user interface and experience and finally landed on something.
You can watch the video above to see the entire XD layout. But here are some screenshots in case you don't like watching my beautifully edited and award-winning YouTube videos 😉.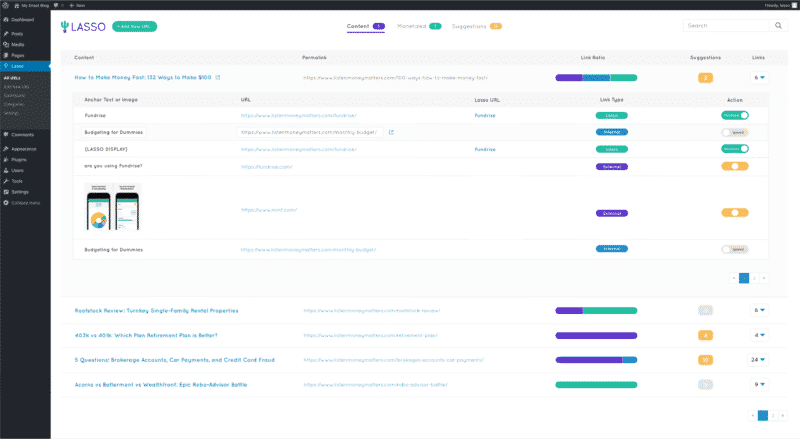 3. Build The Payment and Settings Pages
We're going bare bones here. We don't need these pages to be fancy yet. They just need to work.
That said, I mocked them up in Adobe XD in a very simple format and it's on Andrew's list to complete while the plugin is being coded.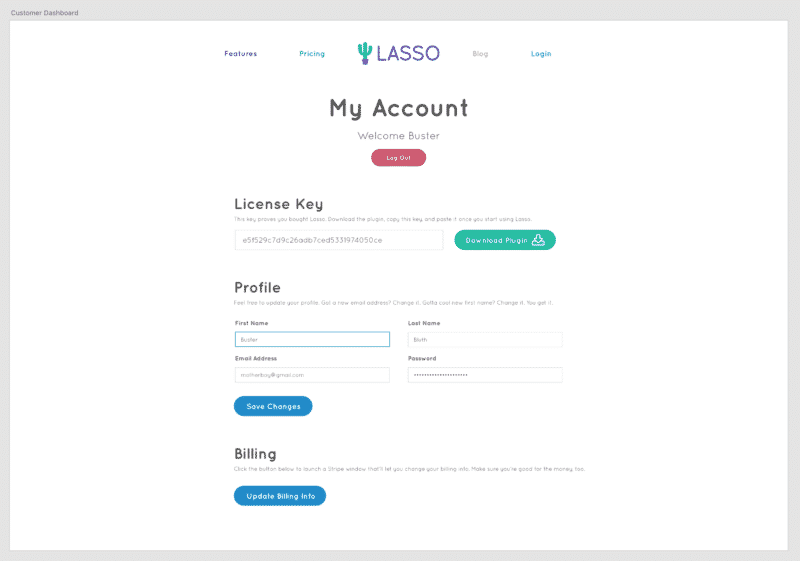 4. Test Like a Motherfucker!
Like any good software company, we're using GIT. And as branches are merged into Master, I'll be in charge of downloading the zip folder and testing the plugin.
I have staging platforms for all my current websites plus Listen Money Matters (Andrew's site). We'll have a pretty good idea if things are working or not.
We're trying to scratch our own itch here. So if it doesn't work for us, it's not going to work at all.
5. Design and Build The Sales Page
Once I get my hands on some usable software, I'll make a sales video.
My plan is to keep the sales page very simple and focus on the video. I want people to see it in action on a real site so they understand how it would be valuable to them. Like a giant case study.
I personally think video case studies are the way to go. Plus some really funny and engaging sales copy.
6. The Pillowy Soft Launch
Hopefully, if all goes well, we'll be letting a few real users get their hands dirty with the plugin. These will be paying customers out of the gate. The software needs to start paying for itself ASAP.
Plus, this will give us insight into how people are actually using it. That way, we can improve features and fix bugs quickly. Then, we can let more people in from the waitlist.
If you have any questions about this challenge or Lasso, please email me. I want to chat.
December 1st, 2018: The WaitList
Andrew had a quickly thrown-together landing page up for a while. But I destroyed it and built it from the ground up. Sorry, Andrew. He didn't care.
My goal with this sprint is to design well but simple. Most of the time was spent on the words. And this was my first time designing a web page in Adobe XD before coding. Usually, I just code and futz with it then.
With that, I also created an image that'll appear when waitlist members share the page. It's a little different.
Then, it was Andrew's job to code the entire waitlist procedure. When you click the "Join the Waiting List" button, it takes you to a page to create an account. You can enter an email and password or just use Google.
Once you're on the list, you'll be given a position number and special share link. You can log in any time to check your position or re-share your link.
We wanted all this done before our next Money Lab podcast episode. We made it a point to mention the GetLasso.co domain in the episode to hold us accountable to getting this done.
It worked!
Designing and Writing Email Templates
We also needed some automated emails to send people who join the waitlist and forget their password. So I coded and wrote them in MailChimp. Andrew will grab the HTML/CSS code from these emails to use in Intercom. That's the software we'll be using for in-app automated emails.
All marketing emails will be sent through MailChimp either by me or automated.
Here's an example of an email you'll get when you join the waitlist.
However, my favorite email is the one you'll get to verify your email address.
December 6th 2018: Working on the Plugin User Interface Design
Andrew is hard at work with his small team of developers trying to work my designs into their code. The functionality of the plugin is complete. All that needs to happen is making the user interface (UI) and user experience (UX) match what I've laid out in Adobe XD (and the video above).
That's great news! And I already knew that. I made sure to design around what I knew was already possible with the plugin. My goal was just for it all to make sense when a real user tries it out for the first time.
So Andrew and I recorded a video showcasing all the work that has been done in the last week. What's really crazy is that you can see the plugin is already close to being finished from a UI perspective only a few days into our challenge. That's great progress!
Read This Next Please...
Build a Profitable Online Brand in One Year
Can we assemble a small team to re-build BrewCabin.com into a large brand website based around homebrewing beer, and make it profitable in less than a year?