Every year I write a year-in-review post (2016, 2017, 2018). Personally, I don't like following this annual trend pioneered by bloggers who blog about blogging.
But alas, here I am.
Four years later and still putting myself through the mental anguish of reliving my fiscal year and painstakingly going through all my numbers.
Ok, I need to be honest. I like doing this. Don't let my words fool you. It's cathartic.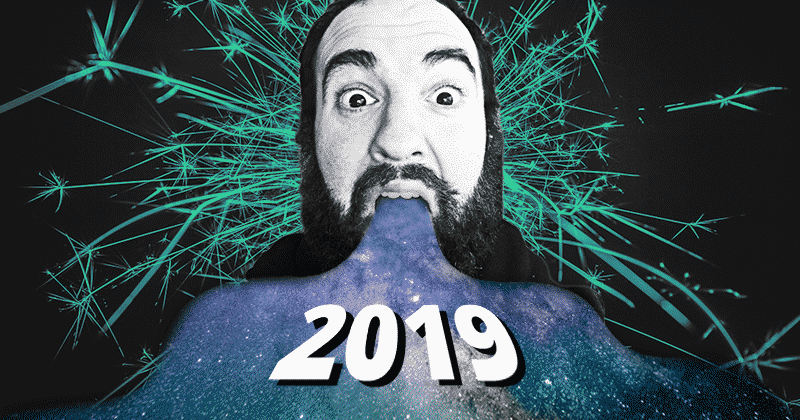 Current Brands of 2019
First, here's a list of my current brands and the total annual revenue for each in 2019.
Swim University
This is my website about pool and hot tub care. I started it in 2006 and it's been my main source of income ever since. It makes money with affiliate links and digital product sales.
2019 traffic increased by 9.2% compared to 2018. We went from 4,511,989 to 4,927,005 visitors.
Affiliate Revenue: $283,052
Digital Product Revenue: $82,038
Total: $365,090
Brew Cabin
This is my niche website about homebrewing beer. I started it in January of 2017. It's been a tumultuous journey that you can read about here and here.
No new content has been created on the site this year. However, it's still growing.
2019 traffic increased by 234.95% compared to 2018. We went from 104,445 to 349,838 visitors.
Affiliate Revenue: $9,221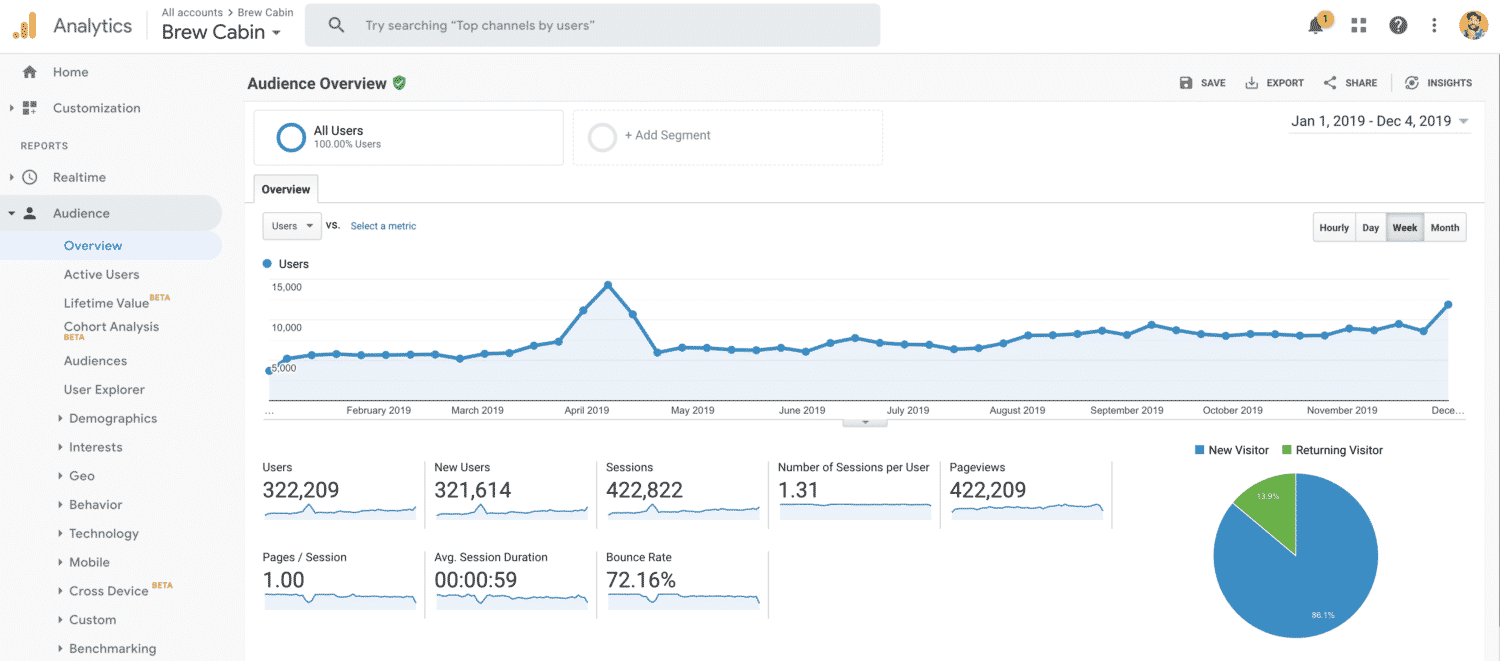 Money Lab
This website is my personal safe space. You're reading it right now! Started in March of 2016, it makes money with digital product sales including:
And I have the Money Lab Podcast, which also makes some money through handpicked sponsorships.
Affiliate Revenue: $2,898
Digital Product Revenue: $25,054
Total: $27,952
Lasso
This year, I started a new SAAS company with Andrew Fiebert offering an advanced WordPress plugin for managing affiliate links. You can read all about the project here and here.
Annual monthly recurring revenue: $1,922

It's been a year since we launched this. Both Andrew and I have not seen a dime. All of the money is being reinvested into development. Including some of Andrew's own hard-earned money.
My Obvious Choice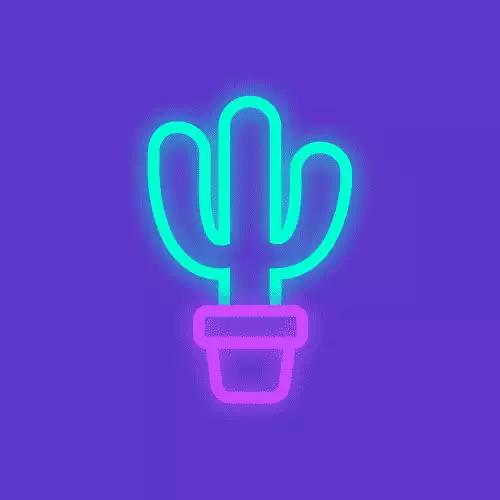 Lasso: The All-In-One WordPress Plugin for Affiliate Marketing
My very own WordPress plugin that lets you add, manage, and display your affiliate links from any program, including Amazon. Increase conversions. Find new affiliate link opportunities. Earn more revenue! Less than 5 minutes to set up.
Start Your Free Trial
Matt Giovanisci (me) earns a commission if you click this link and make a purchase at no additional cost to you.

Brands That Died
This year, I want to pay tribute to fallen projects that have been birthed via Money Lab:
Roasty Coffee: Technically, Roasty's not dead. It lives on with another owner when I sold it last year. If you're curious, you can read about the whole story of selling the site here.
Get Sponsorships: This was the first Money Lab challenge! After about a year of keeping the site live, we killed it. Mainly because Jason Zook and I didn't feel like pumping more money into it. Plus, it wasn't working as well as we'd hope.
We had a lot of returns. My guess is because of how expensive the course was combined with poor traffic combined with poor lead nurturing. You can read the very first Money Lab challenge here.
Driven: My podcast that only lasted eight episodes. It was a long-form interview show with entrepreneurs with the goal of finding out what makes someone so driven to start a business. Turns out, I really didn't care that much about my thesis. You can still listen to them here.
Spruce: What started as a good idea quickly turned into an impossible software product that I didn't know how to build. I burned out almost instantly trying to learn how to code API-driven software in a language I never used before. From there, it got out of control and I walked away. You can read about both the creation of the software and the failures.
The Pack: In 14-days I built the Netflix for outdoor survival training and bushcraft with my friend Doug. While the actual product worked, the marketing failed. I wasn't involved in marketing it, but Doug just had too many other things to worry about. So the project failed in the long run. Read about the challenge here.
Swim University Pro: I tried to build a marketing training library for people who own pool businesses. I got pretty far with it, but I didn't have an audience of pool business owners, and I quickly found out that they didn't really care either. So within a month, I opened and closed the project. You can read about it here.
2019 Challenges and Experiments
Here's a list of all the projects I started, accomplished, launched, and/or shut down on Money Lab this year.
Build and Sell an Online Video Course in 3 Days
I built a video backdrop in my office specifically for doing videos for Swim University. It was a shelving unit from Ikea filled with a bunch of pool and hot tub stuff. But then I decided to take it down and install an elliptical machine.
So after ordering the machine, I only had a few days before I had to tear down the Ikea set, so I decided to use it to build an online video course about hot tubs. But I only had 3 days to do it.
Read the full challenge here.
The Small SaaS Makeover Experiment
Andrew (my Lasso business partner and podcast co-host) built a SaaS product a while back called SimpleWealth.co. It was an advanced rental property evaluation tool.
But after a few years, he started to neglect it. So we teamed up to rebrand it, create a new sales page, and try to beef up sales. We did the first two steps, but a lot of technical issues led to sales declining. There just wasn't enough time to work on the software with our own projects and Lasso going on at the same time.
It's working, but it could be better.
Read the full experiment here.
Redesigning My Email Marketing Funnels with ConvertKit
This year, I switched from MailChimp to ConvertKit on all my sites. And I spent a good chunk of time designing email marketing funnels for Swim University.
The first part of the experiment goes really deep into the weeds, but spoiler alert, in the end, I simplified the process and let it go.
In more recent months, we've refocused on email marketing. But every time we try to build a robust funnel, it leads us to learn that our audience is basic and doesn't need long-term nurturing and education that we're taught to provide.
Read the full experiment here.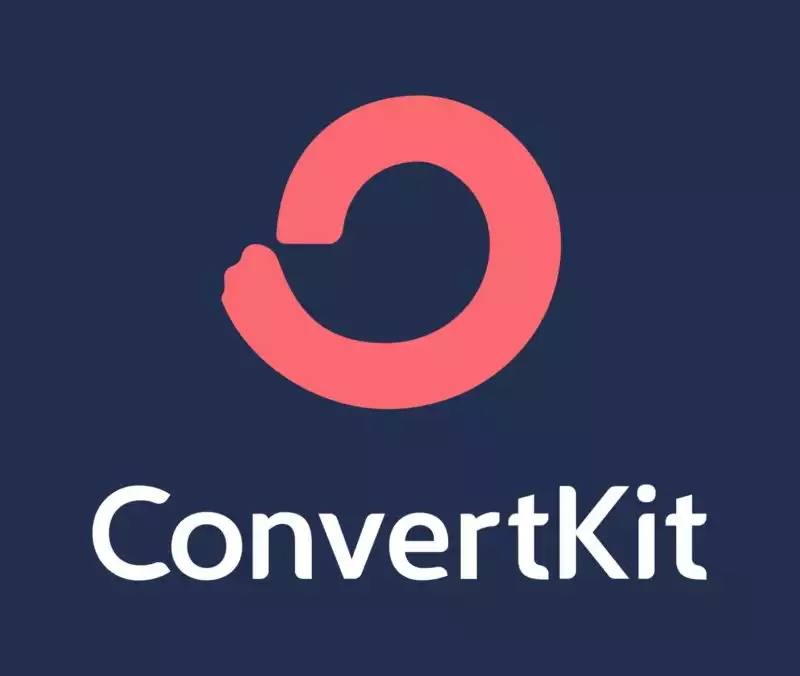 ConvertKit: Email Marketing for Creators
This is the email marketing software I used before 2020 to run all my websites. It found it way easier to use than my former ESP and I highly recommend it if you have your own products to sell.
Free for 14 Days
Matt Giovanisci (me) earns a commission if you click this link and make a purchase at no additional cost to you.

The YouTube Optimization Experiment
During the summer, I decided to re-commit myself to publish consistent videos on YouTube for Swim University.
So I hired a video editor and we started cranking out the videos. And at the same time, I wanted to update the older videos to take advantage of my new YouTube SEO skills I gained from VidPro.com.
This experiment yielded pretty decent results in the end. Check it out!
Read the full experiment here.
Reach $15,000 Monthly Recurring Revenue in 6 Months
After our late launch of Lasso in February, Andrew and I committed to executing a plan to promote the software in an effort to earn $15,000 in monthly recurring revenue. Spoiler alert again: we didn't hit our goal.
Instead, we ended up failing on a very broad plan. In hindsight, the plan should have been way more specific, but it wasn't. We were only able to get to $2,000/month mainly because of one or two podcasts that I guested on that brought in that traffic.
Read the full challenge here.
2019 Articles
I don't write a lot of articles, but when I do, they're big and filled with hairy details about my business:
The Not-So-Great Things in 2019
Here's a rundown of what I thought went terribly this year on Money Lab and my other projects.
Struggling with Email Marketing
This was the year I switched Email Service Providers all in an effort to gain more email subscribers and improves sales. But I keep running into a wall. I have to admit, I really hate email marketing. I don't understand it the same way I understand how websites work. I also keep getting frustrated with testing shit over and over again and not really knowing what works.
I also tried Optin Monster and RightMessage. I'm currently using RightMessage as an opt-in software, but I'm not using it to its full potential. But then again, I'm not sure my audience needs things to be tailored.
I'm still testing. I'm working with Steph to figure things out. It's slow because testing is slow. I wish things were faster.
Lasso Was Slow To Grow
I spent a lot of time on Lasso this year only to end up making $2,000/mo in revenue. None of that income in my personal pockets. But apparently that's the nature of the business and something I should be proud of.
Money Lab Was Neglected
I didn't create as many blog posts and promotional stunts as I wanted to this year. Instead, I focused on beefing up my paid products.
This year, I launched The Affiliate Marketing Video Course, Carbonate the Asana for Bloggers.
In 2020, Money Lab and Lasso will be my main focus.
Swim University Didn't Grow, But The Traffic Got Better
I've deleted so much content off Swim University over the past few years. We constantly delete and consolidate posts to help us rank better.
Because of this, we lost some traffic. But the focus on the content got better.
Case in point…
In 2017, I deleted two high-traffic posts about exercising in a pool to lose weight and having safe sex in a hot tub. Do I have your attention now?!
They were hard (giggle) to delete because they were bringing in mad traffic. For example, my pool exercise post brought in 145,662 visitors in 2017. But these posts brought in bad traffic. They didn't convert to subscribers or buyers.
It turns out you don't have to own a hot tub to have sex in one. Noted.
So by deleting irrelevant posts and beefing up good ones, our traffic increased only 9.2%, but all that traffic is extremely relevant to what I'm selling.
The Good Things in 2019
Now that I'm finished being a sad sack of shit, let's talk about the fun stuff that worked this year!
I Didn't Work as Much
That's right! I fucked off for most of the year and didn't do jack shit.
Ok, that's so very not true, but I was able to enjoy more time off thanks to putting systems in place and hiring the right people. How much time? Well, I took off every weekend to brew beer instead. And I usually only work from 10 am to 6 pm every weekday.
Having a small team of rockstars has made my life easier and my business run smoother.
I talk a lot about it all here.
Earned More Revenue and Decreased Expenses
All of my businesses including Swim University, Brew Cabin, and Money Lab earned $44,538 more in 2019 than 2018. That's an increase of 12.29%. I'll take it!
Since Swim University's traffic didn't increase that much, we didn't see a huge increase in affiliate marketing commissions (only an 8.21% increase). However, we did see a nice bump in digital product sales thanks to creating more products for SwimU and Money Lab and raising my prices across the board. We saw a 45.98% increase in digital product sales.
Not too shabby.
On top of that, we were able to cut our expenses by 36.76%. Most of that was due to cutting the writing staff (in 2018 we had three writers and an editor). We also cut 20% of our software expenses. Just cuts across the board.
There were no business travel expenses (no fucking conferences). And therefore, fewer meal expenses.
No buying loads of equipment like cameras, computers, etc.
Less legal expenses. In the past, I was trying to trademark my brands.
No bank charges or credit card fees because we didn't go into debt this year thanks to Profit First!
I Moved All My Digital Products to Podia
I've never have been happier with a digital product in all my life. Seriously.
I have to thank Justin Jackson for turning me onto Podia. I was thinking of switching from Easy Digital Downloads (a WordPress plugin) to something like Teachable to sell my courses and ebooks. I tweeted about this potential decision and Justin mentioned Podia, which I didn't even consider.
Then, Matt Ragland reached out to me via Twitter to see if I wanted a tour of the product since he worked for the company. I took him up on this offer.
Within just a few minutes of him walking me through the Podia platform, I was sold.
Now, while I don't have any proof, I'd like to think that moving to Podia helped to increase sales because…
It made it easier for customers to buy with less technical issues.
They include upsells that you can add after a purchase is made.
It made it easier to design sales pages which allowed me to add more sales copy.
I usually don't gush over products like this, but if you sell online courses, ebooks, or other digital info products, I highly recommended using or switching to Podia. One of the best decisions I made in 2019. Hands down.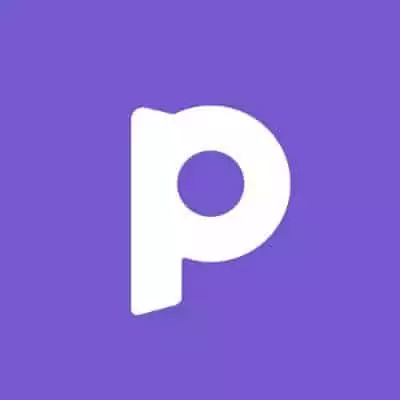 Podia: Digital Product Hosting
Everything you need to sell online courses, downloads, and memberships without worrying about the tech. This is what I use to host all my online courses.
Start A Free Trial
Matt Giovanisci (me) earns a commission if you click this link and make a purchase at no additional cost to you.

Made More Money on YouTube
In 2019, I made 532.91% more on YouTube than I did in 2018. For context, that's $11,337.94 in 2019 compared to only $1,791.39. This is only for the Swim University channel and it's only from YouTube ads. This doesn't take into the fact that I promoted my own digital products in every video.
The reason is that I turned on monetization for all my videos and started creating new ones. Plus, I completely optimized my entire channel which you can read about here.
The goal is 2020 is to produce a new SwimU video every week with the help of my team to help grow the channel, create more rich content to embed into articles, and promote our digital products.
Brew Cabin Grew Despite No New Content
This is not surprising at all to me. I've done this before on Swim University. I've been following the same formula for writing SEO'd posts for years now and the same thing always happens. Growth without promotion and without building a bunch of backlinks.
While it might not be EXTREME growth, it's worth noting that NO CONTENT was created in 2019 on Brew Cabin. And yet, we saw a 234.95% increase in traffic year over year.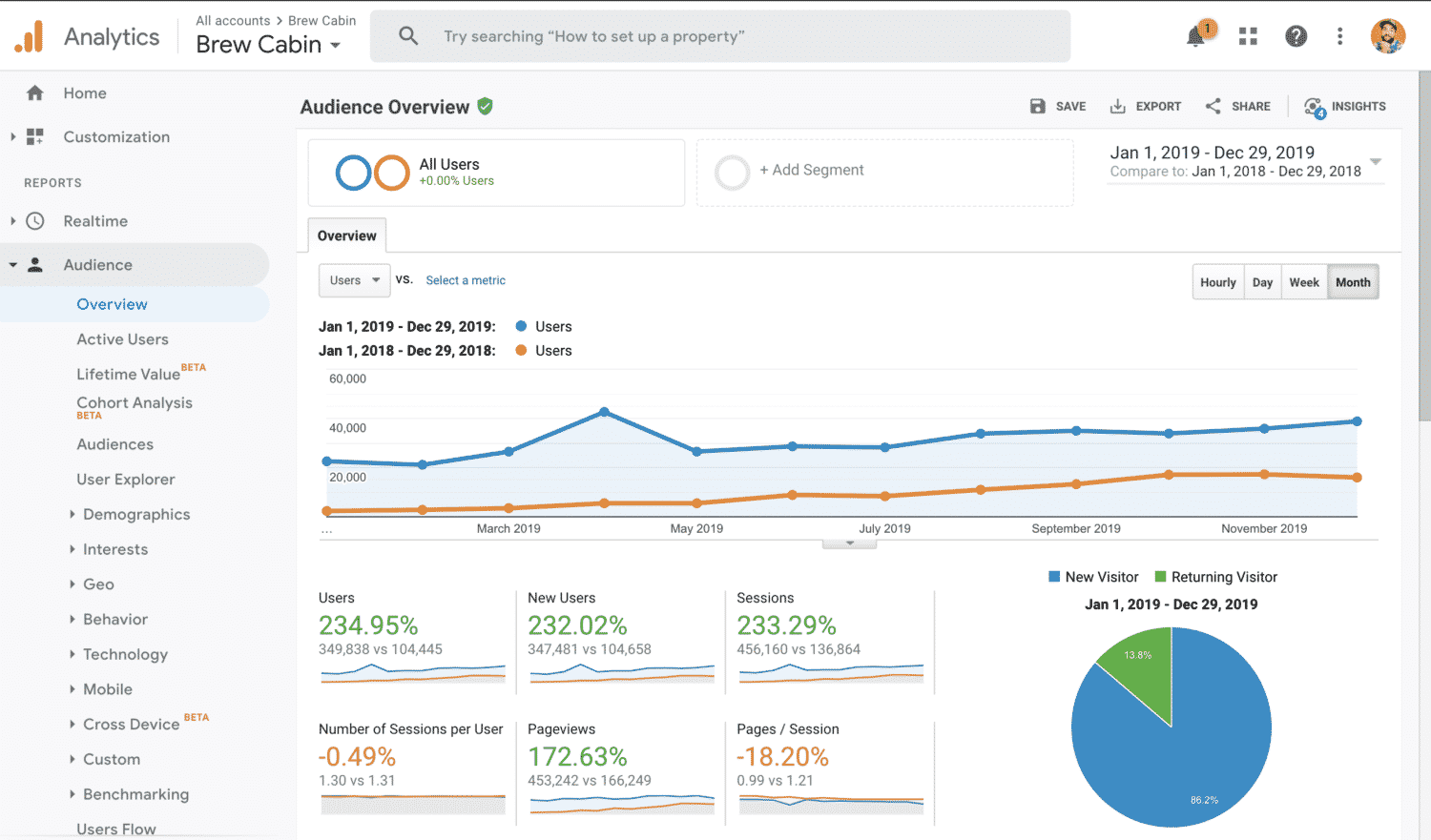 What's The Plan For 2020?
I'm focusing almost all my attention on growing Money Lab and Lasso.
My goal was to hit $500,000 in annual revenue. I didn't get there. but I did get to $420k-ish. So I'll take that as a win.
Here's a quick list of things I'm thinking about doing in 2020:
Doing more real-time experiments and challenges on Money Lab.
Publishing more fun promotional stunts on Money Lab. I had a lot of fun with that Year-in-the-Life video.
Producing a lot more digital products on Money Lab.

Thank You
Finally, I'd like to thank YOU for reading and supporting Money Lab. I want this to be a place you can get real information without a bunch of marketing bullshit. I want this site to be something you would actually want to bookmark, revisit, and share with your friends and acquaintances.
The best part of running Money Lab is sending emails and answering the responses. So thank you for reaching out and keep it coming!
If you have any ideas on how I can make this site better, please email me. This is the fourth full year of Money Lab and it continues to be my favorite project.
My mantra for next year is:
Make More Money In 2020.
Lame and obvious, I know.
On top of that, I'm looking forward to a relaxing and rewarding 2020!
I love you.
Matt Giovanisci
I own three authority sites across different niches, including Swim University, Brew Cabin, and Money Lab. They earn a combined total of roughly $1,000,000 a year. I design and code all my sites. Write the words. Film and edit the videos. Produce the podcasts. Illustrate the graphics. And I have a small team that helps too.