New here? I recommend learning about me and this site.
In January of 2017, I started an experiment to build a "niche site" about homebrewing beer. However, two months into building BrewCabin.com, I stopped working on it. Instead, Amazon threw a monkey wrench into my business revenue, so I was forced to put the project on hold.
It's been a little over six months, but during that time I've been hoping to work on it again. And that hope came to head when I met JP.
Who's JP And How Did He Get Involved?
The best part about running this site is how it's helped me meet new and interesting people.
JP emailed me after a friend sent him my email marketing page. He found out I was in Colorado and wrote…
…you seem like a smart person, and I'm currently trying to meet smart people. I'm a serial entrepreneur based in Denver. At the moment, my past companies are paying the bills, while I search for the next fun project(s) to work on. I'm a CTO of 15+ years and looking for fun new stuff to build and grow.
We met over coffee for like 10 fucking hours. We talked about business, travel, and upcoming projects.
We organized a group dinner with other entrepreneurs in Denver. A few days later I presented this project idea and we agreed to build it together.
The Challenge
JP and I are going to assemble a small team and re-build BrewCabin.com into a large brand based around homebrewing beer. And we're going to try and make it profitable in less than a year.
Assets will include:
CONTENT: A website with weekly published, in-depth articles, videos, and infographics.
CONTENT: An email newsletter (sent weekly) packed with highly curated homebrewing resources from BrewCabin.com and around the web.
CONTENT: A curated, searchable homebrew recipe database filled with only the best-tested recipes. Users will be able to instantly calculate for batch sizes and brewing methods.
PAID PRODUCT: A Homebrewing Recipe App that allows users to generate, store, and share their own beer recipes.
PAID PRODUCT: A homebrewing video course.
A Brand Vs. A Niche Site
When I started the Brew Cabin experiment, I was building a "niche site." It was just a WordPress site with articles that made money from affiliate links and advertising.
Instead, we're turning this project into a massive brand. Something that will allow us to expand outside online content. The future of Brew Cabin could include events, physical merchandise, and partnering with other major brands.
I hate the term "niche site." It forces me to think small. And I'd like to consider all my brands to be bigger than just a website.
Let's Talk About The Homebrew Recipe Software
I've technically been homebrewing for the past 10 years, but it was very infrequent – maybe once a year at most. And during those years, I used clunky brewing software. The kind of software you download and install (he said, gagging).
I've always wanted to build my own custom web-based software for creating, storing, and sharing homebrew recipes. But alas, I'm not a good programmer, which I found out the hard way on the Web App Challenge.
After researching all these brewing apps for my own use, I landed on the best-looking one called Beer Tools. I've been using it for years, but there are so many things I wish it did. At the very least some better UI and UX design.
I told JP I wanted to do this as part of the Brew Cabin brand project, and he was game to build it.
What We're Starting With
When I started Brew Cabin in January of 2017, I could only buy BrewCabin.co because someone owned the .com.
Luckily, the owner reached out a month ago and offered me BrewCabin.com. I knew I would eventually build the brand, so I bought it for $2,000. I know that's a lot of money, but I'm a sucker for .coms.
Also, I have a rough version of the site built and 14 articles published. Here's what that looks like: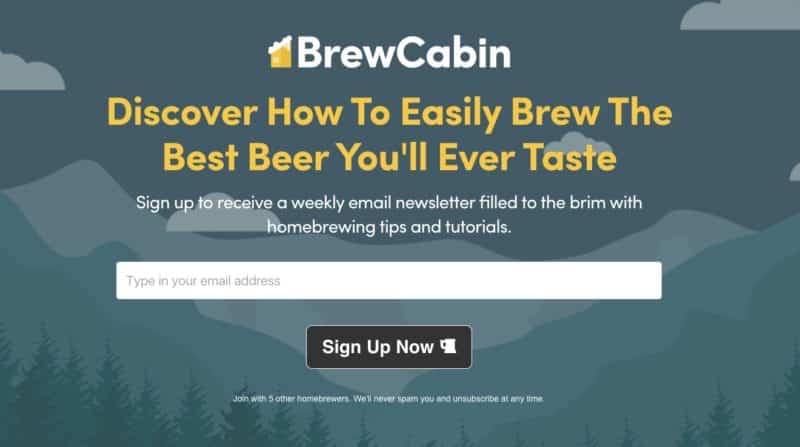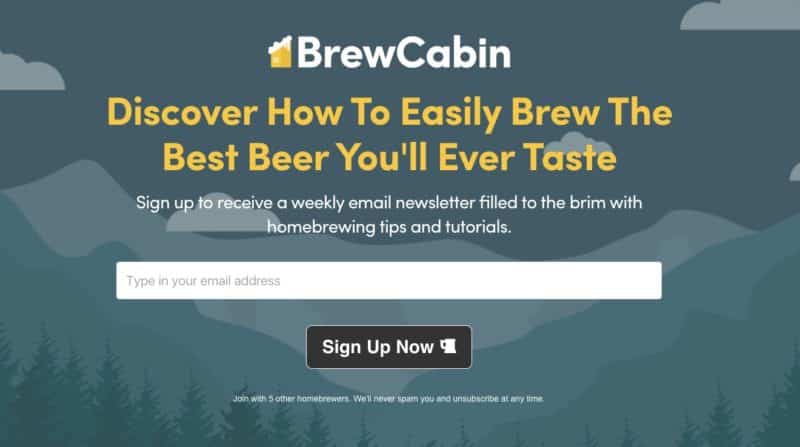 But I'm blowing it all up and starting from scratch. So we're basically starting with nothing.
TECH STUFF:
The domain I bought from a guy in Austrailia using Escrow.com for the transaction. In the deal, I also got the Facebook, Pinterest, and Twitter accounts.
UPDATED: The site is built on WordPress and hosted on a Speedy Rails account that JP is in charge of. This allows us to seamlessly integrate the WordPress site with the recipe database and app without using subdomains (which apparently is not the greatest for SEO and I think it looks ugly anyway).
The Team
UPDATED – We have a small team working on this project. I'm using my own resources for this project, and by "resources" I mean money.
We have a writer who's going to do most of the writing. Also, help curate outside content to use in the weekly emails and homebrew recipes.
JP will be the CTO handing the homebrew recipe app and recipe database. He will also help build and manage custom WordPress plugins if needed.
I'll act as CEO and CMO. I'm going to act as Editor-in-Chief in the early stages of the project. I'll create videos, help take photos, manage the WordPress Theme code, and site promotion.
I have a friend who is volunteering to take photos for the site.
How We Plan to be Profitable
The first 3-6 months are focused on building an audience of homebrewers. During that time, we'll make money on affiliate links to start.
My Obvious Pick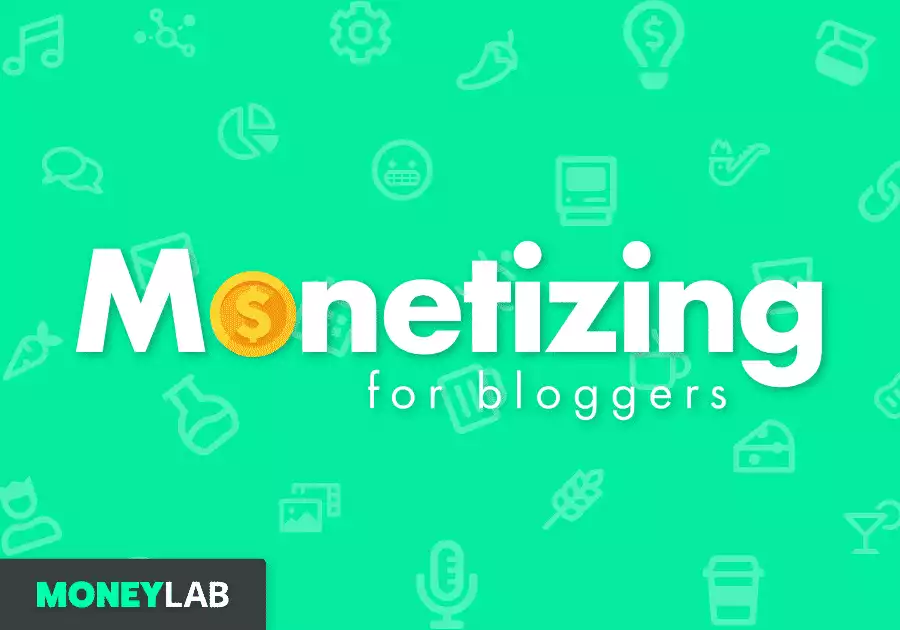 Next, we'll have a subscription-based homebrewing recipe app and video courses to sell.
Finally, we'll offer advertising packages. (This is how I make money with SwimU, but it'll take time to build an audience).
JP and I won't be taking a salary until the site is profitable. But we will be paying the rest of the team and anyone else we bring onto the project.
The following plan for building a profitable brand is broken up into three phases:
Phase One is building an audience.
Phase Two is monetizing.
Phase Three is scaling up.
Phase One: Building An Audience
Estimated Time to Complete: 2 months.
We want to launch the site on September 1st, 2017. In the meantime, I'll work on designing an updated logo, website, and editorial calendar.
UPDATE: The site will actually launch in early October. We spent the month of September getting the WordPress site set up as well as designing the recipe database.
1. Update The Overall Branding
This will include a new logo and website design. I want people to eventually sport branded swag, so the look and feel have to be cool and modern.
I'll start with designing the logo and move on to coding the WordPress Theme around it. Then, I'll set up the social media accounts, static sub-pages of the site (like the about page), and create a brand style guide that the team can use as a reference.
2. Create a Massive Editorial Calendar
I want to come up with 100 article titles drawing from my own homebrewing experience and popular books.
Once I have a list, I'll prioritize publish dates by researching highly searched keywords using Ahrefs.com. I'll also use Headline Analyzer to help me create the final article titles before they're written.
THOUGHT: There's thriving online community of homebrewers who love to share. I have a gut feeling I'm going to rely less on search engine traffic and more on social media.
3. Publish Content, Send Emails, Curate Recipes
I'll have all the assets needed before we start publishing. At that point, I'll be moving into the content side of things. My goal is to focus on articles, graphics, and video production as editor-in-chief.
Our writer will help crank out the words while I oversee the publishing process. Once I get a good process in place, I'll hand my tasks over to someone else.
4. Design and Build The Homebrew Recipe Database
This will be a free app where users can create an account, log in, and search for high-quality homebrew recipes. It'll help send traffic to BrewCabin.com via SEO and Social Media.
I'll be designing the front-end (HTML, CSS) while JP will be coding the rest in Rails (Ruby, Javascript).
Phase Two: Monetize
Estimated Time to Complete: 4 months.
5. Design and Build V1 of Paid Homebrewing App
I will work closely with JP to build our first paid product. Since I know a lot about homebrewing, I'll be designing the front-end.
The app will be a low monthly membership. And we'll be competing with apps that already have a low price point. That means we must make this app really useful and user-friendly right out of the gate.
6. Creating The Paid Homebrewing Video Course
I'll work on filming a small course for beginner homebrewers. If that does well, I'll move into more advanced courses.
I'm not sure the direction we'll take, but it could go two ways:
Start with a small course and continue to add videos until it becomes massive!
Create a bunch of small, inexpensive courses that can be bundled together.
7. Start Selling Advertising Packages
At this point, we should have a decent audience. I envision three ways for sponsors to advertise:
Banner ads in weekly emails.
Limited-run banner ads on popular posts.
YouTube video sponsorships.
Phase Three: Scale
Estimated Time to Complete: 6 months.
8. Improve the Paid Homebrewing Software
Homebrewing software is complex. It's based on a lot of formulas to create recipes. The app will improve to accommodate all homebrewers.
The good news is, once the app does everything, it'll rarely need new features. Just updates to the static ingredients database and bug fixes. Hopefully, by this point, JP will have some team members to help if we're profitable enough.
9. Add More Courses and Physical Products
Online video courses are great to start because they have low overhead to sell them. Plus, I happen to be really good at making high-quality courses.
Physical products, however, will be a horse of a different color. Luckily, JP has some e-commerce experience. This, again, is a back burner idea. If it's something that seems to fit into the plan at the time, then we'll tackle it.
10. Hire a Team to Takeover
Finally, we need to grow. Both JP and I don't know how we'll feel after a year of running the project. It could go one of two ways:
We hire ourselves out of the project and continue to manage from a far distance.
We love the homebrewing community so much that we continue to get our hands dirty.
Outline a Simple Launch Plan
I need to get the brand fully fleshed out. That includes the logo, colors, fonts, web design, email marketing templates, etc.
In Asana, I have a single Organization called Ace Media (which is the name of my LLC). Under that, I have multiple Teams (which are also my brands). I created a Team called Brew Cabin and a Project under that which has all the tasks I have to do before we launch.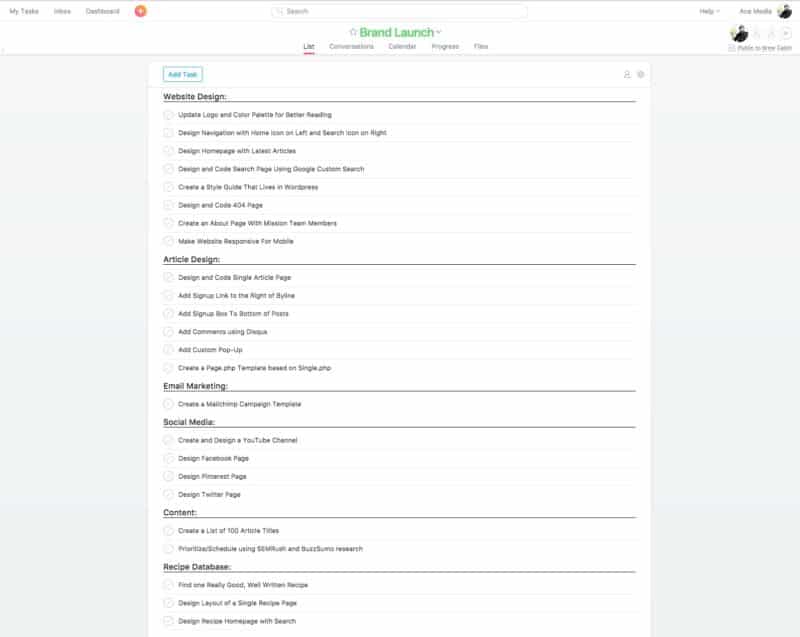 Update The Logo
I'll visit my favorite sites and watch my favorite YouTube channels. During this phase, I'm keeping an eye out for things like:
Design elements (like buttons, colors, layout).
Video transitions and color grading.
Music.
Feelings and emotions.
I think about who my audience is going to be. In this case, I'm targeting what I call, "The Modern Brewer." In other words, I'm targeting myself: a young male who likes cool homebrewing gadgets, professional equipment, and sharing beers with friends.
I like starting by building Pinterest boards. It helps me to quickly choose things I like to get a feeling for the overall brand. I created two boards: design and photos.
As you can see from this view, I was really digging dark colors and simple designs. But I was also leaning towards photos. This is something I haven't relied on before. My other sites are vector graphics driven, but for beer, I feel like you need to see big, beautiful photos. Beer porn!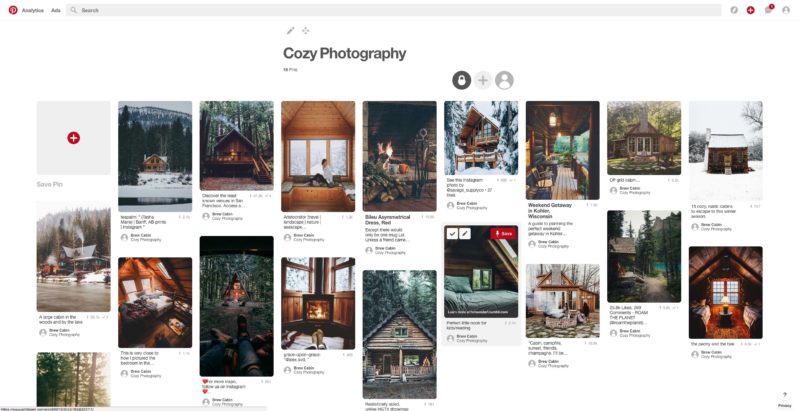 This board represents the cabin side of things. I was building this because I wanted to get a sense of what photo styles were resonating with me. Warm, cozy, cold. Fucking Bob Ross shit. Now I just have to apply that to beer.
Thankfully, I already designed a logo. And a lot of people really liked it. As much as I tried to distance myself in the new design, I couldn't escape it. So I just updated it.
Here's the original Brew Cabin icon.
While I still like this, it felt too cartoony and silly for what I think the Brew Cabin brand should represent. So I took the same concept but made some tweaks.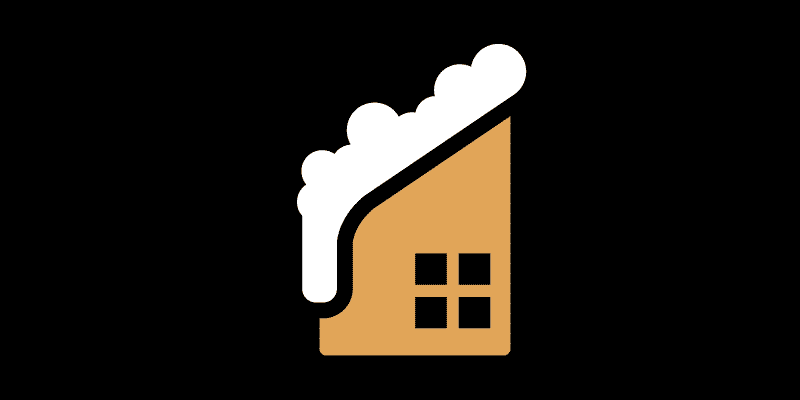 Still got the windows, still got the foam/snow, and the drips. But I feel like it's a lot cooler. Then I messed around with some fonts. I wanted it to be bold but not as cartoon-like as this old logo:
And here's the new one: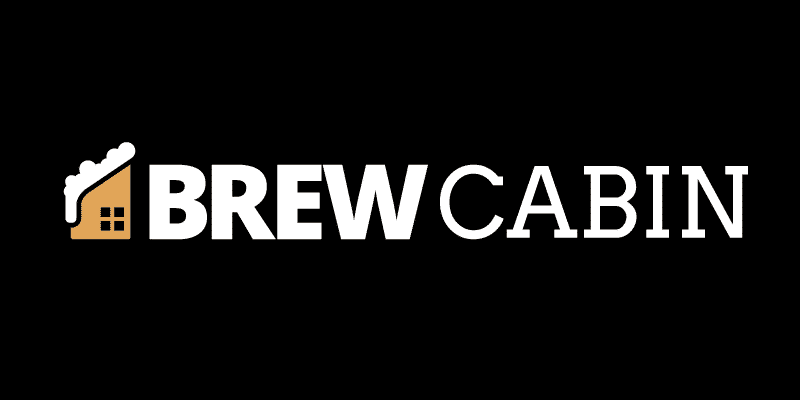 Design The Article and Home Pages
I usually design the article page first because it's the page that visitors will see more often. But I had such a clear vision for the homepage, I decided to knock that out first.
The Homepage
What I have so far is a navigation area, a feature box to collect emails, and alternating latest posts. The feature box and posts have stand-in stock images from 123RF.com which will be replaced once I take some real photos on my own.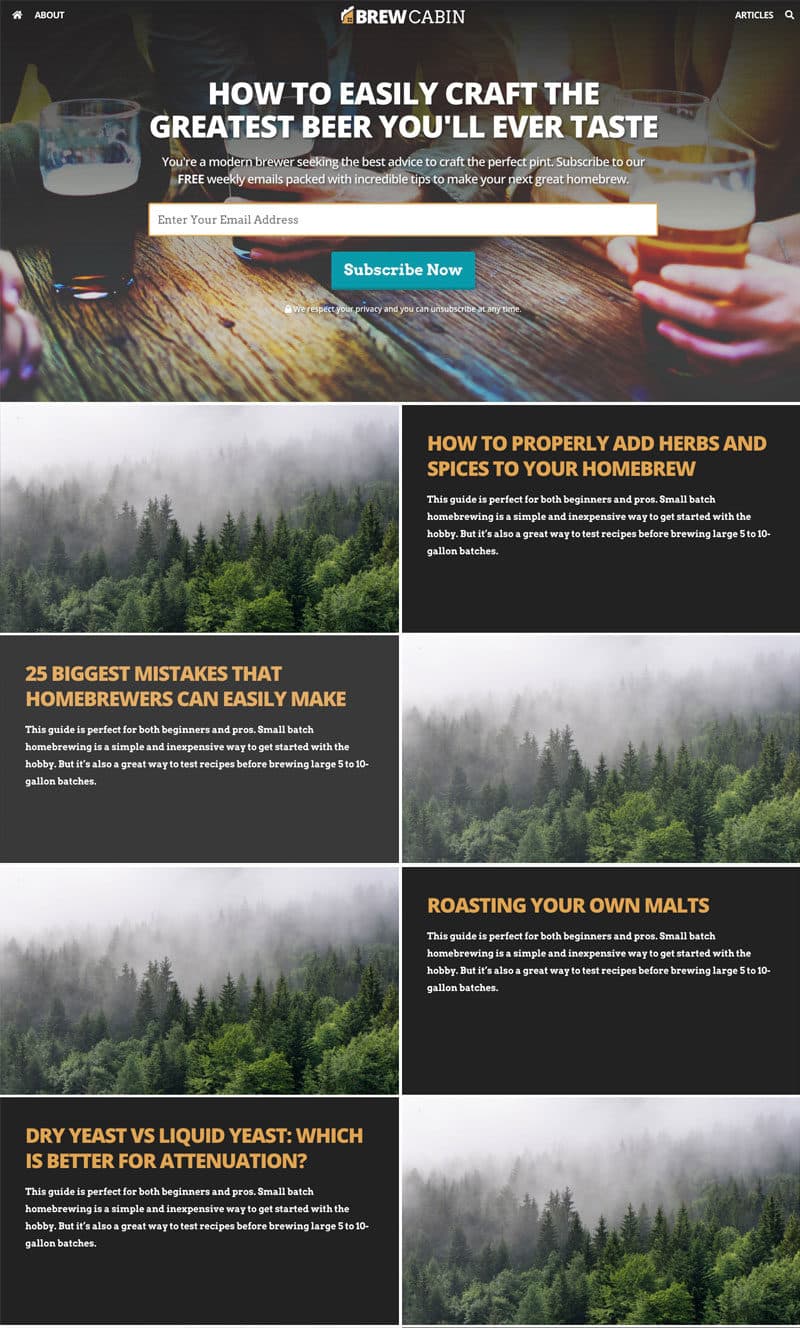 Unlike my other brands, which rely heavily on illustrations, Brew Cabin will be photo heavy.
I'll be taking the initial photos myself, but will probably end up hiring a photographer in the near future. Taking photos is actually a weakness of mine, just like writing.
The Article Page
I like simple, clean, and centered articles. All of my sites follow this format because I design mobile-first. That means articles should load super fast and be easy-to-read on a small smartphone.
This page isn't fully fleshed out yet, but here's what I have so far.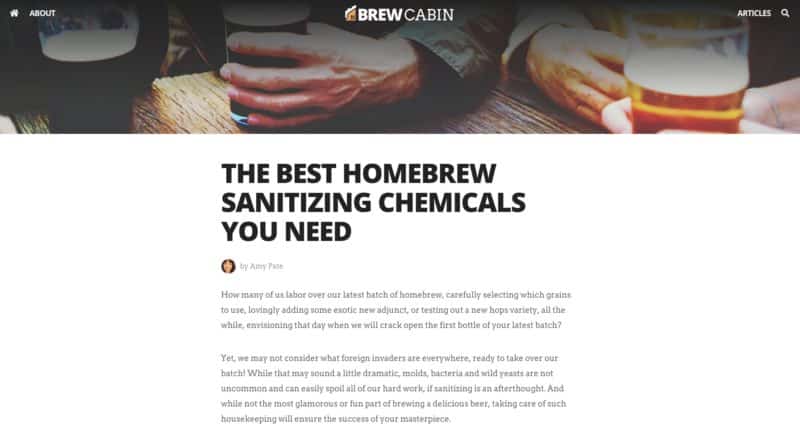 We're About to "Launch!"
It's been a month since I updated this post. During that time, JP and I have been working on designing and building the recipe database and WordPress site.
The Design Monkey Wrench
After about a week of designing, JP threw a monkey wrench into my progress by suggesting we use Bootstrap. I've never used this CSS framework before, so I redesigned and coded the entire WordPress site using it so that the recipe database design would be the same.
I'm glad he did this. I really enjoyed using Bootstrap.
The homepage now has a better grid-style layout. It also highlights the photos we'll be taking for the site:
I also updated the article page with a few key changes:
Custom sticky share buttons that I designed and coded to be super lightweight.
The title and byline embedded in the featured image box.
Larger and bolder first paragraph.
Bigger, darker text.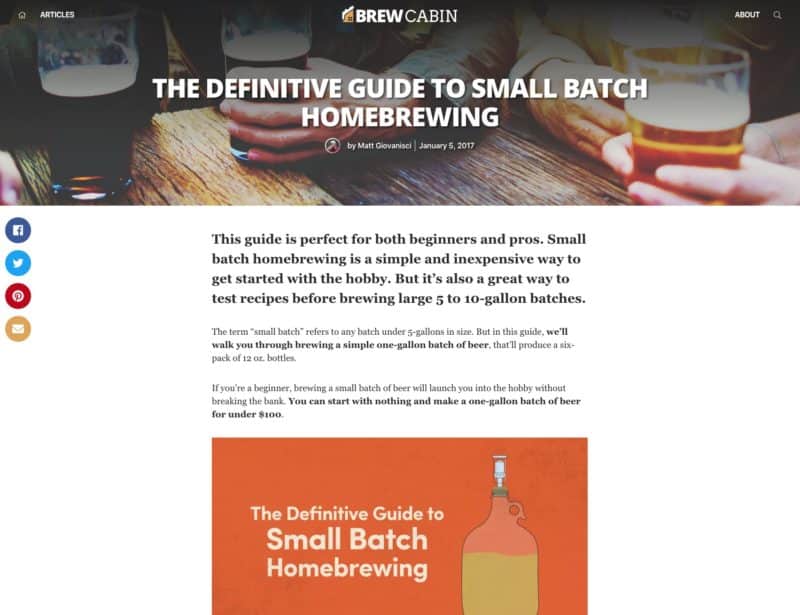 Designing The Recipe Database
I did a lot of research to find which existing sites were displaying recipes in a better way. I found that I really liked America's Test Kitchen and Blue Apron showed their recipes.
Some key features for me were:
A video for every recipe
Photos of ingredients (every ingredient will eventually be clickable to allow you to read more about it and find substitutions).
Instantly change recipe size with a drop-down box. This allows brewers to scale up or down any recipe on the site.
Step-by-step instructions (both all-grain and extract versions) with photos and videos to help explain steps.
Suggested equipment (designed, but coming later).
Building a Beer Style Page for SEO
Our main goal in the first few months is to build an audience. We know that SEO will play a major role in getting traffic and we plan to focus on written articles and videos about homebrewing.
But while we were building the recipe database, we had some new ideas to help us ramp up traffic quickly.
Beer Styles Came First
Every recipe will be linked to a beer style from the BJCP (Beer Judge Certification Program) guidelines. They have a guide on every beer style in the world.
We downloaded a spreadsheet with this information, organized it, and designed a page for each beer style. This created 75 pages on the site in an instant. Here's an example of a beer style page: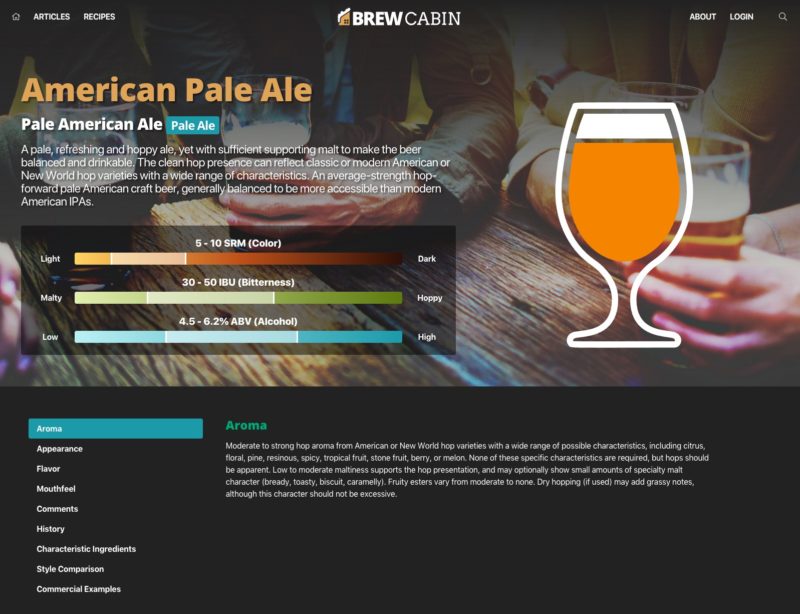 To create this, I re-designed Bootstrap progress bars as style scales, which you can see in the black box below the description. I also designed an icon for each beer style, which you can see on the main styles page: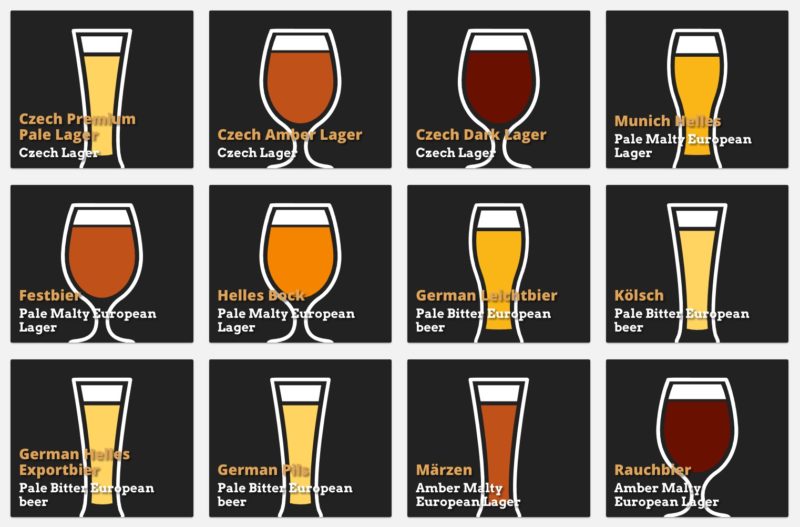 We are throwing a "launch" party this weekend so that we can take real pictures of all these beers in the right glasses. I ordered all the glasses off Amazon and it came to around $150 but I still have to buy the beer for the party.
Once we start adding beer recipes to the database, each beer style page will also include a list of recipes for that style.
Why Beer Styles First?
The reason we prioritized this is that we used Ahrefs.com to find good keywords to target in our articles. But instead, we found a lot of homebrewing sites were ranking for terms like:
IPA recipes
Stout recipes
Kolsh recipes
And those terms get a lot of traffic!
So in order to create pages to rank for similar terms, we created these style pages with the URL slug to target these.
Right now, the only content on these pages is what's been pulled from the BJCP spreadsheet and the icons I made. Later for each style, we'll create a video, list of common ingredients, list of recipes, and related styles – all of which will be inter-linked.
Building A Massive Ingredients Database
JP is working on building an admin page that will allow us to upload beer recipes to the recipe database.
To make it easy for the person adding the recipes, we're creating an ingredient database that will allow you to search and choose ingredients that go into a beer rather than adding them manually.
I've tasked our writer/homebrewer will finding all possible ingredients. We started with hops and here's a snapshot of what that spreadsheet looks like:
Eventually, there will be a detailed page for every hop varietal that will include things like:
Alpha and Beta Acid Ranges
Hops you can substitute in your recipes
Aroma profiles
Common beer styles that use the hop
Links to recipes that use the hop
Even a video that sums these facts up
The list goes on and will continue to grow
This recipe database is turning into much more than I expected it to be. This could be the main driver of traffic over the articles on the WordPress site.
Recipe Photos and Videos
I mentioned our plan to throw a party as an excuse to take photos of every beer style in its proper serving glass. I'm not going to have all that beer go to waste!
On top of that, I'm also ordering a ton of different beer ingredients to film. And I'll be filming the three different brew days to cover each brewing style (all-grain, extract, partial mash).
I'm doing this because I'm building a footage library that we can re-use to create videos for every curated recipe. If we have our own stock footage ingredient and brewing step, we can record a voiceover and make these videos quickly.
This should not only make our recipe pages better, but it'll also give us another traffic source via YouTube.
Starting a Tight Editorial Schedule
As we're building the recipe database we're also adding articles and videos to the WordPress side of the website. I'm acting as Editor-In-Chief, which means I'll be in charge of publishing post by making sure they're high-quality.
I created a list of article topics by using Ahrefs.com. I researched other homebrewing sites to see what they're ranking for and made a list of those keywords. Then, I ordered them by keyword difficulty and potential traffic. I was looking for low difficulty with high traffic potential.
Here's an example of one of the first keywords we'll be targeting:
I happen to know a lot about yeast starters since I make them for each batch of beer I brew. And because of that, I'll be in charge of writing this particular article. I'll also be putting together a video.
The goal is to create the best article on the internet for this topic, blowing everyone else away. Obviously, this is the hard part, but I have experience.
The other hard part is staying on schedule. I'm using Asana as our editorial calendar:
We have a list of titles, keywords, and due dates. Now all we have to do is create and publish on time.
Once we get this going, I should start to have traffic numbers to share. Wish us luck!
January 2018: I'm Completely Switching Directions
My business partner and I had a very clear vision of how we were going to get this brand profitable in a year. But I had a change of heart.
After working on it for just 3-4 months, I realized a few things:
I was spending a lot of my own money to build up the content.
The beer style and recipe database were not ranking in Google as fast as we wanted it. Actually, it never ranked at all.
Traffic was growly very slowly. Which could either be our fault or the nature of the industry?
Building software to sell was a very low priority and a massively huge project with very little margins.
Brew Cabin is a passion project. It always has been. I'm a homebrewer on the weekends. And I prematurely got someone else involved because I really wanted to work with them.
I met JP a few months before starting this project. He was a programmer and wanted to work with me. I am not a programmer but wanted to try on another partnership.
Just before that, I exited a software company and partnership that didn't work. And I was anxious to work with someone else to prove to myself I wasn't the problem.
I am the problem. At least when it comes to healthy partnerships.
I told JP that I wanted Brew Cabin to be just like SwimU: a resource site with informational products. And because of that, JP's talents weren't needed. No software was going to be built and I took down the recipe database.
I bought him out of the project for $5,000 in January 2018. But I'm keeping it going, just with a different plan.
The Plan Going Forward
My team and I are producing new weekly articles and an email newsletter. I'm handling the marketing and promotion side of the business.
Once we start to see some solid growth, we're going to start creating video courses to sell. Just like I do on my other brands, Swim Unversity, and this site.
But I'm taking my time with it. I want to grow it at my own pace. So that's exactly what I'm going to do going forward.
July 2018: We Stopped Producing New Content
For the first half of 2018, my team created a bunch of articles. Brew Cabin has a total of 46 articles, targeting very specific keywords, all averaging around 2,500 words.

But we're taking a break. It was costing way too much money to continue producing content. And the site was just not paying for itself.
So we stopped producing content and we're going to see how the traffic holds up for the rest of the year. I plan to start creating stuff again in 2019 if the site continues to grow. I have a feeling it will.
I've done this before at Swim University. There were full years we didn't create a lick of content and the traffic continued to increase. So I'm hoping the same will happen with Brew Cabin.
November 2018: Traffic is Growing Despite No New Content
So it's true. Even though we stopped producing content, traffic is on the up and up. If we look at Google Analytics from July to November, you can see it's been steadily climbing.
If we just look at the last full month of traffic (October 2018) and compare that to July 2018, the site's traffic has increased by 104.61%. That's pretty decent being that nothing new was created during that time. That's purely organic traffic with no new backlinks either.
The Final Recap
To be fair to myself, this was a pretty topsy-turvy challenge. And yes, I just used the phrase "topsy-turvy" in 2018!
It started out strong and expensive, but it crashed and burned. The plan was not held, the partnership fell apart, and the expenses went through the roof with no real revenue to help pay for it.
All in all, this was a mismanaged challenge from the very beginning and I only have myself to blame.
But let's see just how bad this really turned out.
How Much Money Did I Make (or Lose)?
This has certainly been the most expensive challenge on Money Lab to date. I'm going to break down every fucking expense whether I want to or not. This is really hard for me to layout, but I need to be truthful to the overall profit of this project.
NOTE: Some of these expenses are things I already pay for with my other brands. So I'll count them as if I was starting this site with nothing. And the timeframe will be October 2017 to October 2018 since that's when the first article of this project was published.
Domain with GoDaddy (Private Domain): $40.08 
WP Engine: $420 ($35/month)
MailChimp: Technically free since I'm under 2,000 subscribers
SpeedyRails (hosting for the software we never finished): $315.17
Failed Facebook Advertising Experiment: $270.63
Writers (32 articles): $17,703.89 ($553/article)
VA Services (building a database of brewing ingredients): $2,293.50
The JP Partnership Buyout: $2,853.69
All in all, I spent $23,896.96 during this project. Holy. Fucking. SHIT!
Oh hey! I forgot about how much money the site actually made though…
Amazon Affiliate Income: $1,774.86
MoreFlavor.com Affiliate Income: $523.68
Total:

$2,303.02
So in total, I lost $21,593.94.
☹️
I plan to continue running this website and collecting affiliate income. Hopefully, I can recoup my investment by the end of 2019. I will probably do more experiments and challenges within the brand too. So there's still a lot more to come.
Andrew (my co-host on the podcast) offered this insight which is worth noting:
Few, if any, investments would return 100% back in the first year. If you divide your income vs expenses, then your first year return is 10%. That's better than the stock market average and you DO have an asset to show for it!
What I Learned From This Challenge
Building a brand from scratch is always a good time for me. I get to be creative and do what I'm good at. I love coding websites, designing stuff, and crafting the overall look and feel of a brand.
But running it? Well, that's something I'm forever learning. And it's fucking hard.
And partnerships? That's also hard too. Especially for me.
To be honest, I really didn't do my research. Teaming up with JP to build software and a recipe database was a mistake in hindsight. I should have built up the brand and traffic first, just like I did with Roasty (a site that I eventually sold).
Had I done that, I probably would have come to the conclusion much sooner that software wasn't what I wanted for this site.
This site was a niche/authority site/brand from the very beginning.
What I Would Have Done If I Could Do It All Over Again
This is obviously wishful thinking, but it's fun to pretend.
I would have bootstrapped it and powered through very early on.
I would have done keyword research with Ahrefs.com following the exact strategy that I laid out in my SEO for Bloggers course.
I would have written and edited the first 50 articles.
I would have filmed and edited 50 videos that go with those articles.
I would have not wasted time building an Instagram account (which I did and it doesn't bring in any traffic).
Instead, I would've built a video course as I did with Swim University.
And I would have promoted my content with just one other platform. Probably Facebook because it's the easiest to find homebrewers there.
Thank You
I want to thank everyone who helped me with this challenge, especially JP and Michelle (my editor).
I want to thank everyone who visited, subscribed, and bought things through our affiliate links on BrewCabin.com.
Thanks to Steph, my beautiful and supportive girlfriend for…well, just putting up with me through all of these Money Lab projects.
Finally, thanks to you for reading this challenge and following along! I would not be able to do crazy shit like this if there wasn't someone there reading and emailing me.
Also, visit BrewCabin.com to see what we created this past year. I'm very proud of it and can't wait to continue working on it more intently in 2019 🙂
Peach out!
Matt Giovanisci
I own three authority sites across different niches, including Swim University, Brew Cabin, and Money Lab. They earn a combined total of roughly $1,000,000 a year. I design and code all my sites. Write the words. Film and edit the videos. Produce the podcasts. Illustrate the graphics. And I have a small team that helps too.