If this is your first time here, I recommend reading the about page. You should also check out the last challenge here.
The Challenge
In 2015 I created a coffee education site called RoastyCoffee.com. It makes money through Amazon affiliate sales.
As of March 2016, the site gets 20,000 visitors a month. It has 736 Facebook likes, 1,032 Twitter followers, and 421 followers on Pinterest.
We created a new article every week for a full year along with some YouTube videos to get these numbers.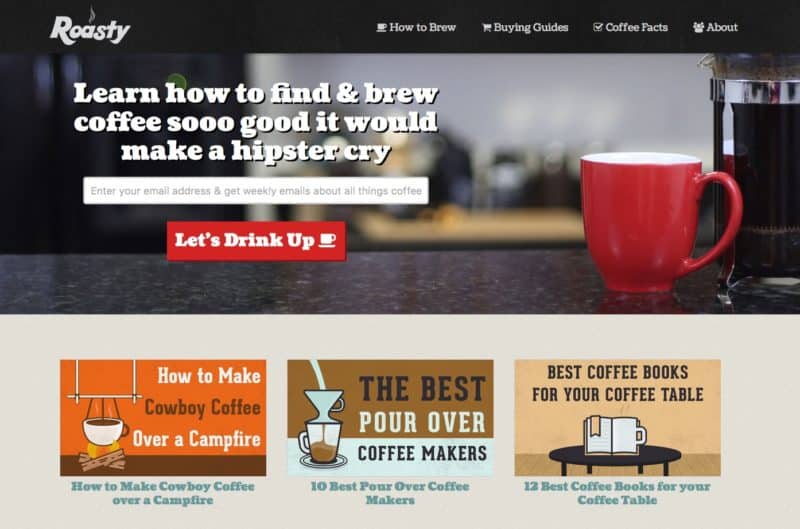 What We're Selling
We reached out to a few sponsors in January, but only sold one. I think our offer was confusing. This time, we're offering sponsors a custom video and blog post package, including promotion to the Roasty community for $2,000.
What We're Starting With
I have a list of 65 leads in Asana. If I need any more along the way, I'll add to this list. But, I think we can make this work.
My assistant and I curated the leads. We both used the same technique for finding sponsors.
The Plan
I'm going solo on this challenge. The good news is, I've taken the sponsorships course we released in the last challenge. Also, I have Jason Zook to help me if needed. I don't plan on tapping him for info because I want to do this challenge myself.
Here is a list of steps outlining how I think the challenge should go:
1. Create a Branded Email Address
I used to own matt@roastycoffee.com, but since I moved away from Hostgator, I lost it. Now, I have to either pay for a branded email address with Gmail for Work or come up with a free email address.
2. Craft Pitch and Follow-up Emails
I need to do is write a killer pitch. I will be clear on what Roasty does. I need to state the package I'm offering and how it will benefit the sponsor.
I also need to write two follow-up emails that I will send to anyone who doesn't respond. I will only contact sponsors three times until I consider them inactive. I call them Zombie Leads.
3. Make Supporting Documents
Some companies will want more information, like demographics and traffic stats. I've already created an advertise page on Roasty, but will need to update it with the new information as we go.
4. Organize The Leads in Asana
The leads are in Asana already, but I'll organize them based on how cold, warm, or hot they are. I'll be filming a video about this later in the challenge.
5. Send All The Emails At Once
I'm going to try something crazy since I only have 30 days to make money on this challenge. I would only send about 5-10 pitch emails a week and follow-up each week. Yet, for this challenge, I'm going to send a pitch to every lead I have on day two. And follow-up each week after until I make a sale.
6. Send The Follow-Ups
After the first pitch email, if I don't hear back, I will follow-up the next week. I will be sending pitches and follow-ups on Tuesdays. There is no scientific reason for picking Tuesdays. Don't read into it.
If I hear back from anyone sooner than the following week, I will respond as I see fit to make the sale. I don't expect much back and forth. I'm trying to avoid that by crafting a simple offer.
7. Making Sales
If I make a sale, I will send the company an invoice using QuickBooks. I will not be sending contracts because I don't feel like it. Don't read into that either.
The fulfillment of making the videos and blog posts will start after the 30 day challenge. I will continue to update if anything happens out of the usual.
Day 01: Getting Ready to Throw The First Pitch
The first thing I need to do is figure out this whole branded email thing. I already own a Gmail for Work account for SwimUniversity.com. Turns out, I've had this address for so long that I've been grandfathered into the program when it was free. That means, I can create up to 25 email accounts with different domain aliases for FREE. Boom!
I already use matt@swimuniversity.com, which means you can also send emails to matt@roastycoffee.com and it will end up in the same inbox, but I don't want that. I want a different inbox for Roasty emails. An easy solution is create mattg@roastycoffee.com.
Creating a Value Proposition
According to Jason and the GetSponsorships.co course from the last challenge, I need to come up with a good value proposition by answering these six questions:
What is the mission of the thing you're trying to do that you need sponsors for?
Who is your demographic?
What is your audience size?
What is the tangible things a sponsor gets?
Is anyone else on board, or has anyone else talked about this? Credibility?
How will this benefit the sponsor?
I've updated the advertise page on Roasty that answers all these questions, and I'll be using some of this information in my pitch.
Side Note: I've been using the Hemingway App to write everything for a past couple days. I used it to check the copy on the advertise page, and I'll use it to craft the emails I write.
Creating the Email Scripts
I'm writing and storing these scripts in two folders on Google Drive called "Cold Leads" and "Warm Leads."
"Cold Leads" scripts will talk more about Roasty, assuming never heard of the site. The "Warm Leads" scripts will assume they know Roasty.
Pitch email (week one).
Follow-up email (week two if they don't respond to the pitch).
Final follow-up email (week three if they don't respond to the follow-up).
Here's what my cold pitch email will be. I will remove my personal intro and "About Roasty" text for warm leads:
The Cold Pitch Email Script
Subject: Let's Get Roasty!

Hey [NAME],

My name is Matt and I'm emailing you because I love your [PRODUCT]!

I run RoastyCoffee.com. A popular coffee website that creates weekly coffee articles and videos. You may have seen us on The Huffington Post .

We're looking to do a small batch (coffee pun intended) of sponsored content on Roasty Coffee. I think [PRODUCT NAME AGAIN] would be a great fit.

The sponsored content includes:

A custom review or a how-to video about your product. Here's an example .
An in-depth article supporting the video, published on RoastyCoffee.com .
The video and article emailed to our mailing list on launch day.
Promotion to our social media communities, including Facebook, Twitter, Pinterest and YouTube.

Sponsorships are $2,000 and we're only doing a limited amount for the next month. If you want to learn more about Roasty Coffee, this page should answer all your questions.

Let's chat!

Thanks,
I'm using TextExpander to auto-populate these scripts in my Gmail account. Once I actually do it, I'll film it.
Organizing The Leads in Asana
I'll be tracking all the leads using Asana. I created a project called "Roasty Sponsors." In that project are  sub-headings, which will act as stages to keep track of:
New (new leads)
Contacted (leads that have been sent a pitch email)
Connected (leads that responded to any email)
Negotiating (leads that are interested in buying a sponsorship)
Sponsored (leads that bought a sponsorship)
Zombie (leads that responded, but are not going to buy)
Dead (leads that did not respond to any pitch or follow-up emails)
Each lead is a task. I'll assign each lead to myself with a due date of tomorrow. Once I send out either a cold or warm pitch (depending on the tags I set), I will move them to the proper sub-heading and change the due date to the following Tuesday so I'm reminded to follow up.
If a lead responds before the next follow-up date, I'll place that lead under "Connected" and change the due date if needed.
Day 02: Throwing Out The First Pitch(es)
I woke up just a tad earlier this morning. I made an extra couple cups of coffee in my OXO brewer (a company I'll be emailing today).
Today started with some content issues on Swim University, so I had to take care of that first.
9:51 am: First Batch (10 Pitches)
Right now, it's 9:51am MST and I've sent only 10 cold pitches. This is the first time I'm looking at some of these leads and I'm excited about a lot of them. There are some cool coffee products out there and I would love to make videos about them.
So far, no one has responded, but that doesn't surprise me. I won't get a majority of the responses until I start following up.
I have a few interruptions today, including an interview for GetSponsorships.co. I also have a meeting with my landlord because we might break the lease early. Yikes!
I wanted to make this update before I got deep into the weeds. The pitching is running smooth. I'll film a video showing how I'm pitching these leads, step by step.
10:28 am: Second Batch (10 Pitches)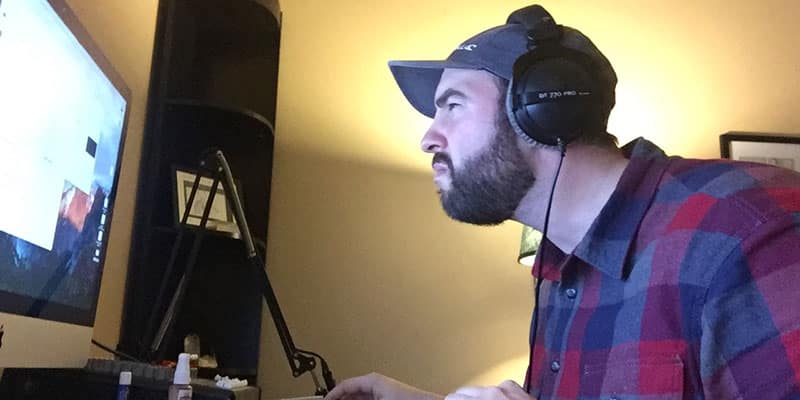 I've sent 10 more pitches. One of the companies I emailed responded right away. It turns out that their product does not fit with the Roasty Audience. You should Google, "Coffee Ripples." It's pretty awesome.
I need to shower. I want to shoot a video demonstrating my pitch method. I also feel gross and ran out of coffee.
I'm not concerned about getting all these emails out in the morning. As long as they're all sent today, I should be good.
11:18 am: Third Batch (5 Pitches)
I took a shower and only sent 5 pitches. As I was going through some of the leads, I realized a lot of them were for coffee businesses and shops, not the home.
I ended up putting a lot of leads in the "Dead" category. 16 of them to be exact.
That means I'll be working with a lot less leads than I thought today. I may end up spending some time finding more leads today after I've sent emails to all the leads I have in Asana.
On a more positive note, I've already received two responses. But, both of them said they don't have a big enough budget to work with me. They're interested though. So I'll take over and see if I can work out some other deal with them.
4:27 pm: Fourth Batch (10 Pitches)
I've sent 35 emails today. I took a long break from sending pitches. I had to do a Skype interview with Jason for the GetSponsorships Course. Then, we bullshitted for about an hour. Then I ate an orange.
Then I talked to Steph about moving into a new place. It's been quite a day.
But so far I got 5 responses. They were positive, but need more massaging. No one just said, "yes!" It would have blown me away if they said that on a cold pitch.
I only have 5 more pitches to send. I had to categorized 25 of them as "Dead," which I did not expect. Once I'm finished sending the last few emails, I will upload a video about how I pitched all these sponsors.
5:03 pm: Fifth Batch (8 Pitches)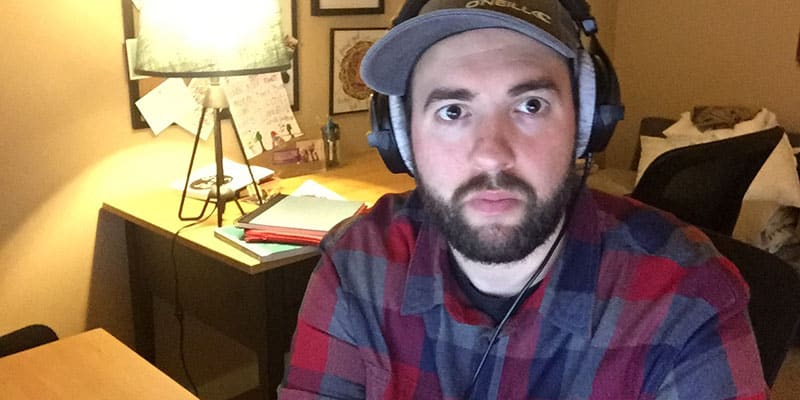 I've sent a total of 43 emails today to a majority of cold leads. So far only 5 people have responded, but that's way more than I expected.
Here are a few of the responses that I've paraphrased for brevity:
Thanks for reaching out. Unfortunately, we do not have the budget for a $2K sponsorship.
Thanks for reaching out. I want to hear more about the site and offer. Do you have some time tomorrow?
I'm interested in talking more about working together. But the timing is not good for us. We're in the final stages of production and we don't expect to begin shipping until later this Spring.
I think something like this would go down best once the product launches in the coming months.
Right now the program isn't of interest. But I appreciate you thinking of us.
These are not bad responses. On day one it tells me that I have a good product to offer everyone. They all seem pretty interested, even if they don't have the budget or product for it yet.
How I Cold Pitched Sponsors using Asana, TextExpander, and Gmail
Day 03: Taking My First Sales Call
Today was a slow day for responses from yesterday's email blitz. I only received one response and it was to set up a call to learn more about Roasty and the offer.
The call took place at 2pm MST and it was quick and productive. They asked what my stats were, including unique visitors, pageviews, and social followers. I directed them to my Advertise page, but also looked at Google analytics.
I was straight up with my answers. I don't embellish or inflate. I wouldn't even if my numbers were lower than I would think is acceptable.
The call ended with no deal made, but a promise of a future call. I may follow up sooner rather than wait a full week.
Day 04: Handling the First Rejections
It's only been two days since sending all the pitch emails and I've received 11 responses. Some of them I already shared.
The consensus so far has been a lack of budget or product. The good news is, only a select few were just flat out not interested in the offer.
A lot of the companies I contacted are brand new. A lot of them don't have a product on the market yet, so a budget for sponsorship is unthinkable. But, they are all interested in working with Roasty later. While this is awesome, it does not help me during the 28-day challenge.
The First Major Rejection
There was some serious consideration from one potential sponsor. It was the call I set up yesterday. They were curious about my web stats.
The got back to me expressing concerns about the cost. They said, "the cost per impression is high for our current strategy."
This is an acceptable answer from a sponsor. But of course, I took it to heart. Which is a flaw of mine. I want to share the email I responded with.
As a direct numbers game using CPM, you're right. It doesn't make sense. I'm not selling numbers. I'm selling a high-quality video as a third party endorsement of your product.

I have a direct connection to an audience of people who brew and drink high end coffee. These are people hungry for new technology to make their brews better.

While the numbers don't work out in the short term, they're gangbusters in the long. As my site and following grows, so does the endorsement to your product. This is not a CPM game as you would play with a temporary banner ad. I want to create evergreen content that will be an investment in your product's future.

I wanted to give one last ditch effort before you move on. I would love to chat later if you're still interested.
I have not heard back from this email yet. I shouldn't get emotional about this process.
Day 08: The Follow-up Day
I'm getting a late start today. I have two calls in the middle of the day that will interrupt my flow. But I don't have as many emails to send as I did last week since some people responded with a NO. I have only 32 follow-up emails to send and this is what it looks like:
Hey [NAME],

I'm following up about the RoastyCoffee.com email I sent you last week. We're looking for awesome sponsors, like you!

We've worked with companies like OXO and Marley Coffee. I would love to make a video on [PRODUCT]. Our audience would love it and the content could bring you value for years to come.

Can we set up a time to chat this week?

Thanks,
According to Jason Zook, 75% of the responses he got from sponsors was on the follow-up email. I'm hoping I have the same stats today.
10:02 am: First Batch (20 Follow-ups)
I'm crushing these follow-ups. And I hate that I just used the word "crushing." But the follow-up emails are much easier to send than the pitch emails.
I'm sitting in my office drinking my second cup of coffee this morning. I have a bottle of homemade SodaStream seltzer water and listening to The Wonder Years on my Bose Soundlink III, which has incredible bass for such a little speaker.
I'm following up using Asana, Textexander and Gmail. It's not too different from sending pitches.
I haven't showered yet and I have a call at 11:00am. I look like balls, so I'll shower after my call and knock out the rest of these follow-ups before my 2pm call.
11:40 am: Second Batch (12 Follow-ups)
I'm finished sending all of the follow-up emails today. I got four responses back. Three of them are rejections. Feeling pretty beat up, but I must keep going.
The good news is one of them was a response to set up a sales call next week. This is a good sign!
Also, I showered.
12:27pm: Creating More Leads
As Jason reminded me, getting sponsorships is hard work. "Gotta put in the work to make it twerk, ya know?" I'm getting responses today, but this challenge is really dragging. I need to kick it in the ass this week. It's a numbers game and I gotta increase the numbers.
I'm trying to find at least 25 more leads. I'm using a different pitch this time. Something a little more fun and relaxed to see if I can get any bites.
1:32pm: 28 Leads Created
In about an hour using Kickstarter and Sprudge, I was able to find 28 more leads to pitch. I have a call at 2pm, and after that, I will work on sending 28 more pitch emails today.
4:04pm: First New Batch (10 Pitches)
I took a lunch break after my call and watched a short documentary on YouTube. I also took care of some personal errands, but now I'm ready to start emailing my first batch of new leads with a new pitch. Here it is:
Hey [NAME],

I make fun and entertaining coffee videos. Here's one that's badass: http://www.roastycoffee.com/cold-brew-coffee/

I'd like to make a video for [PRODUCT]. It's awesome.

A video with a blog post promoted to our community is $2,000 and I'd love to work with you.

Let's chat!
It's pretty relaxed. Let's hope it works!
4:29pm: Second New Batch (18 Pitches)
I finished sending out both follow-up and new pitch emails today. Next week, I will have a lot more follow-up emails to do in a single day.
I sent a total of 60 emails today and set up one phone call for next week.
Day 11: Getting The Shit Kicked Out Of Me
I'm feeling pretty bummed about the results of this challenge so far. I don't even want to spin it in a positive light. I know I'm only in week two of the challenge, but I don't have high hopes for making any sales.
I have a call scheduled for next week, which is the best and only prospect I have so far.
The only good news is that the response rate has been pretty good. About 40% after the first pitch email. I don't see this kind of response in the pool and spa industry. My theory is that the coffee industry is younger and more engaged online. But it seems that they're not interested.
Here are some of the responses I've gotten from both cold pitches and follow-ups:
Thanks for your interest, but we have in-house marketing that does all of creative work and I don't see a fit at this time.
Sponsored posts are not part of our marketing strategy and we do not feel this is a good fit.
I spoke with our marketing people. We are not interested in being a sponsor at this time.

I think your videos are top notch and I've bookmarked you for the future. When things look better for us financially, let's re-sync up.

…at present and based on the number of Facebook and YouTube followers, I feel that your sponsoring request is not reasonable.

At this moment we are doing all video internally.
It's not all bad. In fact, none of it is really bad. I knew this challenge would be tough. Most of the sponsorship deals I've worked on my other sites take months to close. Especially when you're dealing with large companies.
But none of this is stopping me. I only need a few nibbles, which I have. I will try to turn them into paying sponsors!
Side Note: Today is April Fool's Day and I made this for you.
Day 14: Gearing Up for Another Email Follow-up Day
I went through my emails and responded to everyone who turned me down. I realized that a lot of them liked Roasty. But either didn't have a budget  produced videos on their own. All of my replies said:
Hey [NAME],

No worries! Thanks for getting back to me 🙂
Do you happen to know anyone else who might be interested?

We'll see if this question will get any responses. I know there may only be a few if any at all.
So tomorrow I have a call with a potential sponsor. I'm hoping to land it. I also had a company offer to send me their product to check out. This is one of the reasons I started Roasty in the first place. I love coffee, and free coffee gear is always a plus!
Day 15: Sending 46 Follow-Up Emails & Taking One Sales Call
The third week of sending emails has arrived. I'm taking my time today. I'm on my second cup of coffee but still feeling sluggish and unmotivated. I'm learning some big lessons with this challenge, but now's not to the time to dwell; it's action time!
It's 9:56am as I'm writing this and I'm waiting for a call from my friend Doug. He has a question about how I use Asana to track my follow-ups. He's joining me on this challenge, so I'll ask him how things are going.
My sales call is at 1pm today. I hope to get all the follow-ups out before then. We'll see how things pan out as I update this post in real-time.
Here's my very simple final follow up email:
Hey again [NAME],

Just following up to make sure you got the last email I sent?

I'd like to talk about making a video with you for RoastyCoffee.com.

I think you'd be a great fit for my audience.

Thanks,
10:37 am: First Batch of Follow-up emails (44 Emails)
Yup! I just sent 44 emails in less than a half hour. Holy shit! Some of them were second follow-ups, and others were final follow-ups. I only had one response during that half hour, which said:
Thanks but we are not interested. We have in house creative.
Another blow! But oh well. To be honest, I want this challenge to be over. I want to move on to another challenge. It's been a tough go, but I plan on finishing it with hopefully one sale under my belt. I would feel accomplished if this challenge made ANY amount of money.
I know this is not how sponsorships usually go. Again, I would do things differently if I do this again, but I'm learning a lot during this challenge. I'm learning what this coffee industry is all about. Turns out, everyone is really cool and nice. I would love to work with some of these people. But a lot of them don't have the budget for what I'm offering. Perhaps if my offer was at a lower price, I may have gotten more bites.
But, since I don't have the traffic numbers yet, I wanted to showcase my video making talent; that's what I'm really selling. The access to the Roasty audience is an add-on.
I don't think traffic numbers are a problem at all. But I decided not to focus on that. If I were going to sell based on traffic number, my price tag for sponsorship would be lower. And I think a lot of companies would have jumped at the chance to get in front of my 20,000/month visitors. Perhaps a challenge for another day.
I still have a few more emails to send. These are to people I've spoken to before, so I won't be using a script. I also have my call at 1pm. After that, I'm done with this challenge for today and look forward to only have one week left 🙂
1:15 pm: Call Rescheduled and More Responses
My call at 1pm got pushed back at the last minute. The company had an interruption today and everything got dropped, including me. We're working on rescheduling for later today or tomorrow.
I got another call booked for Friday from a different company. It's not official. They just want me to call them sometime on Friday afternoon to chat.
I also had another lead suggest that the video was not in their budget, but maybe we could work out some other deal. We'll see if that progresses.
As of right now I'm finished sending out all the emails and just answering any response I get until next week when I send my final round of follow-up emails.
3:35 pm: The Best Response So Far…
My sales call got rescheduled to tomorrow. So I should have more updates then. But I wanted to share with you the best response I've gotten so far…
I can tell I already like your company. I checked out the website and I instantly laughed when I read the header "Learn how to find & brew coffee sooo good it would make a hipster cry"… Brilliant. Yes, let's chat sometime this week. Do you have time available

tomorrow

?
Boom! This is a great sign. Someone is aligning with my brand message. Maybe things are looking up for this challenge after all.
Day 18: Nothing Good So Far
I had my second sales call rescheduled on day 16 (Wednesday). The call was pleasant, but the company had no budget to work with. I needed a win at this point, so I asked them if they would be willing to pay only $500 for a video, blog post, and promotion. They said no.
Then, I offered a 300×250 pixel sidebar ad for only $100 a month. They were more interested in that deal, but needed to talk to the team first. I haven't heard back.
I had another call today with a different company, but the person was not the right contact. But they did mention that they probably wouldn't be interested. They signed up for Roasty though. Minor win.
The Last Ditch Effort Plan of Attack
If this company decides to go for the $100 a month sidebar ad – and since no one is biting on the video offer – I will send emails to everyone who rejected me with the same offer. Maybe I'll at least get some easy banner ad sponsors out of this challenge. Maybe that's more enticing for this industry. I won't know unless I offer.
I have one more week of sending emails and then the challenge will be over. I can't fucking wait! And I'm being sarcastic in case that wasn't clear.
Day 22: The Final Week of Emails
It's 9:40am in Colorado right now. I have a coffee and a bottle of SodaStream Seltzer water again. My first order of business is to clean out the Roasty inbox and respond to a few emails. My goal for this week is to get a minor win. Anything!
I've had a lot of time to think about this challenge and what I think went wrong. I was ambitious with my high price point. I didn't know the companies I was pitching to.
This came from a sponsor we got before the challenge started. We were able to land them for a deal over $2,000 that included a video. But now I realize this company is an outlier. This is a valuable lesson for Roasty going forward. Even going forward today.
I'm going to reach out to everyone who didn't have a budget with one last offer. I will offer sidebar banner ad placement for only $100 a month. We'll see how that goes.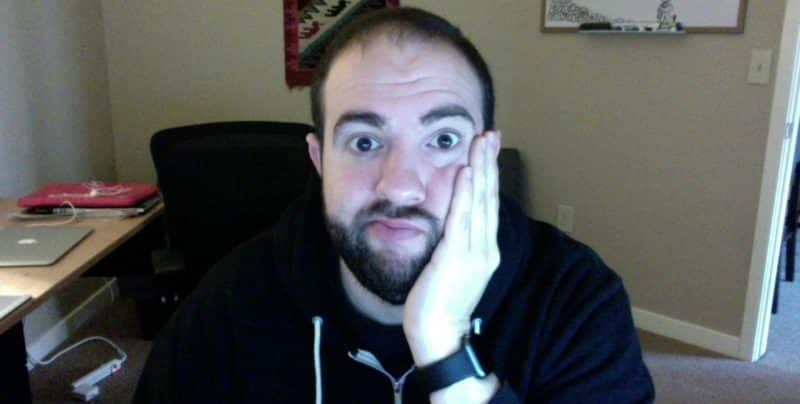 9:45am: Cleaning Out The Inbox
I have nine emails in my box I need to clear out before I begin. That's just the way I like to do things; start with a clean kitchen. The first email is from a company who agreed to send me their product to try. I look forward to that!
I got some coffee gear from another company that I plan to use in my now upcoming home barista video course. I responded to that email, too.
I haven't heard back from the first company I offered this $100/month banner ad deal to. But I just followed up again to see if they made a decision. I hope to hear back today.
10:09 am: Sending 20 Final Follow-Up Emails
After cleaning out my inbox and updating Asana, I counted only 20 emails left to send using my final follow-up template. Once this is finished, I will be making a list of all the companies who turned me down because of budget issues and I'll send them a new pitch offering the $100/month banner ad spot.
I'm popping on my giant headphones and listening to some super heavy metalcore music. I'm really in the mood and jacked up on caffeine. If you're interested, the band I'm listening to right now is Chunk! No, Captain Chunk!
10:21 am: Getting My Hands on an Espresso Machine
That was fast! I knocked out those emails. Metalcore and coffee!
I mentioned before that I'm planning to create a home barista video course. Since the sponsorship stuff wasn't working, I decided a custom product would work better.
On a side note, Roasty has been losing money since day one. This is something I've known about and had done on purpose. My plan with Roasty from the start was to create a coffee site for myself. I would slow grow it over the course of 4 years. My revenue model would include affiliate sales, sponsorships and perhaps products of its own. It's only been a year, but I'm starting to get antsy. I would like it to at least break even each month.
I spend about $800 a month to keep consistent content published once a week. But the site only makes about $350 a month via Amazon Affiliates. I thought the sponsorship stuff could make up for the rest, which it still might.
But I digress. I'm making a course. I already know people are interested. I put a "welcome mat" on Roasty to start collecting email addresses for when the course comes out. People are signing up.
One of the things I'd like to feature in the course is espresso, but I don't own an espresso machine. I would like a company to send me one to use in my videos. I did some research and found the one I like. So I'm reaching out to that company today to see if they will send me one for free to use in my videos. That's the next email I'm sending. Here's what it says:
Hey,

I'm filming a home barista video course on RoastyCoffee.com and launching in early June. I'm creating section on making espresso drinks at home. I did a lot of research to find, what I thought, was the perfect home espresso machine. Something I thought was affordable and had all the right features.

I would like to use the [PRODUCT NAME] in all my upcoming espresso videos, which will be in the course and for free on YouTube.

Would you be interested in sending me [PRODUCT NAME] and I can show off all its awesomeness in the videos?
Let's hope this works!
3:57 pm: Creating The New Re-Pitch Email
I only have five leads right now who specifically told me they didn't have a budget for the project. I'm going to look for me, but I wanted to create my email first. Here's what I'm going to use:
Hey,

I know you said you didn't have a budget for the video and blog post offer, but I have something else we can try.

A 250×300 pixel sidebar ad on every page of RoastyCoffee.com. It will rotate with only four advertisers max. It's $100 a month. We can do a month-by-month, 3-month, or 6-month packages.

Can we give this a try?
Here we go!
5:02 pm: Finishing Up For The Day
I sent my 20 final follow-up emails. I sent my pitch for an espresso machine. And I sent my last ditch effort email to five companies who didn't have the budget. I have one more week left to see what kind of responses I get.
To be honest, I don't have very high hopes of closing a single sponsorship deal from this round. The good news is, I learned a fuck-ton about the coffee industry. I know I need a better offer in the future. I got some great connections out of this process that may lead to future sponsorships. I also got some free coffee gear out of it. It's not all bad.
I'm betting I'll close some sponsorship deals, but it will be months after this challenge. These companies now know I exist and they may see an opportunity later. In the meantime, I'll craft some killer offers they won't be able to pass up.
Day 23: The First Win
It's 1:21pm and I just had a little back and forth email chat with a company I reached out to early in the challenge. They rejected my first offer of a $2,000 video and blog post sponsorship. But I'm happy to report that they will be the very first sponsor on RoastyCoffee.com!
Since they didn't have the budget for the $2k sponsorship package, I offered them the $100/month sidebar ad sponsorship. They fired back asking if I would do it for $50 for the first month to test. If the campaign does well, they said they would buy three months at my original asking price.
DEAL!
This is the lowest sponsorship deal I've ever done, even in the early days of Swim University. But a win is a win!
1. Getting Paid For The First Sponsorship Deal
Now comes the fun part for me: getting technical.
Since this is just a test campaign, I just sent the company a link to my Paypal.me address with $50 built in to the link. If you have a PayPal account, get your PayPal.Me address. Mine looks like this (and feel free to give me money: https://www.paypal.me/acemedia/
A little trick is to add the set amount at the end of the URL so it's already populated. Like so: https://www.paypal.me/acemedia/50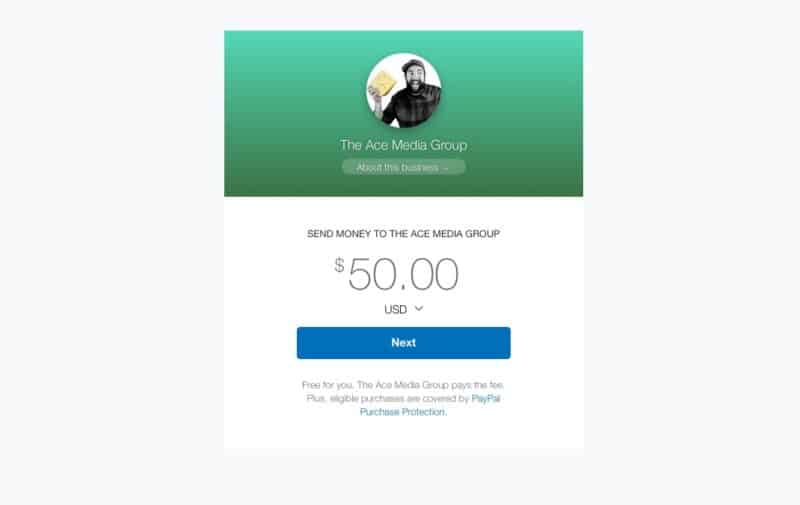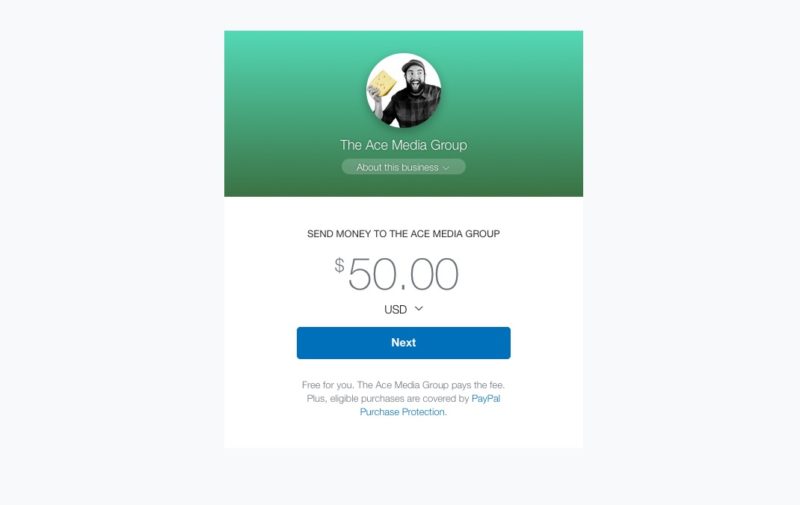 NOTE: My company is called The Ace Media Group, LLC. It was set up in New Jersey back in 2008. I named it "Ace" because I have a large collection of unopened decks of playing cards. Lame, I know.
2. Displaying The Banner Ads
Since I use WordPress for Roasty, I have a plugin I bought called AdSanity that displays the ads for me. It's a pretty simple plugin I've been using for a few years. I'm not sure if they're still updating the plugin, but it still works and I'm happy with it for now. I only have to display one ad anyway and I want full control of it.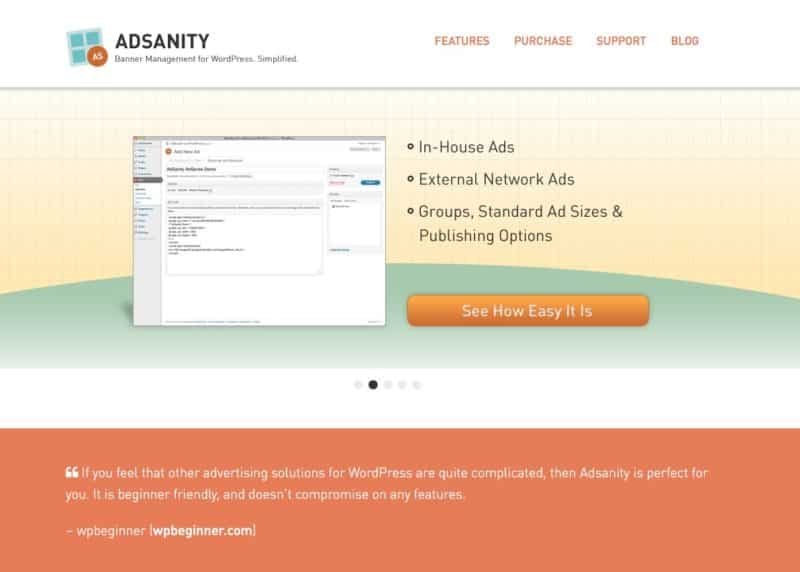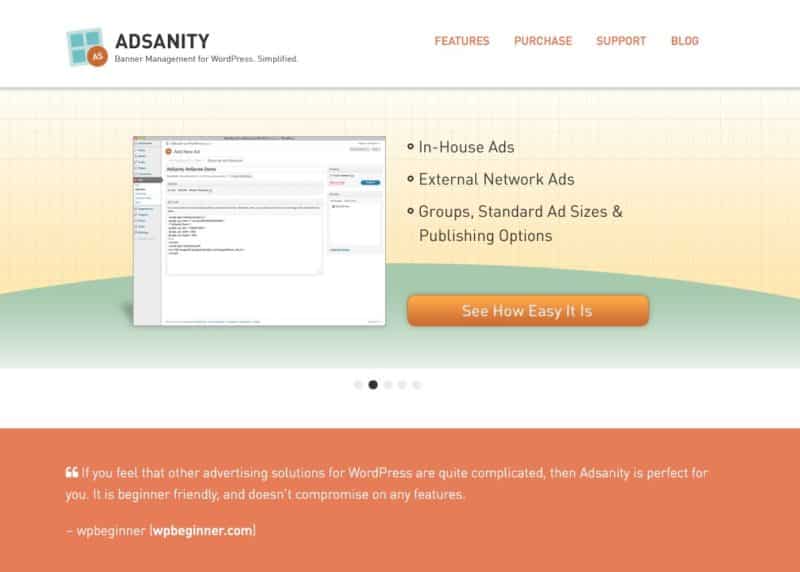 3. Keeping In Touch With The Sponsor
Again, since this is a trial deal, I will need to keep my client informed of the stats. AdSanity has a pretty low-tech reporting system that's simple. I like simple. So do sponsors. I will take screenshots of the reports and send the data via email.
I decided to let them display their ad for the rest of April and all of May for the $50. This is my small way of under promising and over delivering on this sponsorship deal.
I'm hoping we get some good results from the ad and they continue to be a small sponsor going forward.
Day 25: We're Getting Ahead Of Ourselves
It's Friday night at 7:08pm and I still haven't been paid for the ONE sponsorship deal I thought I sold. I sent a quick email today to follow up, making sure everything was still a go.
It wasn't.
I got a response back today. They said they got ahead of themselves. They wanted to know where the ad would be place and how many monthly pageviews my sites gets. At the time of writing this, my site gets 30,000 monthly pageviews. And the ad will be place at the top of the right sidebar on every article.
I want to say this is normal. Even though their email literally said, "do we have a deal?" Which I replied quickly, "YES!"
I just want to note that there's still a chance that this deal won't go through. But I'm keeping my hopes up. I want this challenge to be mildly successful. Fingers crossed.
Day 28: Lessons Learned from Making $0
Today is the last day of the challenge. It's been exactly four weeks and I'm very glad that it's over. Even though it's only my second challenge, it's been the hardest so far. Not physically or by the amount of work I put in, but mentally. I got mentally beat up by this challenged and it's changed me. For the better.
I've made $0 on this challenge. Even that minor win didn't close in time of the challenge. I'm still waiting to hear back if we still have a deal or not. I can't believe I working this hard for $50. But it's over. If it happens, fine. If not, oh well.
I did get a couple of cool coffee gadgets out of the challenge though that I've already started using. Nothing crazy, but that's still pretty cool.
I did a lot of thinking about the lessons I learned in all this. So here we go.
Timing Is Important In Sales
I knew this working in the pool industry. Timing is everything. The weather affects business. Small pool companies are extremely busy in the summer, while manufacturers are not. In the winter, it's vice versa. Knowing that is important when you plan on reaching out to sponsors. Took me four years to figure out the right time to start making contacts.
The same is true in the coffee industry. April is the worst time to sell advertising to coffee companies. It's the beginning of quarter two for most businesses and tax season. Meaning, companies might be strapped for cash. And that seems to be the case here.
It was also the big SCAA expo, which might be the largest coffee conference of the year. A lot of the companies I reached out to had just spend the reminder of their marketing budgets on attending this show. This is why November is such a bad time to sell to the pool industry, too.
Know Thy Industry
I didn't know the coffee industry at all. Hence the reason I didn't know about the SCAA, or else I would have avoided selling during April. I also didn't know that this is a very young industry with lots of new money. Hence another reason a lot of companies didn't have any budget for advertising.
I'm also not speculating. I was told this by someone I reached out to. Also, by reaching out to all these companies I saw a trend. The industry is not ready to sell to the masses, which is what my website targets. They're still targeting people in the industry. This is very similar to the pool industry as well. It takes a lot of selling and proving to show that you can sell niche coffee and related-gear to the masses.
Also, a lot of companies were literally brand new. Some of them didn't even have products for sale yet. So I may get more sales in the future because now they know about RoastyCoffee.com as an advertising option.
Pricing Is Key
My price was too high. Bottom line. It wasn't the product. People were interested in what I was offering, just not at that price.
That's ok though. I knew it was high. I was only hoping to get a handful of sales anyway at that price, but it turns out it was too high for the industry. And perhaps too high in general. This is good to know for the next round of sponsorship sales, which will be happening. This is not the end. This is just the beginning.
Thank You
This was a tough challenge for sure. But I'm really excited to start a new one. I've really enjoyed sharing the process along with you and it got me thinking more about Money Lab as a brand.
I want to build more. I plan to create more products across a bunch of different industries and document everything here. Selling sponsorships will happen again, but I'm not sure it's worth sharing on Money Lab in the future. But we'll see. Maybe I'm come up with something creative to do.
Thank you to everyone who helped me get through this challenge and encouraged me not to give up. I'm talking to you, Jason Zook. Jason got the brunt of all my complaining over Slack about how much I was hating this challenge. But he told me to suck it up and keep going. I'm glad he did.
Stephanie Halligan, my awesome girlfriend, might have gotten the worst of me. I have to thank here and say sorry. There were days I was not fun to be around. But lessons learned. Hard. I love you, Stephanie!
I want to thank Jason Glaspey, Thomas Frank, and everyone who gave me advice and tips along the way.
Peach out!
Matt Giovanisci
I own three authority sites across different niches, including Swim University, Brew Cabin, and Money Lab. They earn a combined total of roughly $1,000,000 a year. I design and code all my sites. Write the words. Film and edit the videos. Produce the podcasts. Illustrate the graphics. And I have a small team that helps too.