First time here? Read the about page. For context, I own a seasonal site called Swim University that teaches pool and hot tub care. Also, this is a challenge that's updated in real-time. Subscribe above to get updates.
In January 2020, Google released a core update to its ever-changing algorithm that hit Swim University like a cannonball.
Swim University hasn't seen a hit like this since 2008. Since then, the site has either doubled or tripled in traffic every year. But of course, 2020 has to be a major dick.
Thankfully, traffic and rankings are starting to improve as the algorithm corrects itself. My shorts have remained clean. But during this time, there was nothing we could do to make the site any better.
I believe SwimU is a site that both Google and users love for good reasons:
It's faster than every competitor. The largest pages load well under 2 seconds and as low as 0.7 seconds.
All 200 articles are rich with featured snippets, educational videos, helpful graphics, and answers to every important question on the topics.
The design is clean, authoritative, and focuses on content instead of silly marketing tactics like popups and notification boxes.
These things are important because we serve an older audience who visit mostly on their iPads and iPhones. And they're probably visiting out by their pools or spas which is statistically further away from their WiFi network. (Don't fact-check me on that last part. You know it's true. Just think about where your parent's router is located.)
I'm sure if we just keep doing what we're doing and we'll be ok. But this got me worried and thinking about traffic diversification.
The only sources of traffic I like are evergreen search-engine based ones like YouTube and Pinterest. It's hard for me to invest in social media like Facebook and Instagram when nothing is evergreen, the content disappears into the ether, and platforms like Instagram don't even allow you to add links. So what's the point for using those platforms to grow traffic to a website?
So for this challenge, I'm going to invest (again) in Pinterest in an extreme way.
The Challenge
In 2019, Pinterest was my third highest traffic source, bringing in 189,867 new users. That's about 3.7% of my total traffic.
This is not an accident. I focused heavily on building up a Pinterest following starting in 2012 because 42% of my audience is female and they happen to be the most engaged according to the emails we get. I felt Pinterest was the perfect place to target this demographic.
Plus, Pinterest is an evergreen search engine with almost no competition, unlike Facebook. And it paid off! We didn't post a single pin in 2019, yet traffic continues to roll in.
However, in 2020 our Pinterest traffic dipped by 32%. I believe it's because we're not contributing to the platform on a consistent basis like before. Even though it's an evergreen search engine it's also a social network too.
I'm going to create 100+ images scheduled to pin all summer long to increase traffic, affiliate link clicks, and product sales. I'll measure and document all the stats throughout to challenge. Hopefully, my efforts will pay off.
After the challenge, this won't be sustainable. I'll develop a more long-term strategy to keep the momentum going.
NOTE: I'm calling this the "Pinterest Avalanche" challenge is because I learned everything about Pinterest through an online course by Alex and Lauren at CreateAndGo.com called Pinterest Traffic Avalanche (aff link).
Pinterest Traffic Avalanche [COURSE] Price: $197.00 I took and implemented the lessons in this course when I developed my Pinterest strategy for Swim University. I highly recommend their course. Buy Now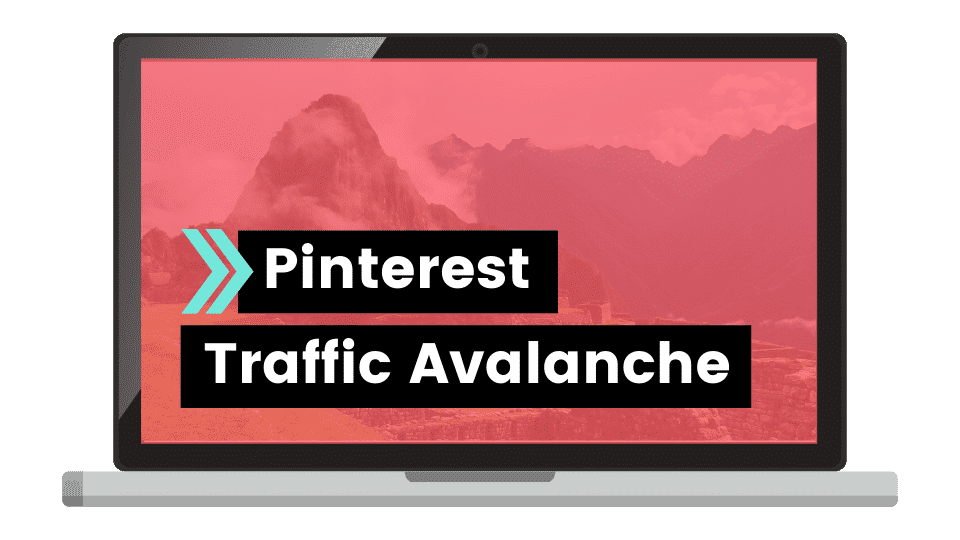 We earn a commission if you click this link and make a purchase at no additional cost to you.
The Plan
I've already tested my process and it seems to already be working according to Pinterest Analytics. Green numbers always look good.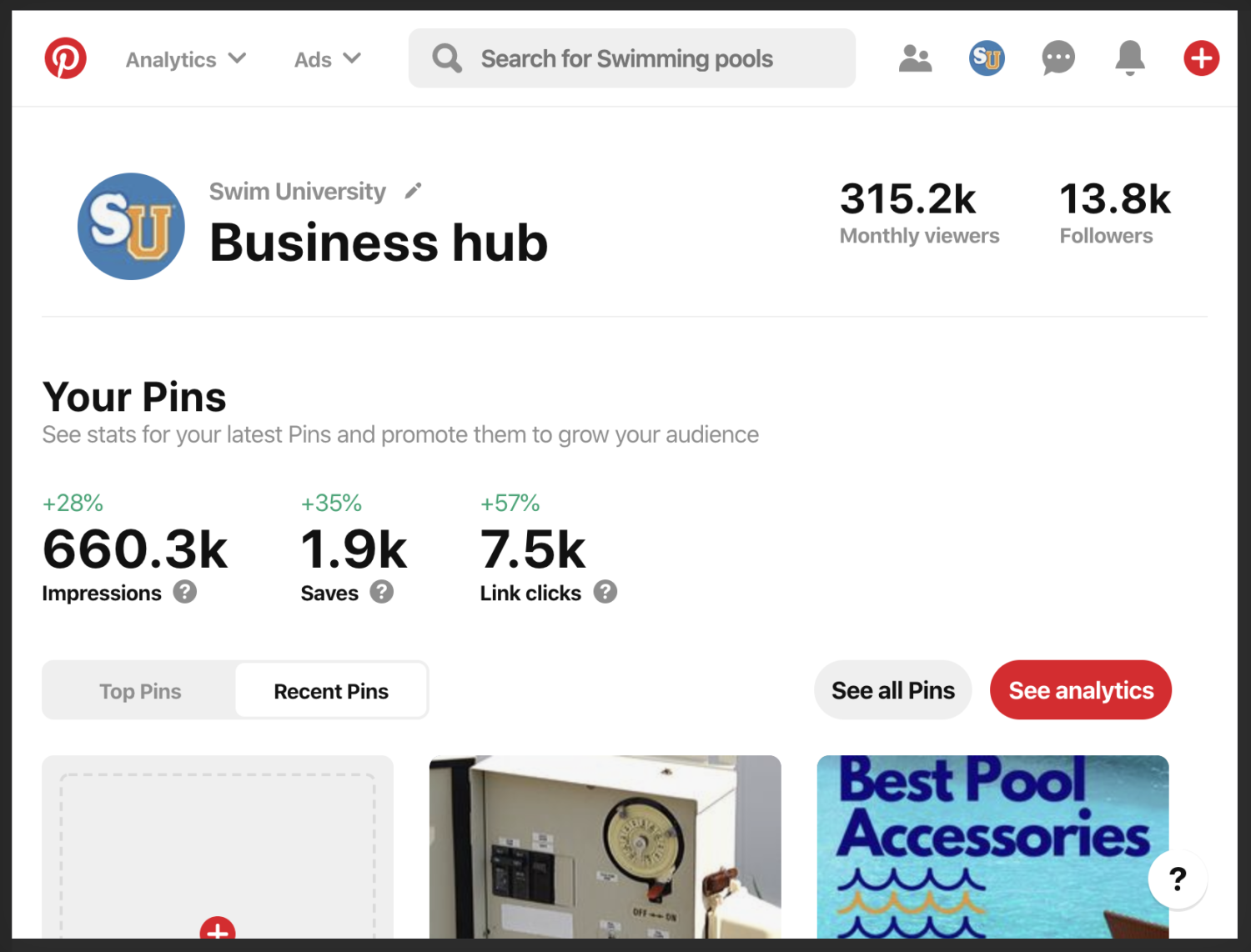 1. Create Images in Canva
First, I'm going to bulk create 100+ pins using Canva.
As a seasoned graphic designer, I could design in Photoshop, Illustrator, or XD. But I'm using Canva because it's what they use in the Pinterest course and it's easy to make pins fast.
Here's a bunch I've already made with Canva.
I also bought a one-month subscription to 123RF.com (aff link) to get stock photos. They have the best collection of pool and hot tub photos and graphics. And they're the most inexpensive stock photo site I've found.
123RF.com for Stock Photos Price: This is the stock photo service I use for photos we can't get ourselves. Specifically for Swim University. Buy Now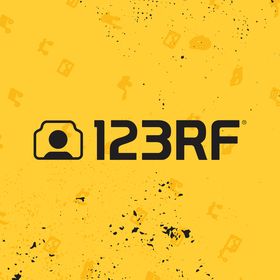 We earn a commission if you click this link and make a purchase at no additional cost to you.
To keep track of what pins I've created and what comes next, I'm using our internal content spreadsheet.
I added four columns to keep track of the pin URLs for each article. Some articles already have up to three pins. And there are new articles with no pins yet.
I'll focus on the new articles first. Then, move onto articles that only have one pin and so forth.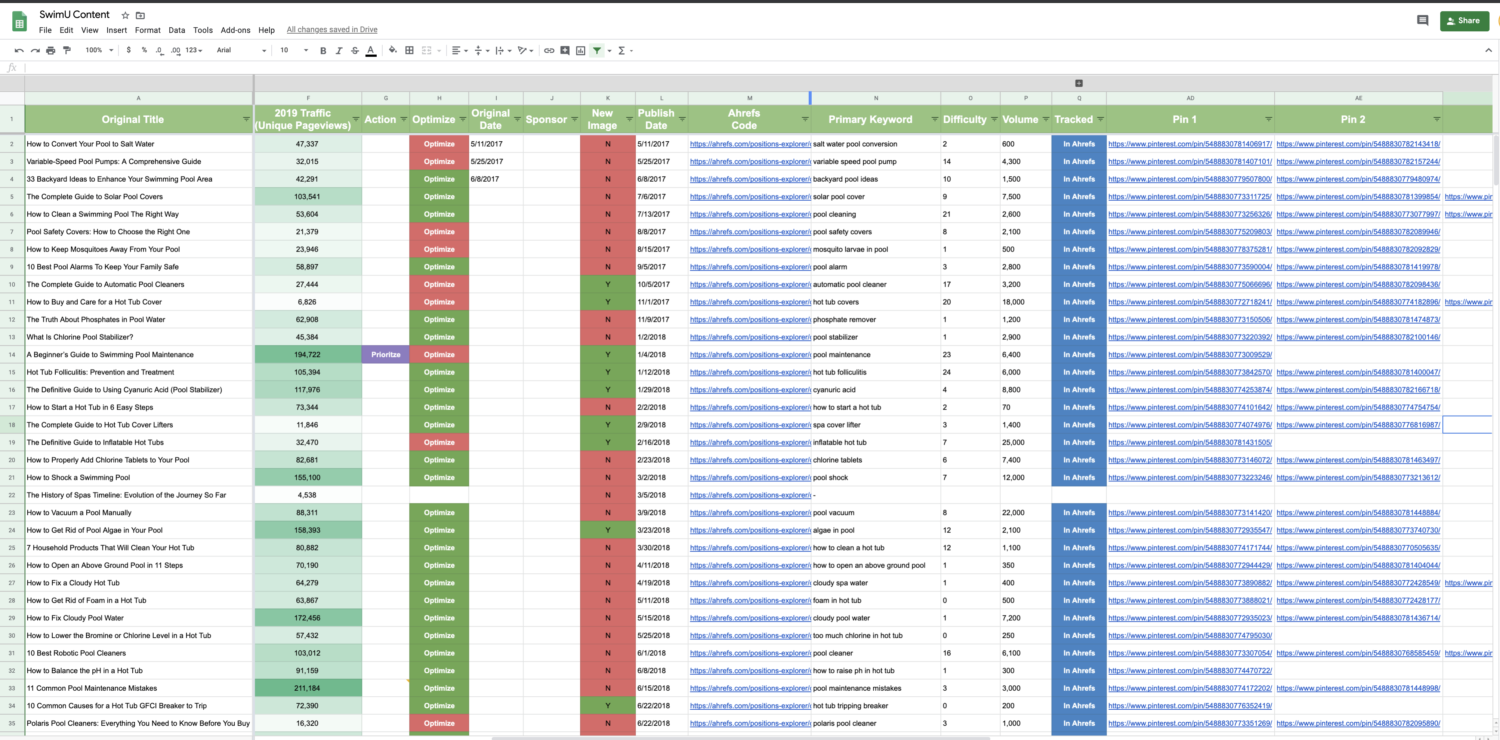 If you want this content spreadsheet, click here and make a copy for yourself.
2. Schedule Pins in Buffer
In the course, they recommend using Tailwind as a Pinterest scheduling tool. But I have a strong aversion to bad design and TailWind is a prime example.
So I'm going to use Buffer since I already pay for it.
My only goal is to consistently pin new images. I can create multiple pins linking to the same article with the same description as long as the image is different.
According to Alex and Lauren at CreateAndGo.com:
…Pinterest has been shifting focus away from duplicate content and more to "fresh" content on the platform. This is nothing new and it's the reason why we recommend creating several different pins for each blog post that you publish.

But up until this point, you could still re-share old (duplicate) content without getting penalized.

Well, not anymore.

Pinterest has recently announced that duplicate content will not see as large of a reach on the platform as fresh content.
I've always published new content. I've learned my lesson years ago. The Internet wants fresh and unique content. They don't want republished bullshit. That's an old blackhat SEO technique from 2008 and before.
3. Measure and Share
Once all the pins are scheduled, I'll wait for the results. I'm using Google Analytics to measure the impact as well as Pinterest Analytics.
My hope is that traffic outperforms last year's numbers. And I want to keep my eye on the quality of traffic.
Pinterest gets a bad rep for bringing in low-quality traffic. We're talking a high bounce rate, low pages per visit, and poor conversions.
This doesn't seem to be the case for Swim University.
Pinterest traffic has the same bounce rate as Google, higher pages per visit than Google, but a poor conversion rate on products. Affiliate link clicks are on par with Google as well. So this is good traffic for SwimU.
Now, let's make some fucking pins!
Making The Pins with Canva and 123RF
I calculated how long it takes me on average to design a pin in Canva: 8 minutes. At this rate, it'll take me about 13-14 hours to make 100 images I can pin.
Canva makes this really fast. And having a plethora of images with 123RF is how I can get my time per pin down to 8 minutes. I wish I could go faster, but I think the designer in me can't.
Canva: An Online Design Tool Price: Free I use Canva to quickly create images for Pinterest. It's faster than using Photoshop and it's totally free. Buy Now
We earn a commission if you click this link and make a purchase at no additional cost to you.
I'm solely focused on designing, not scheduling or creating the actual pin. I'm going down my spreadsheet and creating images for new articles that have no pins yet.
As soon as I'm done designing, I export as a PNG and store them on a desktop folder.
If you're interested, watch me design a pin from scratch in about three minutes.
Scheduling The Pins with Buffer
I have a few questions here:
How many times a day should I pin fresh content?
Should I pin other people's content?
How do you keep up with this pinning schedule?
The answers are hard to find. A quick search on Google says I should publish 5-30 pins daily.
Holy fuck-nards! Even if I published five "fresh" pins a day, I'd blow through my 100 pins in 20 days. That's not even a full month of content!
After digging around some more, I found an article from Louise Myers where she writes…
It's better to Pin a similar number of times per day than to Pin a ton at once, and then nothing. Try to spread out your Pinning on daily basis.
It looks like I'm on my own here, per usual. I have to create my own strategy based on some research,  prior knowledge about my own audience, and what I think Pinterest wants.
I know pins are still evergreen on Pinterest because I'm getting traffic. But fresh pins can really increase traffic.
I'm only going to pin new images.
I'm going to slowly pin about 1-3 images a day. If I can increase this over time, I will.
I'll keep my eye on traffic and adjust accordingly over time.
For now, let's start scheduling the first 50 pins I made using Buffer.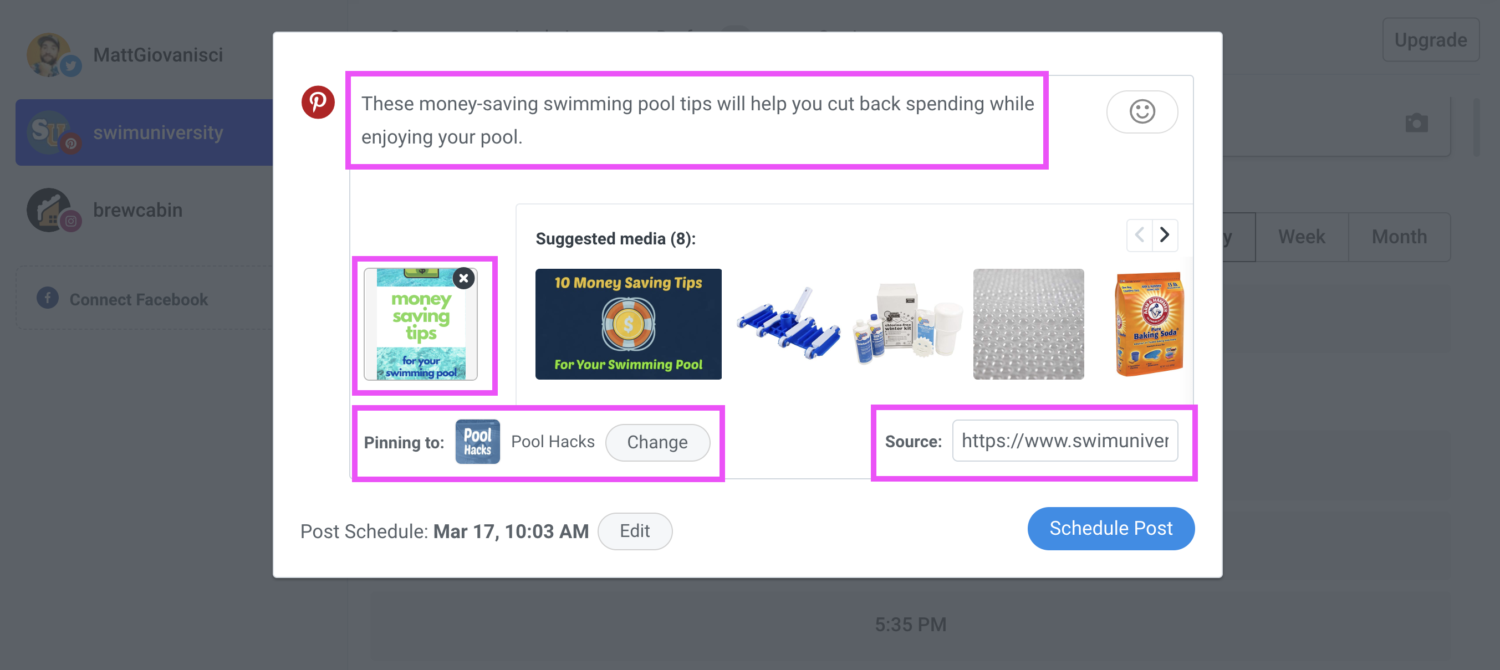 When I schedule a pin with Buffer, I'm mainly concerned with uploading the image I made, pinning to a relevant board (I already made a while ago), entering the source URL (the article), and pasting an excerpt from the article as the description.
Buffer: Social Media Management Price: FREE This is what I use to schedule tweets, Instagram photos, and Pinterest pins for all my brands. Buy Now
We earn a commission if you click this link and make a purchase at no additional cost to you.
This is a lot of up-front work, but once I'm done, I'll have a month or more of content scheduled and I can sit back and (hopefully) watch the sweet traffic roll in.
Time to Measure
It's been a week since I started this challenge. During that time I managed to create 100 pins using Canva. I'll admit, it was a slog and I hated it. No surprise there.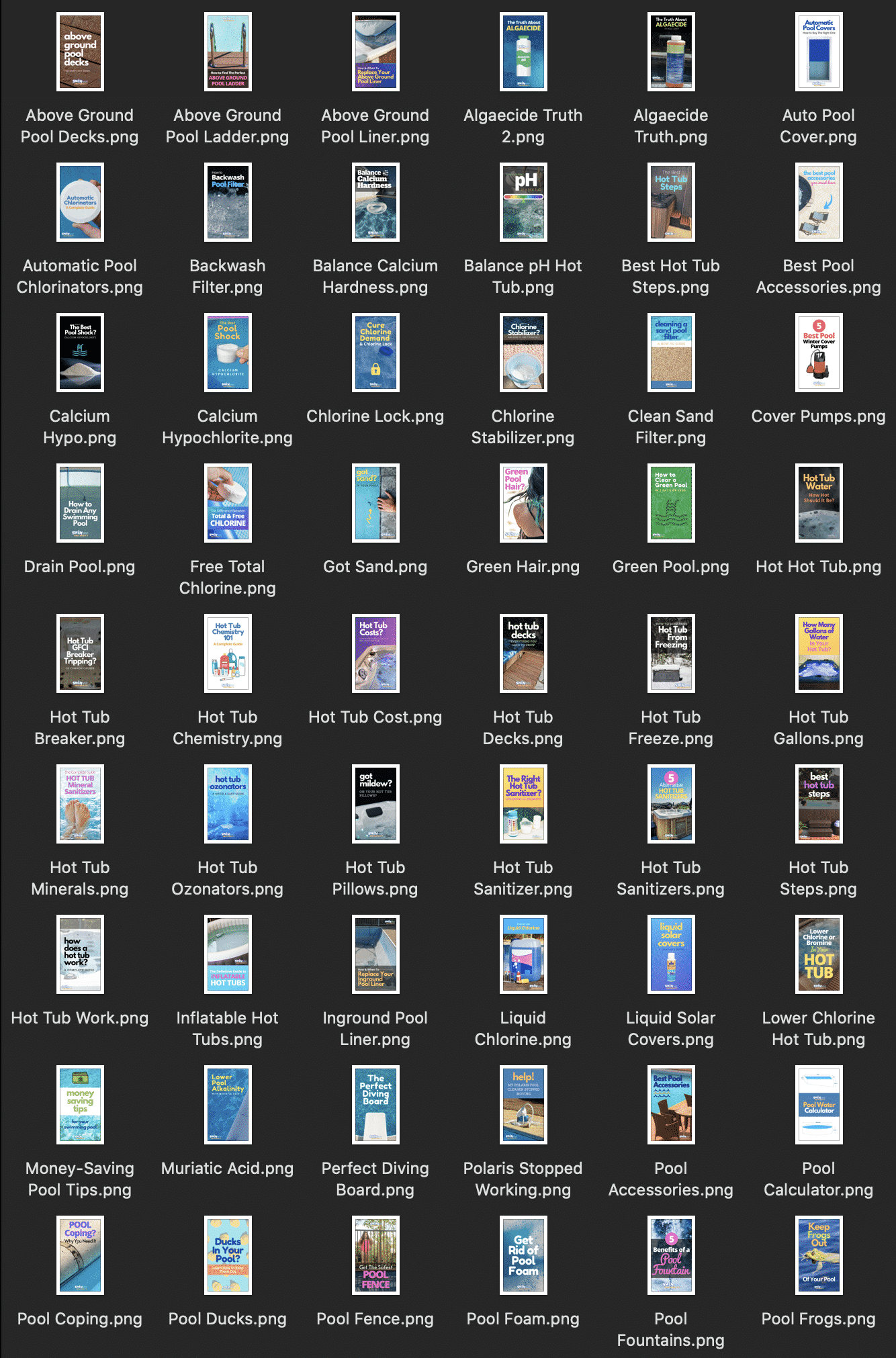 Once I had all 100 pins finished and exported to a folder on my desktop, I scheduled all of them on Buffer. I decided to schedule 3 pins a day for an entire month so I can quickly see if this will work. Plus, I think I can manage to pin 3 images a day.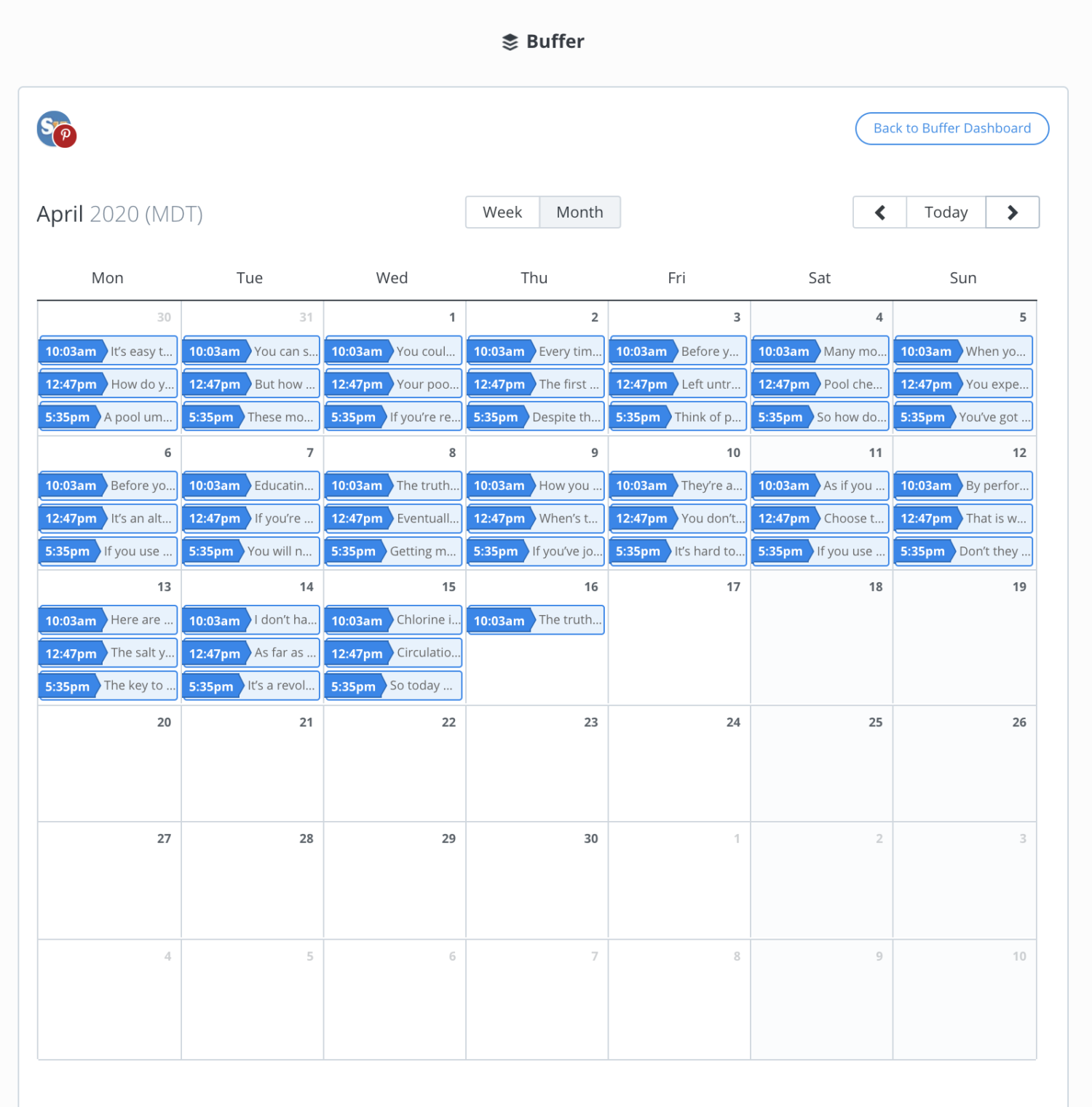 Now that everything is designed and scheduled, I just need to sit back and wait for the numbers to roll in. I'm paying close attention to the traffic increase over last year. I'm doing this challenge right at the start of the pool season, so traffic will naturally increase.
At the same time, I'm also doing this during a pandemic. Not sure what effect that is going to have over last year's numbers yet. But so far, overall traffic has increased despite the outbreak and isolation.
The CDC posted some information about the Coronavirus and swimming pools saying they were safe, so we wrote an article.
Our goal is to promote staycations and how to properly treat a swimming pool to be as safe as possible.
From here on out, it'll take about 3-4 weeks before I have any real numbers to report. Until then, subscribe below to get real-time updates on this challenge 👇
Subscribe To Get Email Updates From Me
No content upgrade? No downloadable e-book? What the fuck!?
Just enter your address and enjoy an email update once in a while.
By entering your email address you agree to get email updates from Matt Giovanisci of Money Lab. I'll respect your privacy and unsubscribe at any time.
Recommended Reading
The SEO Impossible Experiment
This experiment is to prove anyone can rank on the first page of Google for a highly competitive keyword simply by creating the best page on that topic.
The Content Audit Experiment
In 2017, Roasty has been losing about 10% of its traffic each month. Instead of producing new content to give it a boost, I'm going to try a content audit.