My younger brother Dan would have turned 35 on October 2nd, 2020. But sadly, he passed away this time last year. He committed suicide.
For the last year, I've been silent about this. I wasn't sure if it was worth sharing on this platform. On one hand, I want to spread the message about getting help with mental health issues. But on the other, I just wanted to mourn.
My life has been forever changed. And it forced me to take a hard look at how I balance work and family. As well as my own mental health.
This is a culmination of everything that happened to me these last 12 months. And what put me on the path of creating a lifestyle business with a hard emphasis on LIFE.
The Worst Day of My Life: How My Business Started Supporting What Matters Most
If you don't know who I am or what I do, I run a company called Ace Media. It includes three brands: Swim University, Brew Cabin, and this site.

The company earns most of its revenue from affiliate marketing with Amazon. The rest comes from digital course sales and YouTube ad revenue.
I'm also in a business partnership with my buddy Andrew. We run a premium WordPress plugin called Lasso.
In 2019, Ace Media had 6 team members:
Matt (Me): CEO
Steph (My life partner): Podcast Producer for Money Lab
Michelle: Editor-in-Chief of Swim University
Raz: Graphic Design for Swim University
Stacy: Customer Service for Swim University
Tony: Video Editor for Swim University
After my brother died, I couldn't work. I flew from Colorado to New Jersey to be with my family and stayed for a month. During that time, my uncle also passed away.
Thankfully, everyone on the team took control of the business in my absence and for that, I'll be forever grateful.
This kicked off the domino effect that brought me to this manifesto. Starting a series of devastating personal tragedies, a global pandemic, adapting to business curveballs, and embracing what really fucking matters in life.
The Desire For Community: Starting a Co-Working Space
When I got back to Colorado, it was important for my mental health to be around people. I'd been working from home since 2013 with no problems. But I felt it might not be the best thing anymore. So I started looking into leasing a co-working space.
After a few weeks of earnest searching, I realized adding a $3,000/month lease to my life would have stressed me out. So instead, I started a weekly co-working event at a local bar that satiated my need for people without breaking the bank.
There were 3-10 of us that co-worked every week through early 2020. Then, we all know what happened next.
The Global Pandemic: An Extrovert's Nightmare
After only a few months of my new co-working schedule, I had to shut it down. The bar closed for the foreseeable future and I was back to working in isolation.
The pandemic hit me hard. And like everyone, it was a reality check in what matters most. On top of that, a long-time family friend passed away from COVID-19.
Tony Todd was a guest vocalist on my Entreprenuer rap album. And after his passing, I remixed one of the tracks he was featured on.
Tony is singing, Ryan Kopperud is the first rapper, and I'm the second.
Rest in Peace, Tony.
Then, I started worrying about my business. Would I be able to support my family? Would people swim, homebrew, and start online businesses in a pandemic?
Turns out people did all those things. Swim University saw extreme traffic growth in April. So did Money Lab and Brew Cabin.
But then…
The Amazon Rate Change: Jeff Bezo's Greed Machine
On April 21st, 2020, Amazon slashed its affiliate commissions.
Meanwhile, Amazon saw daily record-breaking sales as local non-essential businesses closed. They don't need affiliate partners anymore. Just more fucking profit.
I lost about 50% of my revenue ($176,000). But thankfully, I was already working on improving digital product sales and traffic was up!
I won't belabor how Amazon can suck every butt in the world. I've written about this already.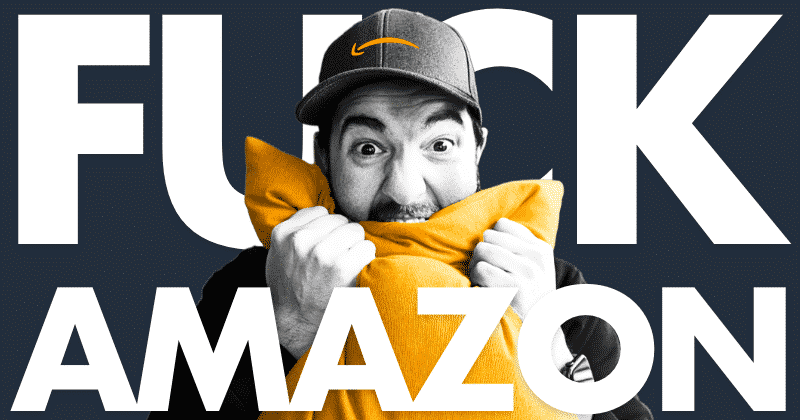 Truthfully, the shock of losing money combined with grief sent me spiraling. Andrew, Steph, and my mom had to tell me to slow the fuck down. Their words.
So, I did. Including taking things off my business plate that I wasn't planning on.
The Podcast Hiatus: No One's Listening
Starting June 1st, 2020, Andrew and I put the Money Lab and Listen Money Matters podcasts on hiatus. It wasn't an easy decision, but both shows had been plateauing.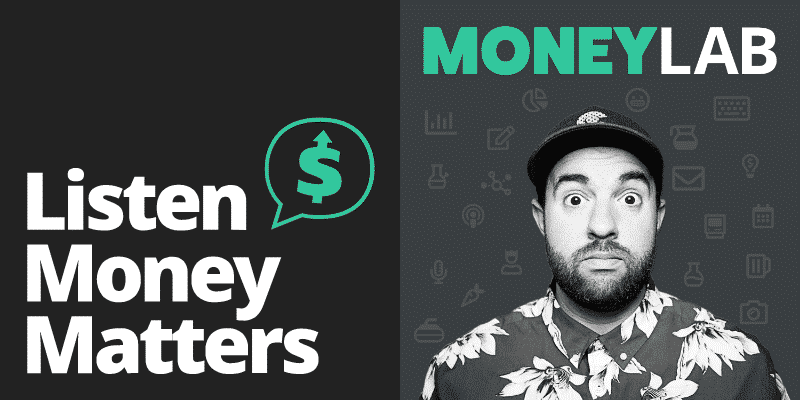 We were planning to take the Money Lab podcast to YouTube after doing a few video episodes. But we never kicked off the video version of the podcast.
The reason for the big fat pause button was to focus on Lasso. But at the same time, the listenership dropped and the sponsorships dried up.
I love podcasting, but it was hard putting out a show every week. Mainly because of the research. We would also procrastinate right up until we had to record.
At this point, even MORE things were starting to change.
The Transition: Michelle Leaving Swim University
On Monday, June 22nd Michelle told me she burned out writing for Swim University.
She started as an editor for Swim University, Roasty Coffee (a site I sold), and Brew Cabin. Then, she took over all the writing and editing for Swim University in October 2018. You can read about that here.
But like me, she wanted to move on to new and more exciting things.
We devised an exit plan to finish updating posts for the next two months. After that, Michelle went to pursue her own career in online business here.
With Michelle leaving, Steph and I thought about how we could run a "mom and pop" media company to fund our lifestyle without hiring anyone new.
Having that conversation prepared us for what came next.
The Life Goal:  Buying a House
On Tuesday, July 28th, Steph and I bought a house. This was years in the making and a personal life-long goal to own a home with a deck looking at the mountains.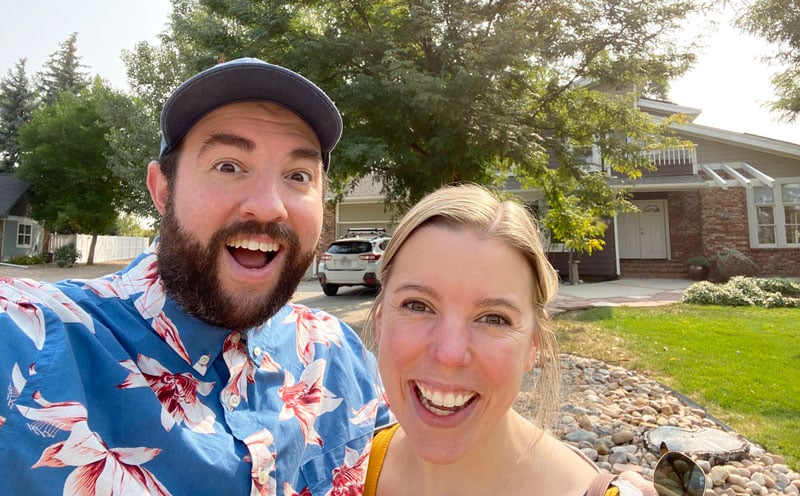 Since living in Colorado for five years, we saved up money for a down payment and got clear on what kind of house we wanted. We took our sweet time, too.
We needed bedrooms for guests and offices. A backyard for outdoor time. A basement for a drum set. And space to build a permanent home brewery.
As we moved into a new home, there was one more looming shift with work.
The Departure: Leaving Lasso
On Monday, October 5th, I was officially bought out of Lasso. It was my decision to leave the project and things were handled amicably.
At first, when the pandemic was in full swing and I knew my other businesses were safe, I doubled-down on Lasso.
But like most of my projects, I work hard and burn out.  And that's exactly what happened. Plus, I was in the middle of buying a house and time was scarce.
However, it was clear I lost interest right before moving. This caused an imbalance of work between me and Andrew. And honestly, I didn't like the SaaS game anymore.
Running a SaaS business is a never-ending project. Same with membership sites. Both of which I've tried multiple times and failed.
I pride myself on being self-aware. And I know how I work. I love working on one project at a time, putting girth behind it, and reaping the benefits for the long-term.
That's why I want to focus on making a shit-ton of digital products for my existing brands. This will be worth the limited time I have to work on my business in the future.
The Declaration: I Run a Lifestyle Business
So after all that, I took time to reflect on my life and business and what I want the future to look like.
I want to live a life worth living. I want to take care of family and friends, host gatherings (in the future), share my homebrew, and enjoy my new home with Steph.
I want to "retire" when I'm 40 (I'm 37 as of writing this). And when I say "retire," I won't stop working. But I'd like to stop worrying about business financials.
I want to work on the things that bring me joy. Like homebrewing, making music, and producing online content without being concerned if it'll profit.
The Future: Subject to Change
For the next few years, my plan is to run an EXTREMELY lean business and save money. That means Steph and I will run Ace Media together by ourselves.
I'll continue to use the Profit First model, but profits will flow to Steph and I to fund things that matter in life, instead of being reinvested in the business.
My day-to-day will be flexible. Currently, I set aside Tuesdays to work on Swim University. My job is to update posts, record voiceovers for videos, design YouTube thumbnails, develop new products, and perform general website maintenance.
In November, with Steph's help, we're launching a brand new Money Lab course called YouTube for Bloggers. This will be our most ambitious and largest course to date.
I also plan to spend more time on Money Lab, including bringing the podcast back.
I mentioned one of the reasons we bought a house is because it had space for a permanent home brewery. I'm renovating the space now! See the photos below.
Once the brewery is complete, I'll begin filming the first digital course on Brew Cabin. And I'd like to set aside a Brew Cabin day, similar to what I do at Swim University to create new content. I have plans to start a YouTube channel too.
It's possible all of this is overly ambitious. But I want to focus on creating content at my own pace so I can spend more time with family and friends in the real world.
The Real World: Colorado
I've lost and learned so much these last 12 months. And so has the world. Personally, I realized how important it is to enjoy life. Not our online life. REAL LIFE, #IRL, etc.
It's a short one.
Entrepreneurship used to be the hobby I found the most happiness and passion, but that's changed for me. And my business will now reflect that.
I have to accept what life hands me, learn from it, and continue to make it better for me, my friends, and my family.
If you're feeling generous after reading this, please donate to The American Foundation for Suicide Prevention. And if you know someone who suffers from depression or suicidal thoughts, reach out and show some love.
I love you. Please take care of yourself and others.
Matt Giovanisci
I own three authority sites across different niches, including Swim University, Brew Cabin, and Money Lab. They earn a combined total of roughly $1,000,000 a year. I design and code all my sites. Write the words. Film and edit the videos. Produce the podcasts. Illustrate the graphics. And I have a small team that helps too.