On April 14th, 2020, in the midst of a pandemic, right at the start of pool season, Amazon rips the proverbial rug out from underneath me and millions of other online business owners.
ICYMI, Amazon took another machete at affiliate commissions in some major categories. Specifically, it hit my bread-and-butter website Swim University hard in the Lawn & Garden category.
Here were the fixed commission rates prior to April 21st, 2020: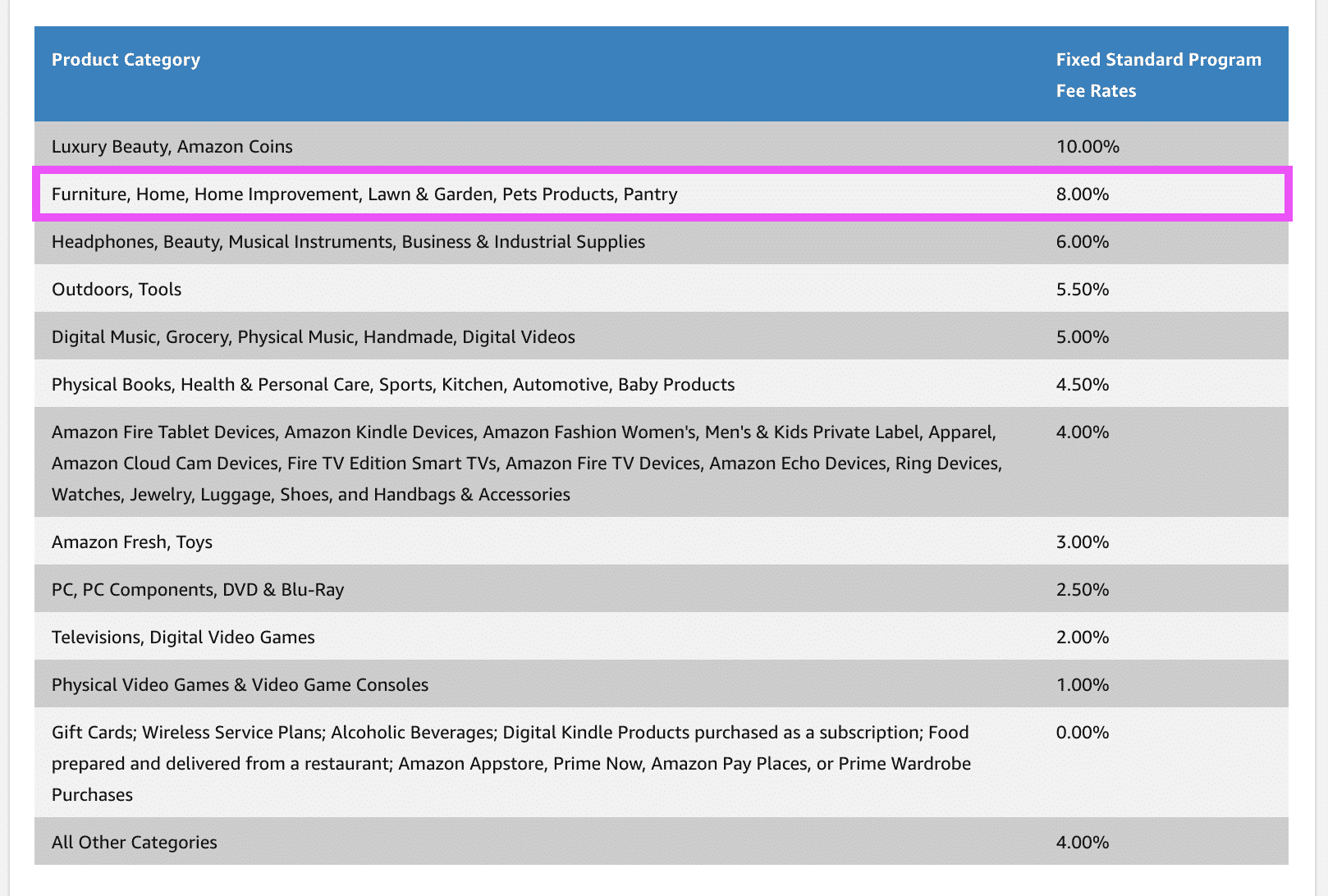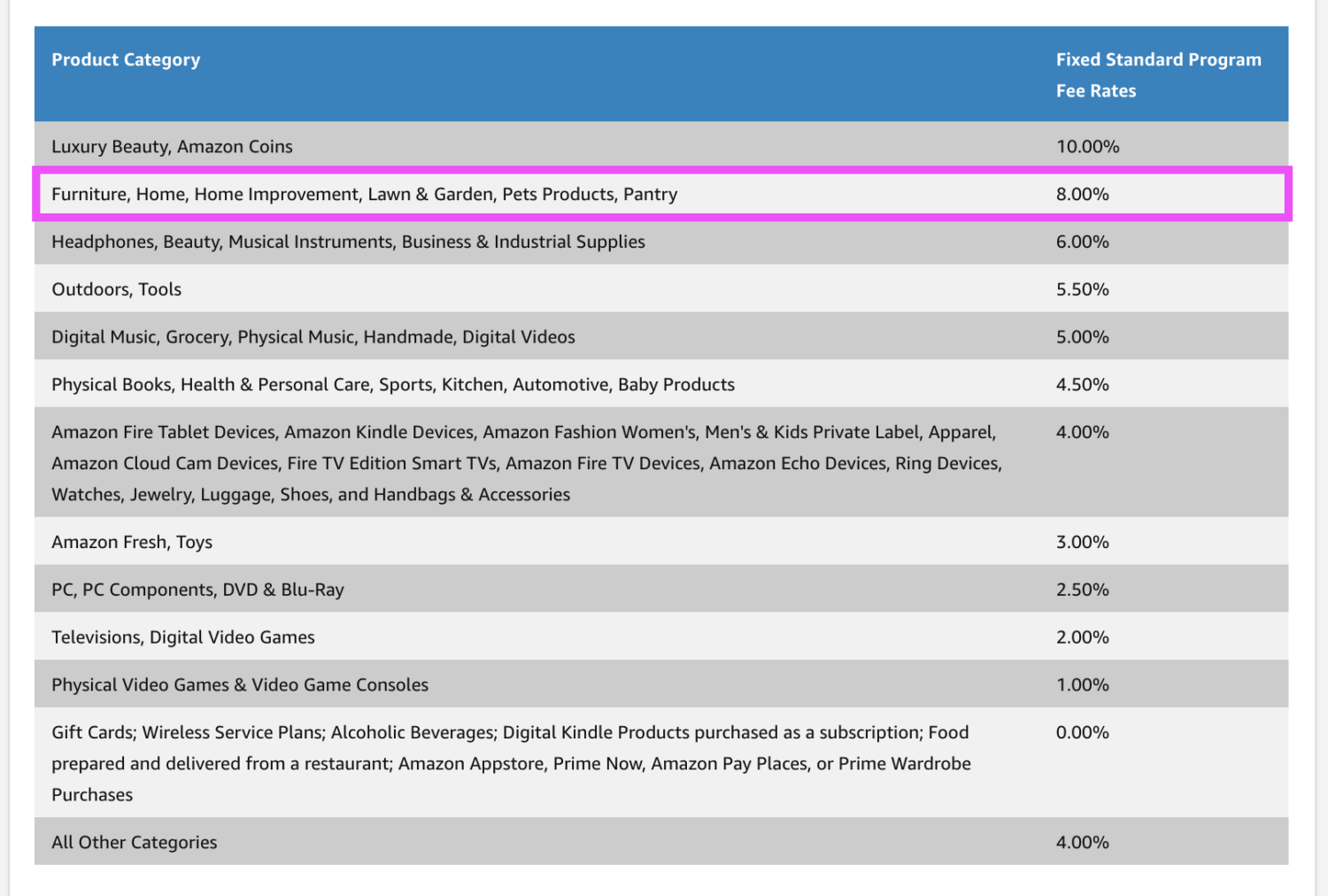 And now, we've got this: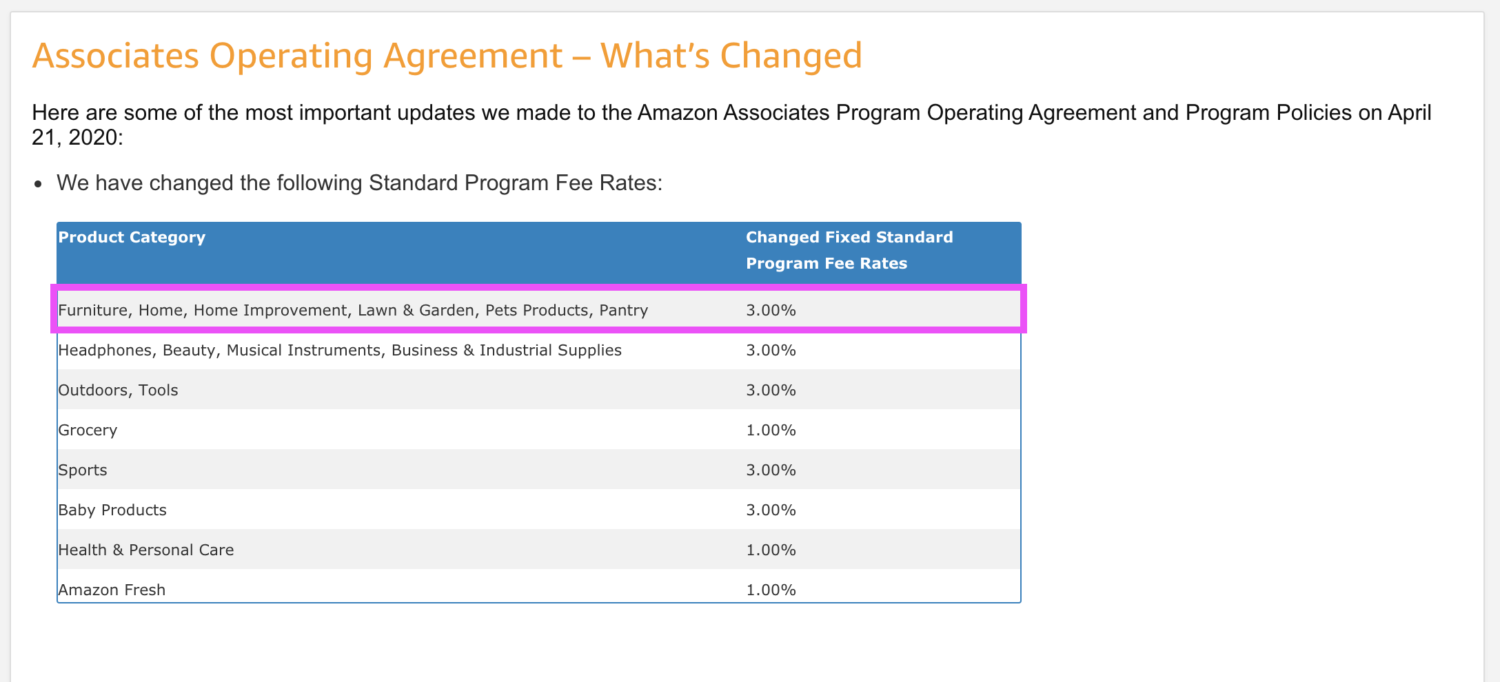 That's a 60%+ drop! And Amazon announced this seven days before it happens.
Fuck.
This feels familiar (*cough* 2017). But the last time Amazon slashed their commission rates, only one of my businesses was affected. And that led to me to selling the business.
This time, however, my primary business's affiliate revenue has been cut by about $176,929.
Was this a long time coming or brought on by the pandemic? Who the fuck knows and who the fuck cares. Amazon has always been an asshole of a company and it looks like they always will be. No sense in trying to figure them out.
If you've read The Everything Store, you already know what a dick they can be. And no, I won't be including an Amazon affiliate link to that book. Sorry to the author.
But I saw this coming. I've been telling online entrepreneurs who get most of their income from a single affiliate source:
All it takes is ONE board meeting at that company to completely destroy your business.
And that board meeting took place YET AGAIN at Amazon, slashing my affiliate revenue in half.
Now What?!
When I first heard the news, I jumped on Zoom with business partner and podcast co-host, Andrew Fiebert. His calm and soothing voice puts my mind to rest. I knew he would have all the answers.
These are lies.
But he was level-headed, cool, and laid out an affiliate marketing gameplan which I'll get to soon.
He's been through this shit before. No biggie.
Then, I talked to Steph (my girlfriend and my 24/7 business mastermind) and Michelle (editor-in-chief of Swim University) about creative solutions to grow the business outside of affiliate marketing.
So here's how we're going forward.
Operation: Fuck Amazon
The Overall Goal: earn more revenue through non-affiliate sources and treat affiliate income as a bonus.
It's too early to tell what'll really happen to our revenue once this cut takes place. But with some simple math, we stand to lose about 40% of our total business revenue.
For us, that's $176,929 that we need to make up. And we want to make that through non-affiliate sources. This plan starts on May 1st, 2020, after we spend a week assessing the damage Amazon has caused our business.
Some Context About My Main Money-Maker, Swim University
SwimUniversity.com is an online resource for pool and hot tub owners to help them learn proper care and maintenance. We publish in-depth articles, videos, and guides online.
I started the site in 2006 with the goal of getting traffic, selling advertising, and earning money through affiliate links.
In 2019, the site saw over 4.9 million visitors mostly from Google, email, and Pinterest.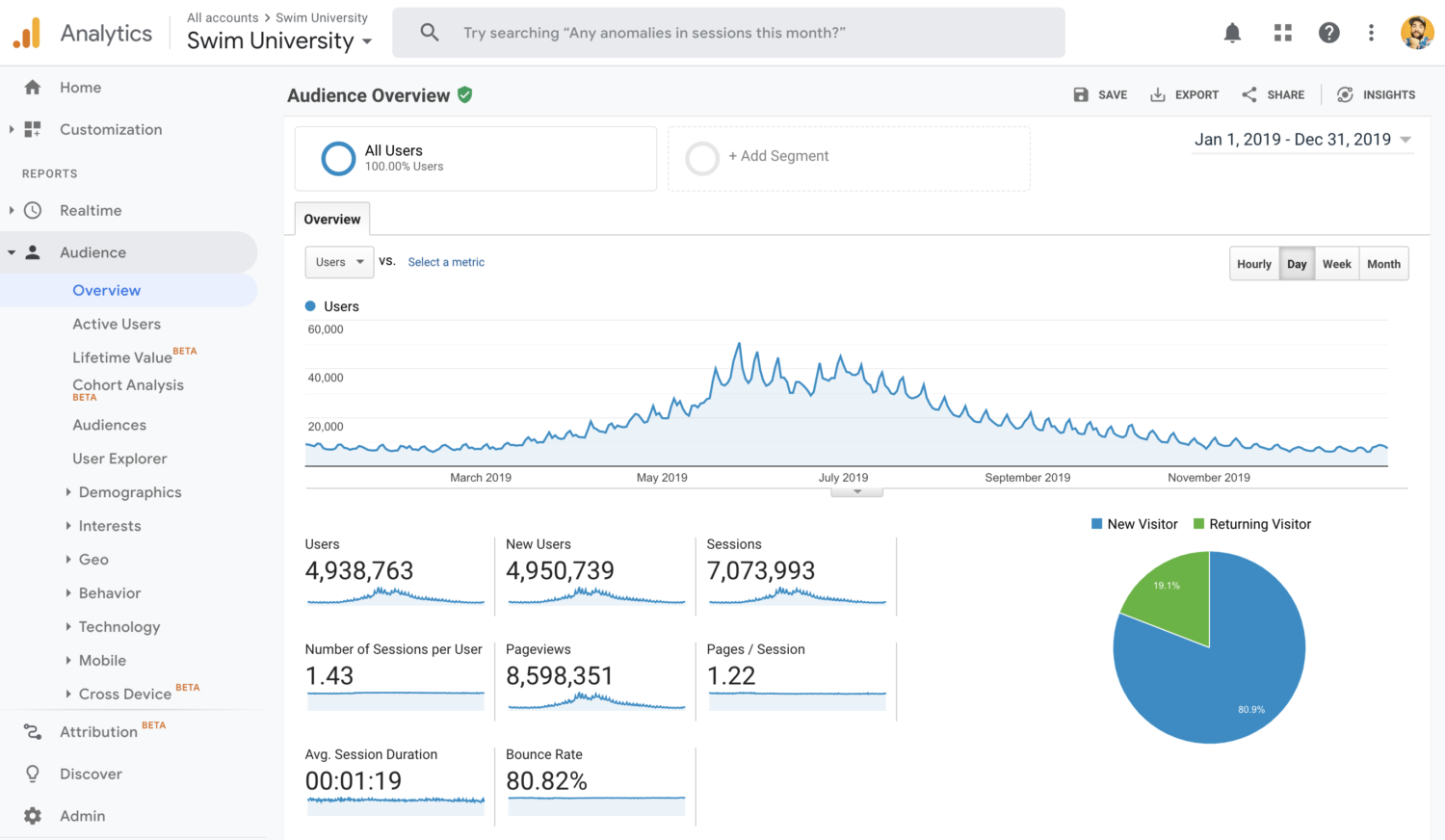 I can't believe this site is 15 years old! And in 2019, it made:
$283,086.82 from Amazon Affiliate revenue.
$77,659.26 from digital product sales.
$11,146.70 from YouTube ads.
Total Gross Revenue: $371,892.78
I can afford to have a small team of four people to run the company and pay myself. And even with this Amazon debacle, we should be able to sustain. But barely.
Like I said, we'll be losing $176,929 in affiliate commissions. And I don't want my other online brands to make up for it.
Unlike Aerosmith, I don't like Livin' On The Edge. So it's time to turn this shitshow into an opportunity to shift business models.
1. Join New Affiliate Programs
Thankfully, Amazon's not the only game in town. I've been talking with a few companies like Walmart to eventually switch away from Amazon.
Plus, these other programs offer a higher commission rate. The downside is that they're not Amazon. People buy EVERYTHING there, so as long as I can place a cookie on their browser, I earn on the pool shit they buy plus anything else they add to their cart.
And people trust Amazon. But I'm making the bet that they'll trust Walmart too.
That said, I'm not just gonna switch all my affiliate links overnight. First, I'm gonna see how bad it really gets. The slash happens on April 21st, 2020. I'm going to wait until right before May to make changes.
The good news is Andrew and I have built an affiliate link manager (Lasso) that's perfect for such an occasion.
Lasso includes a feature where I can add two buttons to my affiliate link display boxes. Similar to the way WireCutter does: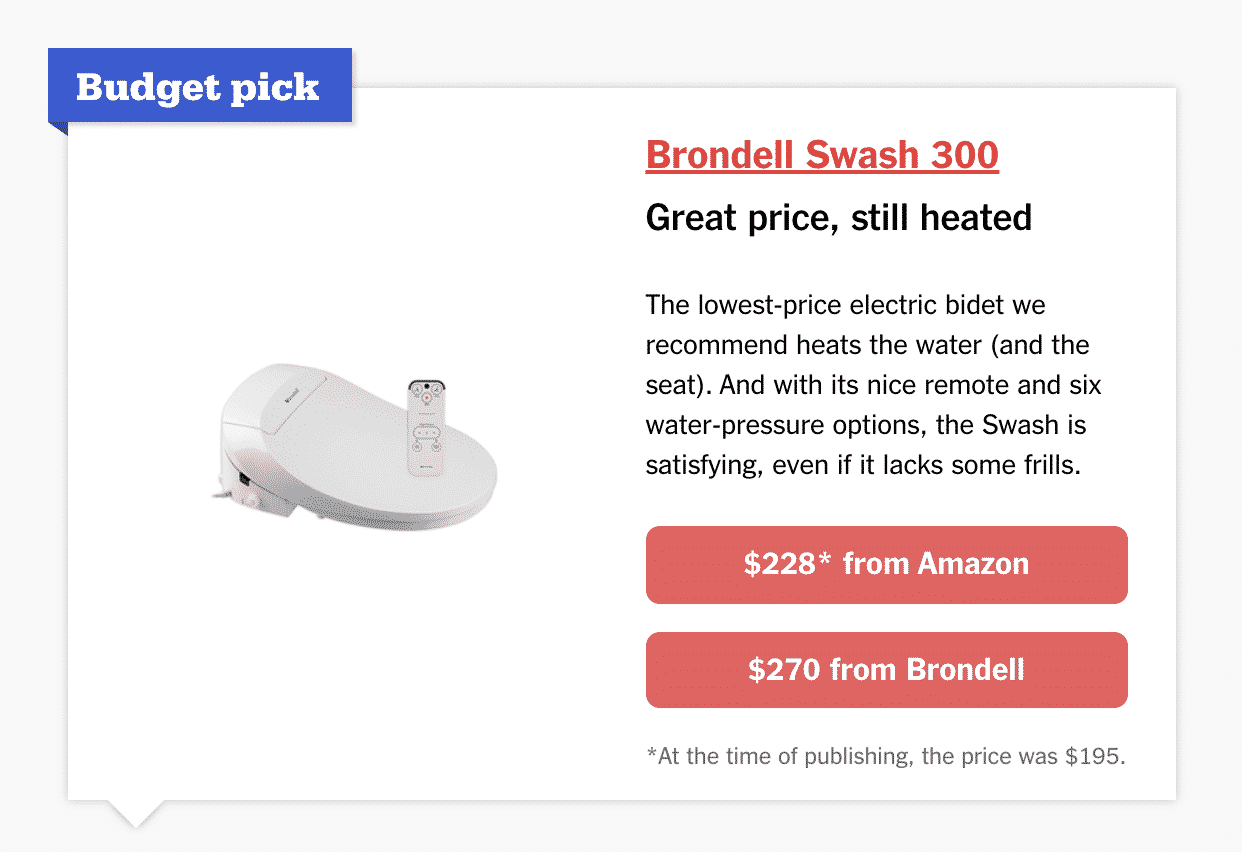 So on all my affiliate link displays on Swim University, readers will have two options to buy from Amazon or Walmart (or other stores).
I should be able to do this within 24 hours. And we'll measure the results. Whichever program earns us more, we'll do a full switch right in Lasso and without touching a single post.
My Obvious Choice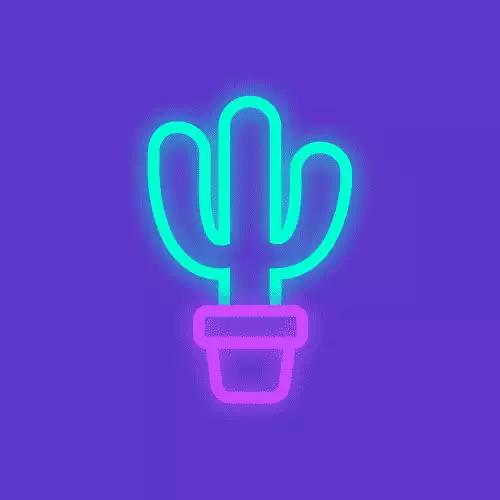 Lasso: The All-In-One WordPress Plugin for Affiliate Marketing
My very own WordPress plugin that lets you add, manage, and display your affiliate links from any program, including Amazon. Increase conversions. Find new affiliate link opportunities. Earn more revenue! Less than 5 minutes to set up.
Start Your Free Trial
Matt Giovanisci (me) earns a commission if you click this link and make a purchase at no additional cost to you.

2. Double Down On Digital Products
The Goal: Increase last year's sales ($77,659) by $50,000 or more.
Micro Up-Sells
This was always the long-term plan for Swim University. Right now, we sell a $49 course to pool and hot tub owners. My team and I plan to create new "micro" up-sells for existing course customers.
After a few meetings, we landed on creating the Ultimate Money-Saving Guide for Pool Owners (working title) that will be a written course hosted in Podia. We'll add it as an upsell to our Pool Care Handbook and Video Course product.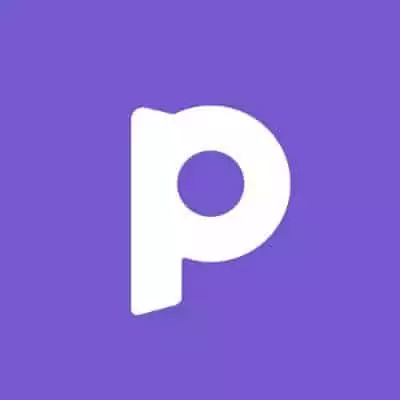 Podia: Digital Product Hosting
Everything you need to sell online courses, downloads, and memberships without worrying about the tech. This is what I use to host all my online courses.
Start A Free Trial
Matt Giovanisci (me) earns a commission if you click this link and make a purchase at no additional cost to you.

It'll have its own sales page and readers will be able to purchase it as a standalone product.
This is something we can pitch to our existing customers for a quick surge of cash. Plus, it should increase our customer lifetime value, currently at $46.24.
If it works, we'll create another product for hot tub owners and continue to create micro products as upsells in the future.
Webinar Marketing
To boost product sales, I want to start a hard-pitch marketing funnel through weekly webinars during pool season. I can test how well something like this converts by pitching it to my existing email list.
For the last few months, I've been paying for Crowdcast but haven't been using it much. I wanted to do more live Q&A webinars on Money Lab. But the Lasso project took over and now this clusterfuck. So now I can start to use Crowdcast for SwimU.
If that does well, I'll try paying for Facebook Ads to see if I can build my list and increase sales. This will be a whole separate post on Money Lab if the first part works out.
Improving Articles
We're going to continue creating articles on Swim University. Content is crucial for traffic and digital product marketing. Currently, we're publishing or updating two articles every week.
But now we're going to add CTA copy leading the reader directly into a digital product recommendation. For example, "We also have an entire course explaining water chemistry here…"
We're starting with the most popular posts and working our way back.
3. Double Down on YouTube
The Goal: Double ad revenue from $11,373 to $22,746 by increasing view from 2.2 million (2019) to 4.4 million.
Continue Weekly Video Production to Grow Subscribers and Views
For the past four weeks, we've been creating animated pool and hot tub videos for YouTube.  Steph is in charge of the entire production. We're running a Video Calendar similar to our Editorial Calendar in Asana.
She writes the scripts based on an existing article and sends it to me to record the voiceover. Then, she animates the video in ScreenFlow using existing graphics.
Here's one of our new animated videos.
This has been working out great and we're seeing a massive increase in subscribers, views, and revenue. Also, optimizing the channel in 2019 was one of the best decisions I ever made.
Use Ahrefs for Keyword-Driven Video Topics
There are a few videos that do extremely well on YouTube because we targeted keywords I researched in Ahrefs.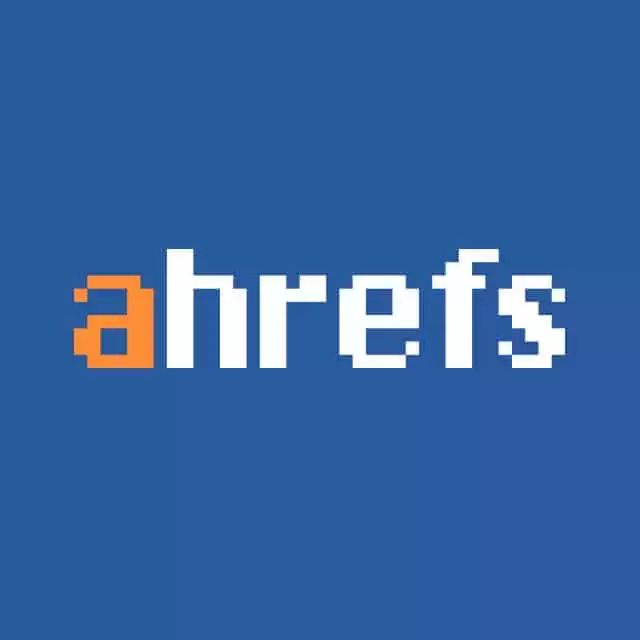 Ahrefs: SEO Research and Tracking Tools
Tools to grow your search traffic, research your competitors and monitor your niche
Buy Now
Matt Giovanisci (me) earns a commission if you click this link and make a purchase at no additional cost to you.

We're redeveloping our Video Calendar to prioritize videos that we know will have a good chance of ranking on YouTube for popular search terms based on keyword research.
Of course, we'll be following the exact optimization strategy I used in 2019 from a course and community called VidPro.com. I highly recommend this course BTW. It was created by Tom Martin (ChannelFuel.co) and Chris Sharpe (the brains behind Yoga with Adriene).
And here's a chat I had with Tom Martin about developing my blueprint for YouTube optimization.
Publish Webinars on YouTube Channel
Like I said before, the webinar idea can be used as a marketing double whammy.
We'll start by using Ahrefs research to determine good webinar topics. Steph and I will create a tight Keynote presentation that I can deliver live with Q&A segments.
Once I've done it a few times, I'll record just the presentation part and edit it for YouTube. Note: my most popular YouTube video is a 17-minute Keynote presentation. So I know this could work really well.
Fool Me Once, Shame On… Just Shame on Amazon.
In 2017 on that miserable flight to Austin when I found out Amazon slashed my commissions the first time, I was at a low point. I drank hard to numb the pain.
In that recap, I wrote, "I don't want to be at the mercy of a board meeting that might fuck over my business ever again."
But this time… it's the exact same feeling. Just add a global pandemic.
Yeah, I drank hard but not as much as last time. I've had a cooler head. I dove right into creating a solid strategy to move forward with confidence.
I honestly think this will be an opportunity to shift my business into a new phase where I have more control over my revenue. I need to think this way for my own mental health during a time when I feel like the world is dookin' on my chest.
I have a lot of smart friends in the affiliate marketing space. I know we'll get through this and come up with solutions. Not just for ourselves, but for others who've been put in financial dire straits either because of Amazon, the pandemic, or both.
I'll be talking about this a lot on Twitter and feel free to email me.
Oh…and fuck Amazon.
The Fuck Amazon Experiment
During the week of the slash, I didn't take action. I wanted to see how bad it was. And it was pretty bad.
Swim University was earning around 7.5% commissions which suddenly dropped to 2.97%.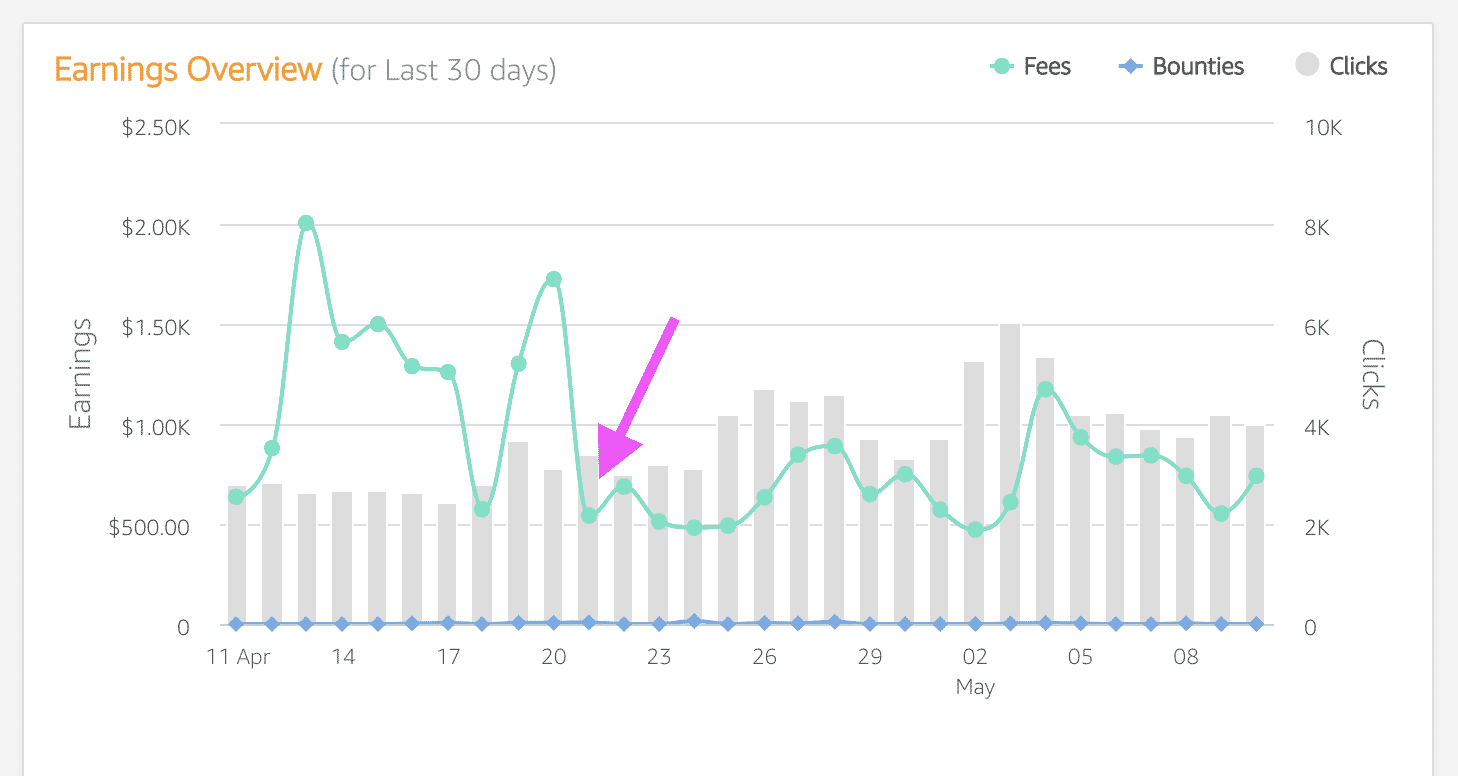 At this rate, I expect my year-over-year earnings to decrease by about 30% to 40%. And as much as even 50%.
That said, there were some unexpected surprises. Since we're in a pandemic, traffic has been through the roof along with online sales. I guess people are staying at home and using their pools more.
This softened the blow a bit.
But now it's time to take action to see if I can make up the difference using several different tools and techniques.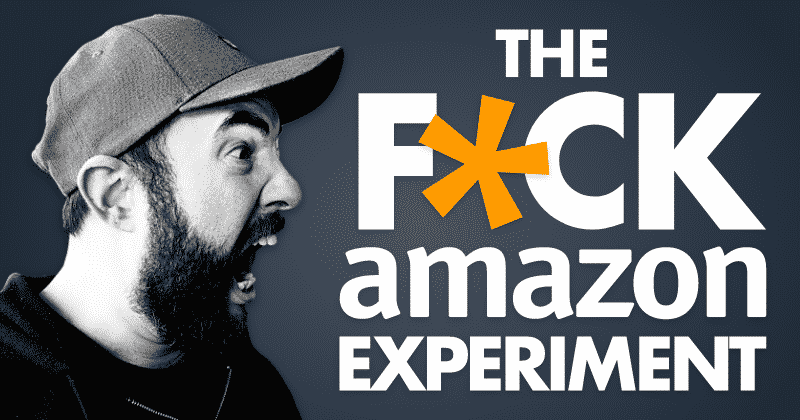 The Hypothesis
Will a series of micro experiments in affiliate marketing and product marketing make up the difference from Amazon's dick move?
The Key Performance Indicators
Affiliate Link Clicks: I want to make up for a low commission rate by increasing product sales. One way to do that is to increase clicks.
Commissions: If I can increase overall clicks and choose new programs with higher commission rates, then I should be able to improve my commissions. The only thing I don't have control over and won't be testing is conversion rates once the user is off my site.
Upsell Sales: We created a product to upsell on my pool care course. Podia makes it easy to add it after a customer enters their credit card.
The Plan
For the affiliate marketing strategy, each experiment will be tested on a different high-traffic page to keep them as isolated as possible. And I'll make sure to give them enough time to show statistical significance – unless they lose me a shit-ton of money.
For the digital product strategy, I'll implement new marketing and product ideas along the way.
1. Add An Upsell to My Existing Course
We'll create a small course all about saving money on your pool. It'll include exclusive coupons to pool e-commerce stores. This should more than cover the cost of the guide which is only a $19 upsell.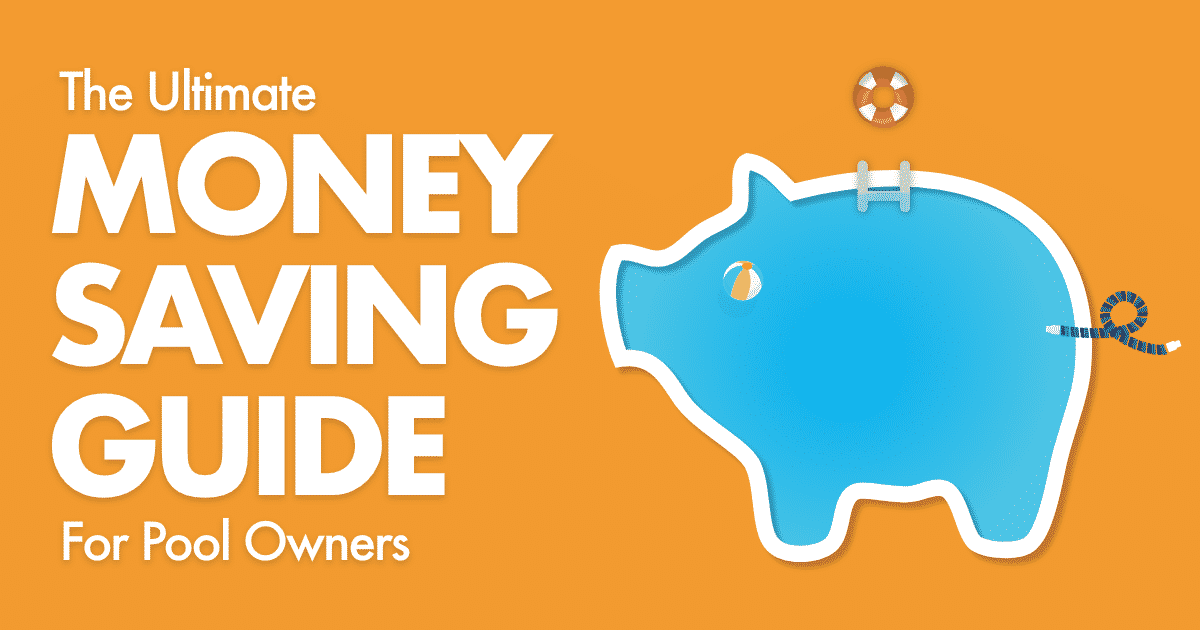 2. Fix Out-Of-Stock and Broken URLs
In the new version of Lasso, I can fix broken URLs quickly. This is something worth doing without any real testing.
3. Give Users A Second Option
In each Affiliate Link Display, I'll add a second option to buy the same product from another retailer. I have to be careful doing this with Amazon links because it goes against their TOS.
4. Try a New Pool-Related Affiliate Program
Thankfully, I've had a few e-commerce sites reach out to me offering to join their affiliate program. These sites are not as big as Amazon, but they offer more choices for my customer's needs.
I was able to negotiate my own commission rate to over 8%. But they're not as trusted and well-funded as Amazon. So we'll have to see if the larger commission makes up for the lack of products sold.
5. Use Choice Pages with GeniusLink
I'll create a few URLs with GeniusLink using their Choice Pages feature. When a user clicks an affiliate link, it takes them to a page where they can make a choice of where to buy the product.
6. Double Down On YouTube
We'll start producing consistent videos on YouTube with direct ads to our digital products. We'll use keyword research to come up with video topics. We already have a plan for this, so more details to come.
I mentioned earlier that I'll be publishing webinars. I won't be doing that because FML. In other words, I hate doing webinars. This is something I constantly learn about myself.
7. Improve Articles
We'll be improving articles leading to our own product sales. And refocusing them to better keywords that meet a searcher's intent.
This is something we've always been working on, but I figured I'd add a blurb about it here.
One Month After The Amazon Slash
In May 2019, SwimU earned $52,646.12 from Amazon Commissions. That was a record-breaking month!
However, in May 2020, SwimU only earned $27,942.62. Amazon has officially slashed our commissions in half! I expected the decrease to be around 30%-40%.
So fuck me.
That said, it wasn't a totally bad month for SwimU. Product sales were WAY up! In fact, they more than made up for the Amazon slash. I had to check my bank account because I didn't believe the reports.
Traffic also increased from last year by 28.42%. To clarify, in May 2019 our unique visitors were 791,999. In May 2020, it was up to 1,017,052.
I believe this is the pandemic. Mainly because Ahrefs is reporting that our traffic has been down. But more people are home taking care of their pools. So I think traffic in the pool industry is just up across the board.
UPDATE: Turns out that Ahrefs was having an issue with traffic estimations. This is likely the reason Ahrefs and Google Analytics data didn't match.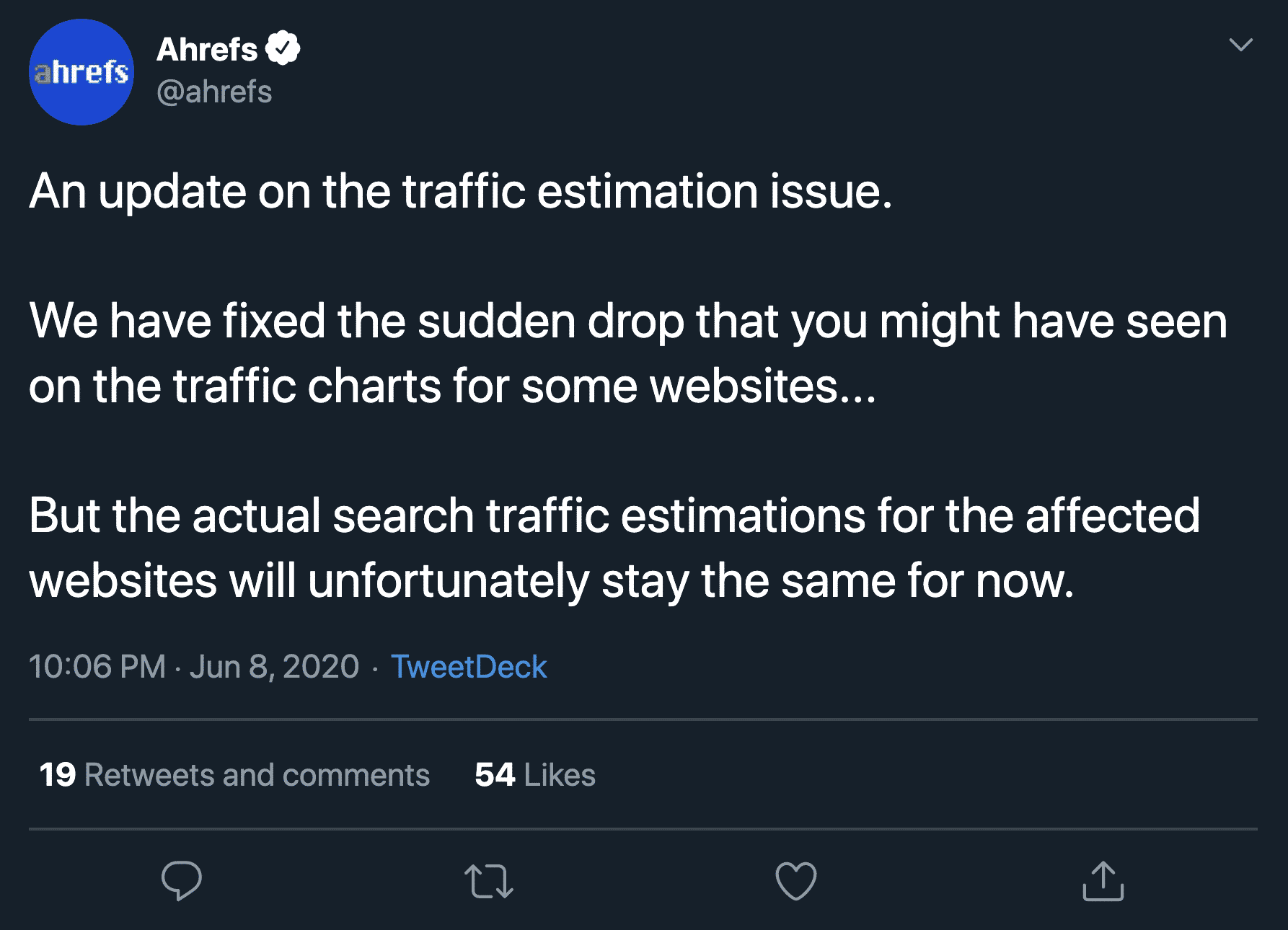 Adding An Upsell to My Existing Product
In May 2020, we created a course/guide called The Ultimate Money-Saving Guide for Pool Owners. It contains 17 lessons and three exclusive coupon codes for three different online pool supply stores. Customers will save more than $19 with the coupons alone.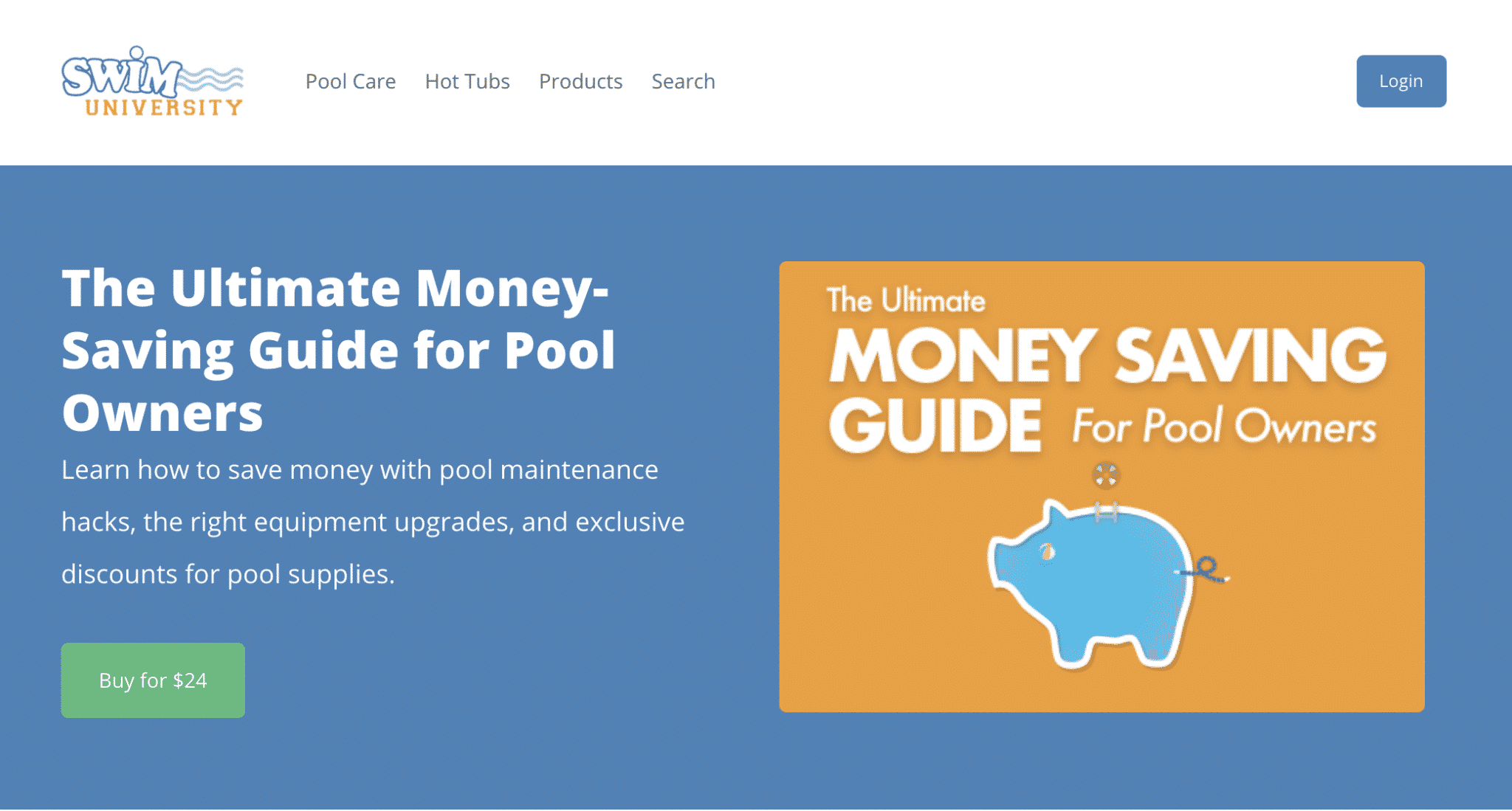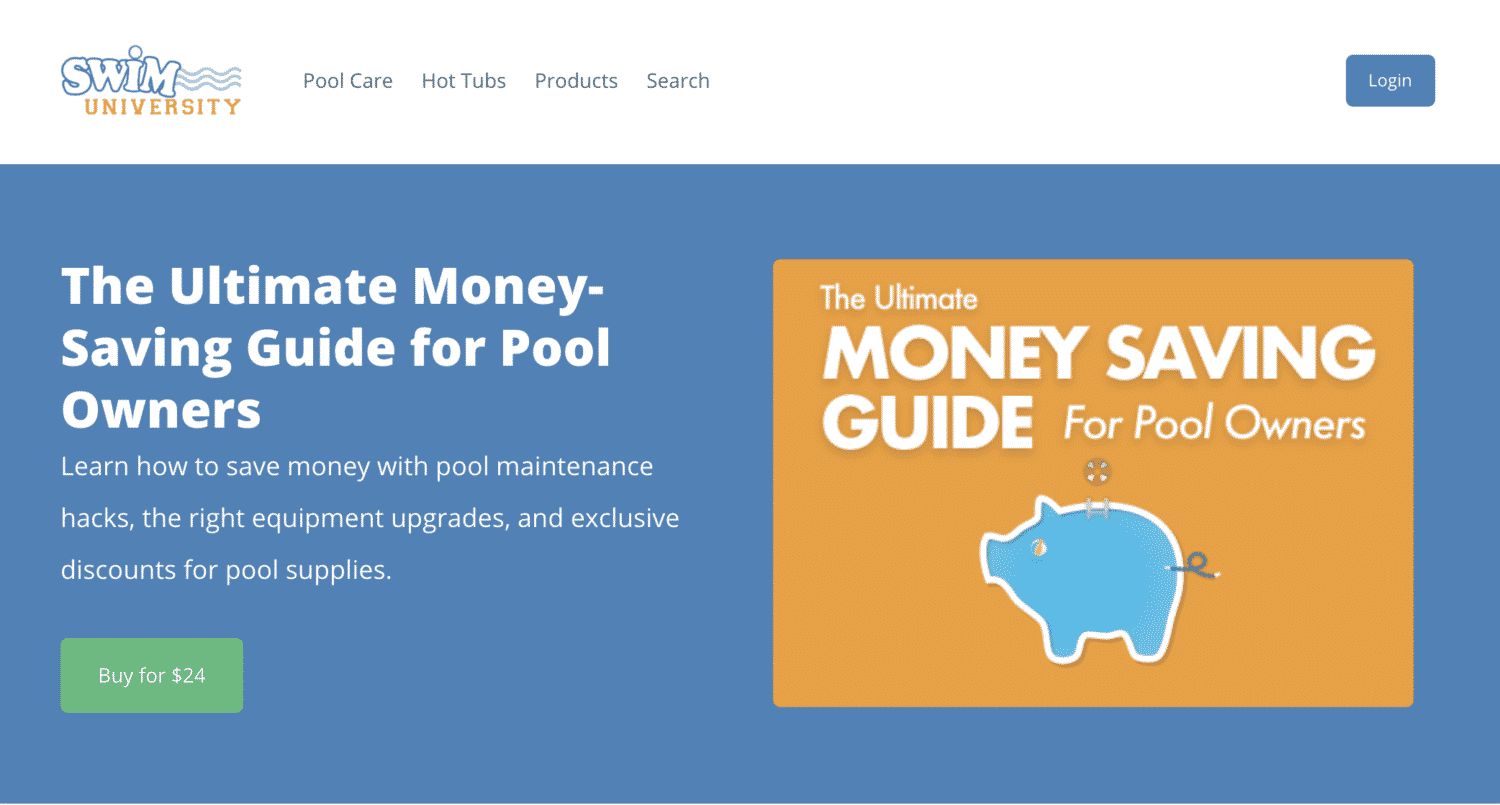 If you buy the product on its own, it's $24. But if you buy it as an upsell for only $19.
In May 2020, we sold 150 copies earning us an extra $2,918.20. The goal was to increase the average value of a customer.
Finding Out The True Average Value of a Customer
Unfortunately, Podia does not have good web-based reporting. To find out basic stats, you have to download a CSV and do some filtering.
First, I had to download a list of all my lifetime sales. Then, I filtered the rows to only show sales that happened in May. After that, cleaned up the data to only show email, product, revenue, and coupon code.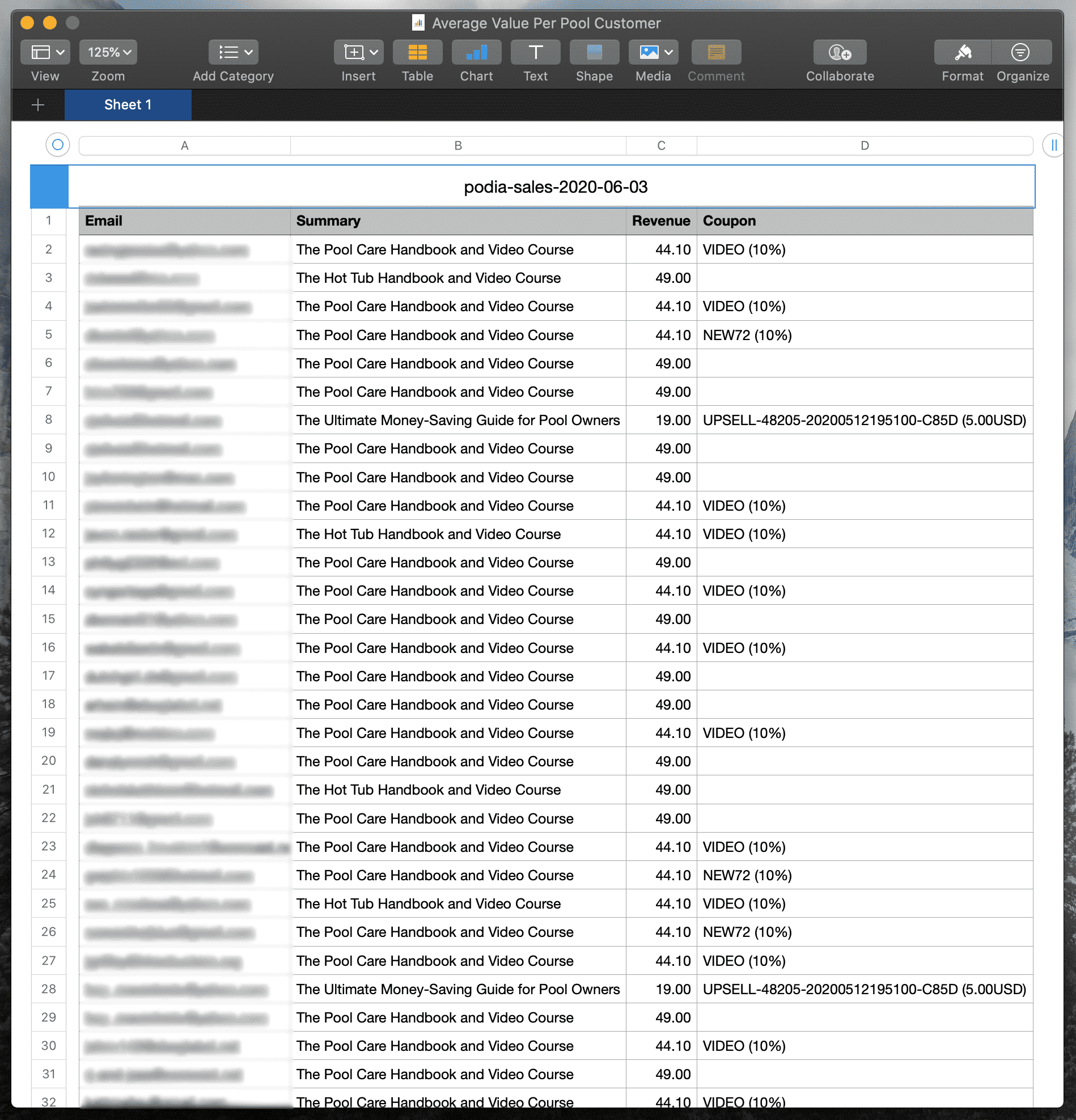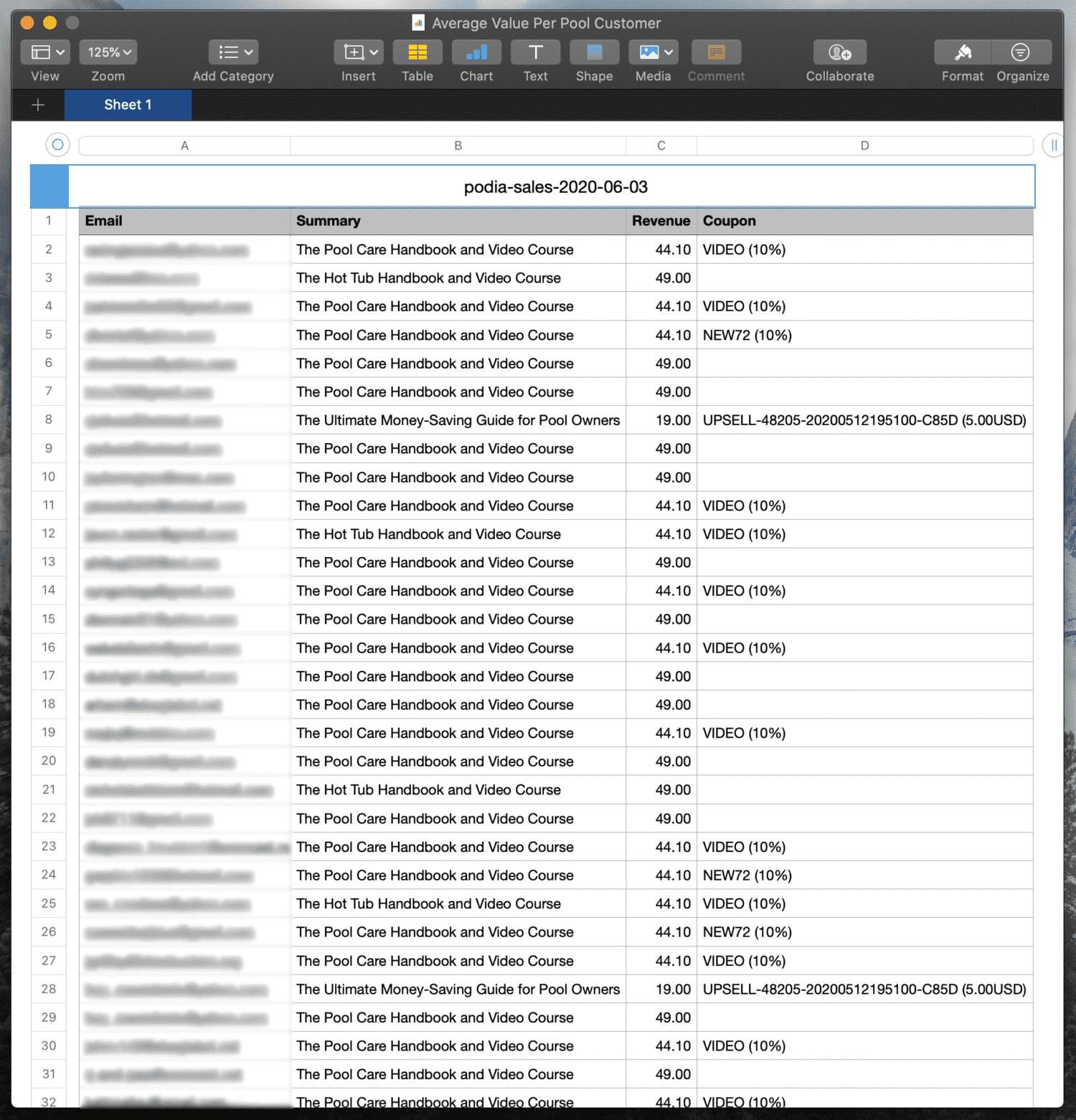 I had to combine sales with the same email address. I used an add-on called Power Tools. With the Merge & Combine feature, I merged all email address duplicates, then summed up the values. Now I have only unique email addresses and their total sales.
With some more manual work, I was able to determine that the average value of a pool customer in May 2020 was $51.18. This is certainly an increase.
In April 2020 (when we didn't have the upsell) the average value of a customer was $46.45. So we were able to increase the average value by $4.73.
That doesn't seem like a huge increase, but in May, we had 907 customers and earned $46,418 just on one product with an upsell. Granted, this is the peak season for SwimU.
Fixing Out-Of-Stock Products And Broken Links
During the pandemic, Amazon had a lot of out-of-stock products. It's been a game of whack-a-mole trying to fix them.
Before, I was using GeniusLink to help me find these products. Then, I would have to log into WordPress, find those links, and update them.
Now, I can just use Lasso to do that. And we've been able to keep our inventory of affiliate links in stock and working.
Adding More Affiliate Links
After mulling on this, I decided NOT to use the Keyword tool in Lasso to add more affiliate links.
It seemed like a great idea on the surface. But after looking around at Swim University, I noticed a confusing blend between internal links and affiliate links.
For example, when a user is reading an article and sees a link to Pool Shock, where should we send them? Should they go to an internal post about pool shock where they can learn more and buy? Or should they be taken directly to Amazon?
If I send them to Amazon, it puts a cookie on their browser for 24 hours and I could earn money. But it could also piss off the user who thought they were going to get more information on pool shock.
I think context is key here to build long-term trust with my audience.
So I came up with a rule: affiliate links will be in Lasso displays only and all text links will be internal links or useful external links. The only exception is if we create a bulleted list of things you'll need and include a blurb that they are affiliate links. See the example below:
Giving Users a Second Option and Trying a New Pool-Related Affiliate Program
I decided to run a test on a single page. And of course, I couldn't just do the test and be done with it.
No. I had to completely rewrite it.
And while I was doing that, I re-evaluated the focus keyword and started tracking it in Ahrefs. If I'm gonna do the work, I might as well track to make sure it performs the way I hope.
Also, I realize this technically goes against Amazon's TOS. But they leave me no choice. So I might as well give users one.
Ok, so the post I updated is about pool cleaners. And it used to be a basic-ass list post. But I changed it to be more like WireCutter.com. I think people wanna know THE BEST pool cleaner and they don't need a whole list of them.
I used Lasso to really beef up my affiliate link displays. Here's an example.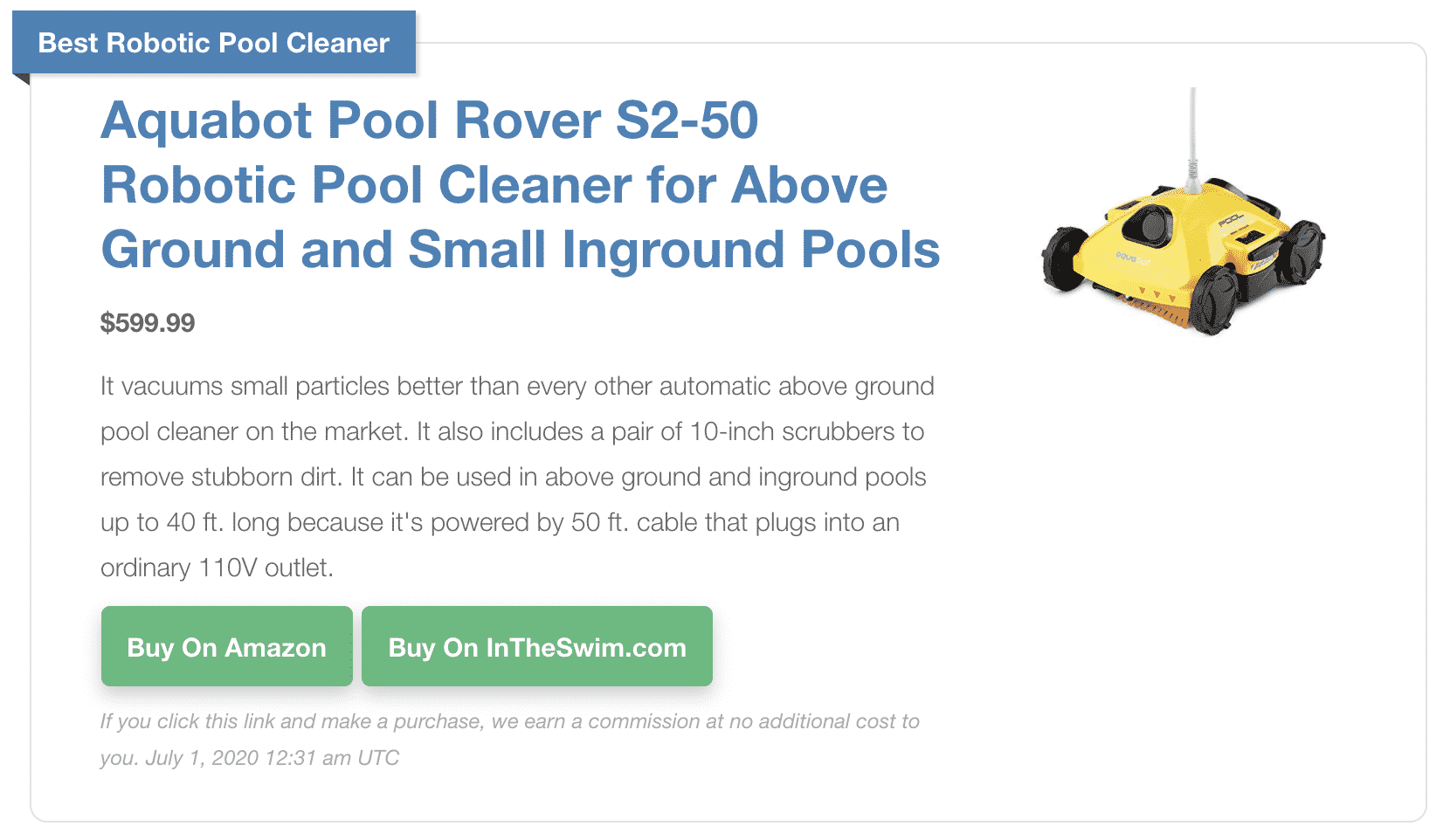 I added a "badge," a description, and another buy button to InTheSwim.com. I also wrote a blurb at the top of the post saying…
NOTE: The following above ground pool vacuums are available to buy on either Amazon and InTheSwim.com. Check both sites for availability. All the links are affiliate links which means if you click a link and make a purchase, we earn a commission at no additional cost to you. It helps us keep the lights on 💡
I've had success with messaging like this. I think this will help gain people's trust and improve conversions. I should do this on every post.
At the bottom of the post, I included a recap grid of all the pool cleaners I recommended. It looks like this: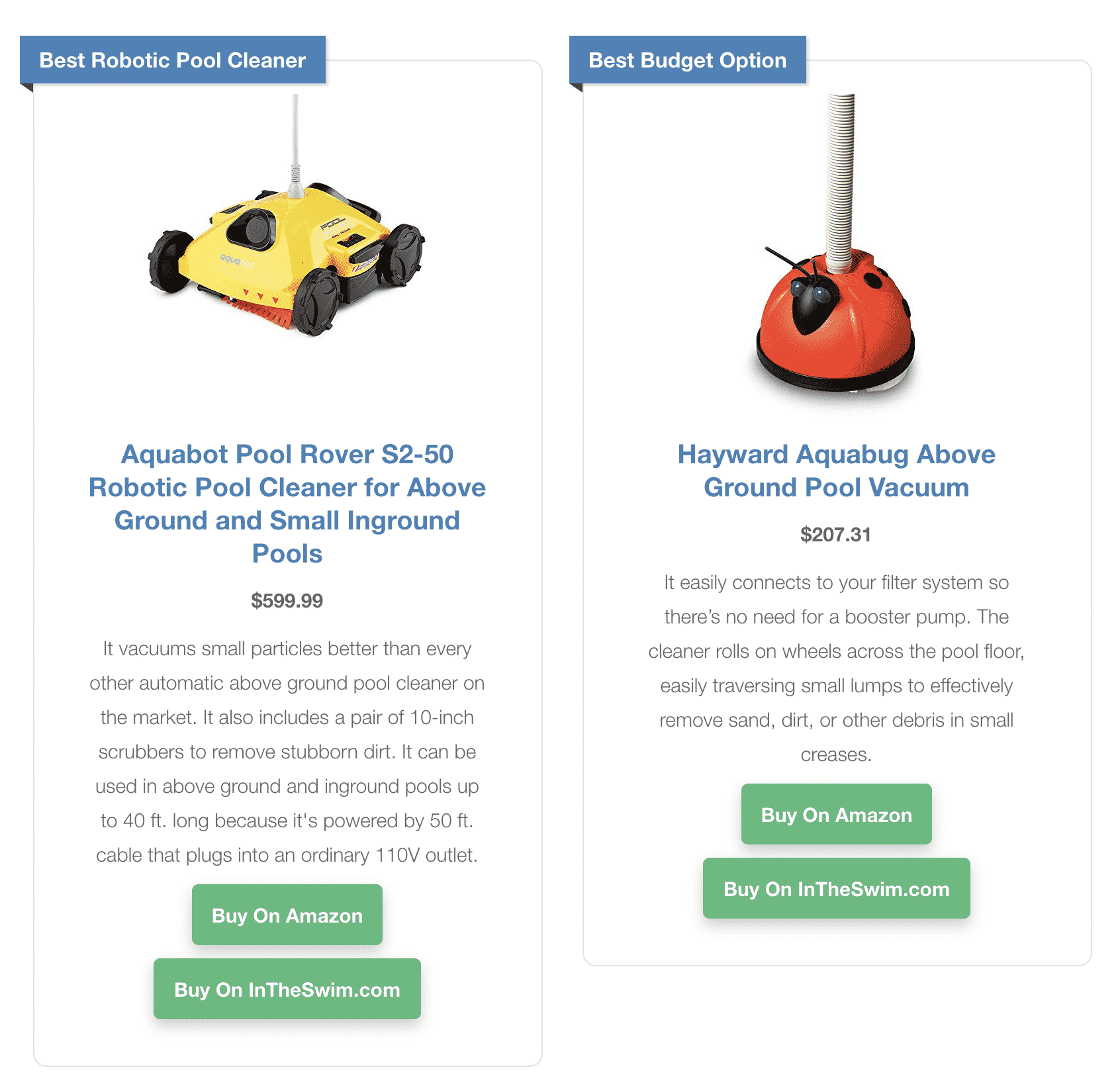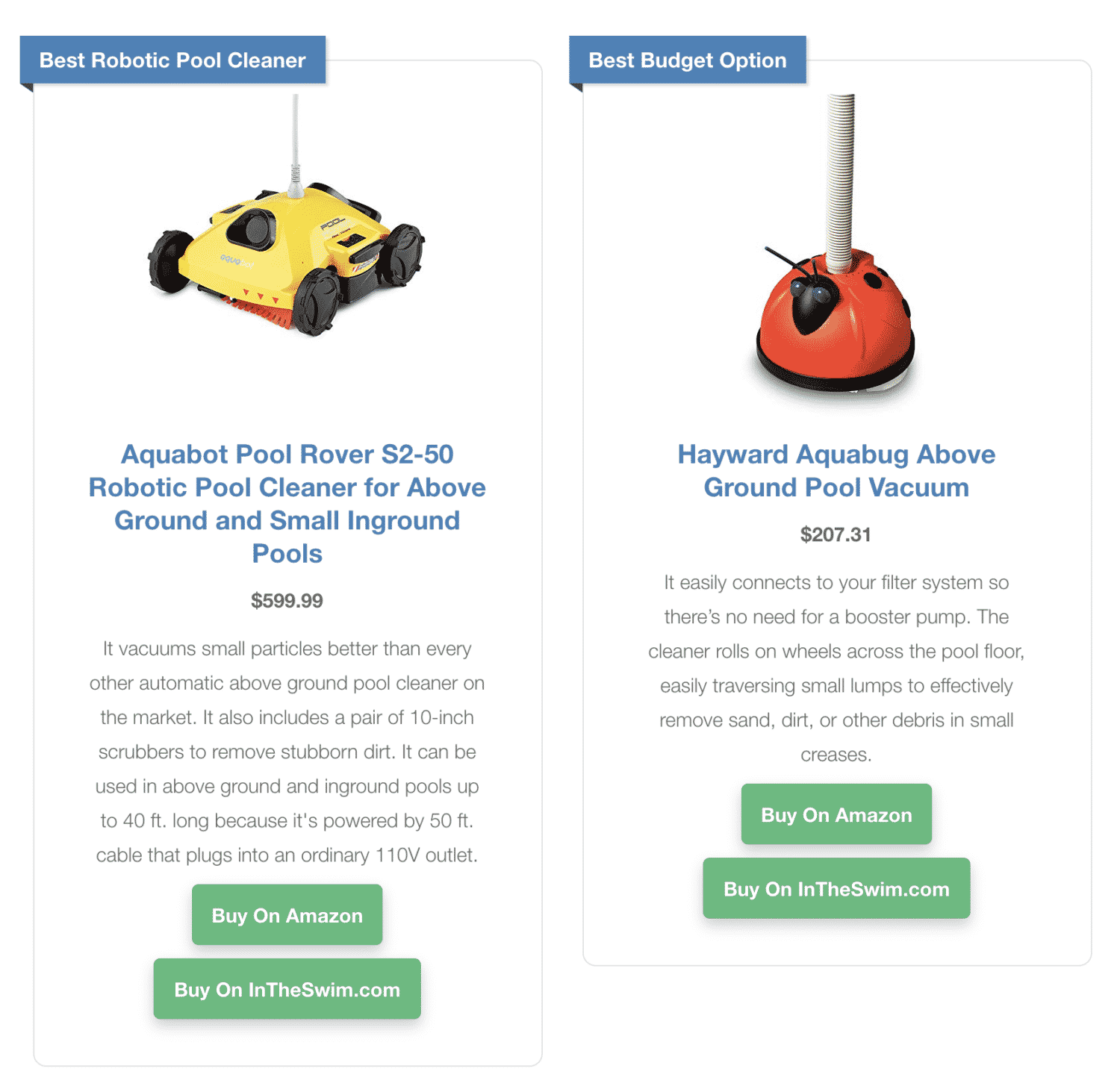 Of course, all of this was done with Lasso. No shame in plugging my own product. It fucking rules and it'll help me get through this Amazon debacle.
Using Choice Pages with GeniusLink
The idea of giving users a choice is giving me pause. I'm trying it out on one post, but I'm afraid to try it on others in the middle of the pool season.
I already know how badly I've been hit by Amazon's cut. And I've been able to make up for that in product sales. But I'm afraid I could lose even more money by giving users a choice.
Here's my logic:
Yes, Amazon can go fuck itself. But it's still the biggest and most trusted source for online purchases. What if Wal-Mart or another affiliate program, while earning a higher commission, leads to fewer sales and an overall decrease in revenue? While I think it's still worth trying, I'm afraid to make big changes during the crucial months. This feels more like a winter test.
Amazon makes it hard for me to correlate sales to specific affiliate link clicks. So unless I make a broad sweeping change across my site, there's no way to know if this will work. In other words, it's impossible for me to measure the success of a single page until Lasso can provide better insights. Which is coming soon.
Choice paralysis is real, right? So I'm afraid if I give people a choice and have to click multiple things, it could lead to fewer sales. Not to mention bad user experience. This is just a hunch I'm not entirely sold on yet.
I wanna focus my time on improving digital product sales rather than squeezing out more money from affiliate programs. Which is exactly what I'm doing in my next experiment.
I've said this many times before: I'd like to think of affiliate marketing as icing on the cake. And Amazon really made it so this year. I've been earning most of my revenue from product sales than affiliate marketing.
And I can contribute a lot of that to…
Doubling Down on YouTube
This has been the most exciting strategy of the year and it's paid off. In fact, I'll probably write an article about it. YouTube seriously helped us overcome this Amazon shit.
Since April 2nd, 2020, we've been consistently publishing new animated videos every week.
This earned us more money with YouTube ads and product sales.
For example, in all of 2019, the channel earned a total of $11,373.10. But in 2020 (as of July 7th) we almost doubled that to $19,296.97.
On top of that, we have a coupon code for our digital products in all our videos to track sales from YouTube. And so far, that code earned us $26,702.10.
I think this can pay off for us in the long-term if we continue to pump out the jams.
The Final Recap
This was a motherfucker for sure. But after a few months, it turned out to be fine. Despite being during a pandemic too. I can't begin to describe how grateful I am I didn't get totally fucked.
What I Learned From All This Bullshit
It's better to play a long-term game by creating and promoting my own products.
Affiliate marketing should be treated as icing rather than the whole cake.
Pump out the jams! Content is king! Still!
Make big sweeping changes rather than micro-testing leading to lackluster results.
Fuck Amazon.
Thank You
I need to thank Andrew Fiebert, Steph Halligan, and Michelle Lowery for just being there for me through all this. It was an all-hands-on-deck moment and everyone stepped up both digitally and mentally.
And finally, thanks to everyone who reads this! I always say this and I always mean it. Writing doesn't come easy to me. It's hard and I hate it. But the fact that you're reading makes the pain worth it.
Peach out 🍑
Matt Giovanisci
I own three authority sites across different niches, including Swim University, Brew Cabin, and Money Lab. They earn a combined total of roughly $1,000,000 a year. I design and code all my sites. Write the words. Film and edit the videos. Produce the podcasts. Illustrate the graphics. And I have a small team that helps too.