We launched an uncensored personal finance podcast called Listen Money Matters that got cracked the top 100 podcasts on iTunes in less than a year.
The following guide to podcast marketing is packed with tips, tactics, and ball-busting work. It includes everything we did, everything we learned, and everything we know.
1. Make a Podcast For Yourself
Difficulty Level: Easy as Shit
Don't define your audience, define yourself. Every successful podcast is self- serving.
Marc Maron (WTF with Marc Maron) started his podcast out of desperation. He talked to fellow comedians to help deal with his issues.
Chris Hardwick (Nerdist) wanted to chat with his nerdy friends and geek-out with celebrities.
Sarah

Koenig

started the 

Serial

 podcast by solving a murder someone emailed her.
You don't have to come up with an "avatar" or "ideal listener" to craft the perfect podcast.
The idea behind Listen Money Matters was to create a podcast that we wanted to hear – a personal finance podcast that would appeal to a 30-year-old beer-drinking male. In other words: me.
Our show has a heavy metalcore theme song I wrote. We began each show talking about craft beer or cocktails we're drinking during the recording.
And we cursed a lot.
Our reviews were mixed. They were mostly positive, but we got some that were harsh. I had to remind myself that the people who listened loved us. We had a rabid fanbase who would send us beer in the mail and donated thousands of dollars to keep us going.
We created a podcast to find like-minded people who would enjoy what we enjoyed. And it turns out our audience wasn't made up of 30-year old craft beer drinking males.
We had a melting pot of males, females, lesbians, seniors, finance nerds, business owners, Australians, tweens, and more!
How To Make a Podcast For Yourself

Make a list of shows you love. Not just podcasts, but TV shows as well. Andrew and I loved The Colbert Report, Arrested Development, and This American Life. We found ways to work elements of those shows into ours.
Write down 10 qualities about yourself (and anyone else involved in your podcast). Find the commonalities that will become your "avatar."
Don't copy; emulate. Just because everyone hires a former used car commercial announcer on Fiverr to create their intro, doesn't mean you have to. Try writing your own music. Try no intro music at all!
Ignore the podcast marketing fads. I noticed an influx of narrative-style podcasts after the success of Serial and Startup. I'm not saying you shouldn't start a narrative style podcast, but instead, do the show you would want to listen to and not because it's a trend.
2. Tap Your Past Guests and Active Podcast Listeners
Difficulty Level: Easier said than done
At the beginning of every show, I read a new catchphrase as part of our intro. An example would be:
Hey everybody! Welcome to Listen Money Matters: the show that goes through you like shit through a goose.
Catchphrases like that were sent to us by fans via Twitter. I would give credit to the person who sent it in. Sometimes they would be serious, other times they would be odd and funny. But they were all created by fans and became the norm for a few reasons:
To involve the fans in the show in a unique way.
I wanted to improve our Twitter followers and engagement.
And I didn't feel like writing my own anymore.
Involving Podcast Listeners Works!
Whenever I heard my name on the radio, or a podcast, or TV, or written in a blog post, I smiled. It's the greatest little feeling in the world when someone says your name in front of an audience.
We also gave out our email address at the beginning and even every episode and encouraged people to send us questions. We got so many emails filled with amazing questions that made it very easy for us to come up with episode content. It also gave us insight into what our audience was going through financially, which helped us create a better show.
We invested in Intercom just to keep up and keep track of all the emails we were receiving. In hindsight, I wouldn't have changed a thing. I just would have gotten more involved and hired help.
I think it's crucial to be available for your audience. Not just behind the mic, but in person and through any other means of communication.
Marc Maron is a great example of this. He is very transparent about his life on the show and active on Twitter communicating with his audience. At his standup shows, his audience brings him baked goods. For us, listeners sent us cases of beer.
Dan Harmon (Harmontown) does a live show and often invites members of his audience on stage to chat with him, and it's something we did during our only live show at FinCon, a financial blogger conference. We invited bloggers who were listening to our show live to come up and give one personal finance tip. Listen here.
Build a tight community around your podcast. Find ways to involve your listeners in your show. Every once in a while we would do episodes titled This Financial Life (a mock of This American Life) where we'd help a listener with their personal finances live on the podcast. We also did weekly episodes called 5 Questions (a mock of an old Daily Show bit) where we would answer five listener questions on the show.
8 Ways To Involve Podcast Listeners To Grow Your Audience
Ask them to submit a catchphrase, review, or something you can talk about on your show.
Give out your email address or website and ask for questions that you'll answer on the show
Start a community corkboard/forum where listeners can post events. Nerdist does this at the beginning of their episodes.
Ask listeners to submit game ideas. Comedy Bang Bang invites listeners to send theme music and "Would You Rather" scenarios for games they play on the show. They also ask for catchphrases.
Send an email to your guests asking them to share/review the show when it's live.
Email anyone or company you mention in each episode, asking them to share with their audience.
Create a hotline where listeners can call to vent, ask questions, or just tell you how much they love your show, and play the voicemails on the show.
Hold contests. Team up with another podcast with a large audience, or a company with a large audience, to offer prizes.
3. Develop A Social Media Mindset For Effective Podcast Marketing
Difficulty Level: Hard, but easier with time
If you Google "how to promote a podcast" chances are you will find a series of tips and tricks centered around social media tactics. The "Follow Everyone" Twitter strategy, the "Tweet The Same Thing 50 Times a Day" trick, and the "Hashtag Overload" are just a few common tricks I've seen recommended. All were resulting in stagnant growth and minor engagement.
Online marketers often forget the root of Social Media. Tweeting and posting your latest episodes over and over throughout different times of the day is not social. It's broadcasting. And if you're on Facebook, only 1% of your fans see it if no one Likes, Comments or Shares it.
I don't think social media is a waste of time. I believe that it plays a major role in podcast marketing, but you have to adopt the correct social media mindset.
1. Focus on ONE Social Media Network!
Pick one channel and dominate. At the very least pick two. Select Twitter and Facebook. There that was easy.
For my upcoming show, I'll be focusing on Twitter because I enjoy the platform more so than Facebook. Later, I will be expanding into Facebook as the show grows.
2. Start Conversations and Stop Broadcasting
Social media is not a place to broadcast your latest episodes. That's why we have email and RSS feeds. Social media is a chance for you to talk to your fans; have a conversation with them. Your fans are your best way to grow your audience.
Our show's success was based solely on the fact that our fans told their friends and family about our show. They would tell us on Twitter and Facebook and when they emailed us.
Podcasting is a one-way medium, and an excellent way to expand that is through social media. So don't think of it as a flat out promotional channel, but as a place to chat with fans, get ideas for shows, and connecting with future guests. Your social presence will grow the more you engage with your audience.
3. Ask Your Listeners For Questions To Ask Your Upcoming Guests
Tell your fans about an upcoming guest and ask them to submit questions. If you have a well-known guest, getting questions to ask from your fans will be easy. If you don't, make sure to describe who the person is and the expertise they bring to the table.
4. Develop User-Generated Content
Use social media as a way for fans to generate content for your show. Ask them to send you catchphrases or questions that need answering.
5. Post Behind-The-Scenes Photos
We had a tradition on our show where we would drink beer and talk about it at the beginning of each episode. We would take screenshots of us holding up the beers over Skype. Then, post them on Facebook and Twitter and tag the beer company in the photo.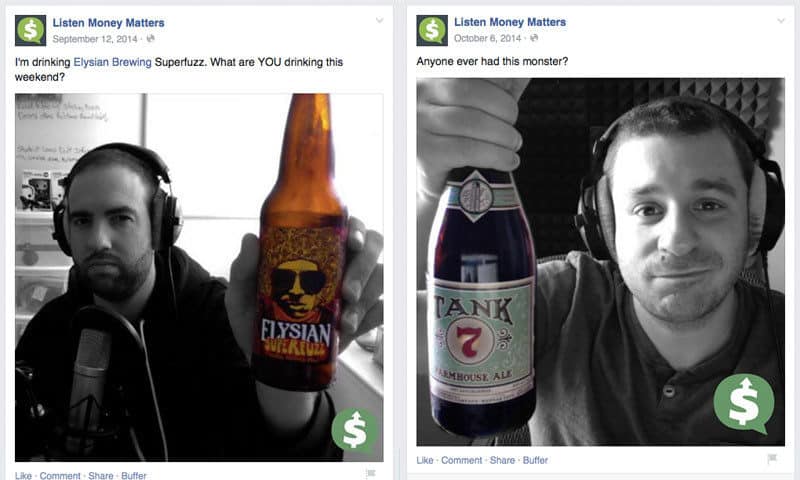 Also, we would ask a question like, "who would like to try this beer?" to start a conversation.
6. Go Outside and Record a Podcast Episode
Show your listeners that you are a real person by taking personal photos and posting them. Go out for a drink with former guests and take a selfie. Go out to dinner with your sponsors and take a selfie. Host a live podcast and take a selfie with your audience. Do something different and record an entire podcast episode while driving in your car and take a selfie.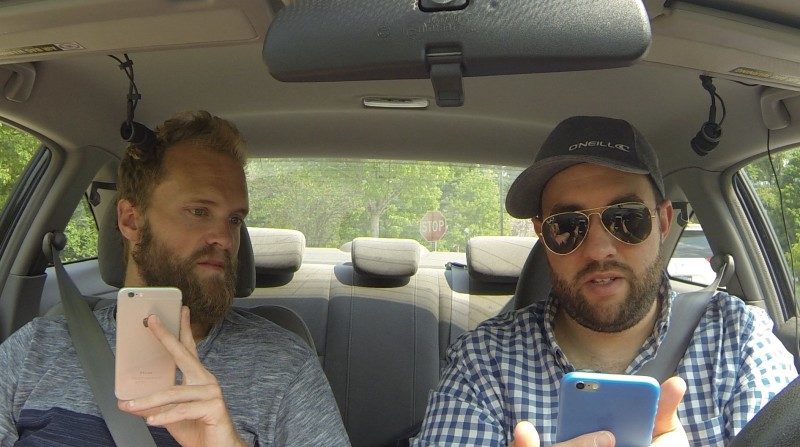 7. Partner Up With Other Podcasters
Forming partnerships is vital to the success of any podcast. You are never in competition with anyone. Make friends. Share what they create. Cheer on your friends and they will return the favor – it's good karma. Practice this!
4. The Top 10 List Podcast Marketing Strategy
Difficulty Level: Requires writing and emailing, so hard as hell!
Google, "best [your niche] podcasts." Create a spreadsheet listing every single post you can find that your podcast is not a part of but should be. Then, send a simple email to the blog owners asking if they would add your show to the list. Very few podcasters do this.
I imagine it has to do with the fear of rejection or reaching out. It was hard for me at first, too, but we were able to increase our search traffic and listeners with this tactic.
It's both a long-term and short-term strategy. If you get listed on a blog post that gets a lot of engaged traffic, chances are you'll see results quickly. But more often, it will play out long-term, earning you good links from relevant content. It's why having a kick-ass podcast landing page is so important.
5. Create a Kick-Ass Podcast Landing Page
A common mistake with landing pages is giving people way too many options. Even I struggle to simplify. I believe a good podcast landing page should have the following elements:
A way to quickly listen to the latest episode without scrolling.
A large and clear headline describing the show.
A big ass button that will allow them to subscribe on iTunes (and ONLY iTunes because it's the largest directory and biggest bang for your buck. Include other links but not as prominent).
A list of recent episodes.
A single way to communicate with the show via social media or email.
I did a fair amount of research when coming up with a design for this site. I scoured the internet for inspiration and came up pretty dry. However, there were a few that I found to be "not bad" and they are Serial, WTF, and Star Talk Radio.
6. The Definitive Guide Strategy
Difficulty Level: From experience, the most difficult but rewarding thing ever!
For the past two years, I've been searching for a podcast marketing guide and haven't found one that I liked. So, I decided to write one myself combining all the best tactics and the personal tips that worked for me in the past.
This is my primary strategy for growing any online business. I've created a six-figure pool care education business by setting up definitive guides based around pool care. But even more related, was a definitive guide we wrote to promote the Listen Money Matters podcast, An Illustrated Guide to Investment Types.
It was a collaborative guide that has continued to bring the podcast traffic and listeners. This guide took us a few weeks to create.
Definitive guides are a great long-term strategy for building an audience for any online project. I have articles on my sites that were written years ago and still bring in a massive amount of traffic and steady growth.
The Definitive Guide Action Plan
Survey your audience and perform online research to find a killer topic. If you don't have an audience, and your show is self-serving, create a definitive guide for yourself like this one.
Ask yourself the questions you want to know that should be included in the guide and find the answers.
Do a Google search to find all of the pages that talk about your topic. Start pulling out all of the best information into a note-taking app like Evernote.
Outline your guides like a book using all the data you've gathered and the questions you've answered. If you're using WordPress, put the outline into WordPress and just fill in all the headings as you go.
Once you're finished writing an insane amount of words, and you believe you'd covered the topic better than anyone else on the internet, edit and purge what's redundant or unnecessary – this includes words and sentences, and graphics and sections.
Add visual representation where needed. Don't add graphics for the sake of adding graphics. Graphics should serve an educational purpose.
Publish and promote that post as aggressively as if you were launching a new book or podcast. Repeat all the steps in this guide.
7. Get Interviewed On Other Podcasts
Difficulty Level: Hard to book, easy to speak
In 2008, I was invited on Martha Stewart Living Radio to talk about pool care during their morning show at 7 am on Sirius Satellite Radio. I remember my stomach dropping when I got the email. And I thought this was the game changer and my site was going to "BLOW UP!"
That morning, I was nervous and pacing by the recommended land-line, awaiting the call from Martha Stewart. The phone rang and scared the living shit out of me, even when I was expecting it. I picked up to a voice whispering, "Is this Matt?" I responded with a slight crack in my voice. "Ok, they're wrapping up the last segment, so hang on tight, and Mindy will introduce you."
Honestly, I had no idea if here name was Mindy. All I knew was that it was NOT Martha.
After the interview, I ran to my computer to check on Google Analytics and saw no bump in traffic. In fact, by the end of the day, I received less traffic on that day than every other day in that month. It turns out I didn't get the "Martha Bump" because that's not a thing. I made it up.
Being on Martha Stewart may not have gotten me instant success, but it paid off in other ways slowly over time.
Promoting your podcast on any other medium besides podcasting is a shotgun approach. By being a guest, you know the people hearing your voice already listen to podcasts making it a very low barrier to entry. In fact, it became our primary strategy for promoting our podcast.
1. Make a List of Every Podcast (No Matter How Big or Small) Where You'd Like to be a Guest
Create a Trello board and set up four Columns: Podcasts, Contacted, Interested, Booked. Add all the podcasts and contact info to the first column.
2. Craft a Short But Interesting Pitch Email
Write the email that would sell YOU on yourself. Write down some interesting facts about yourself. Put yourself in the other podcaster's shoes. Write down the things that you'd want to hear from a guest pitch.
When I pitched myself to other shows, I always included a link to my rap video. It was something truly unique and makes for an interesting topic to discuss. It's what sets me apart from other guests. I also include my audio equipment so that they know I'm committed to making the episode sound great.
Craft each email specifically for the show and avoid a mass copy and paste job. Also, you don't have to be so god damn professional. You're human and they're human. Be human.
3. Track Pitches and Send Follow-Ups
After you send a pitch, move the card over to the next column: Contacted. It's also a good idea to enable Card Aging, so you can get a visual representation of how long those cards have been sitting in each column.
Assume everyone is busy and not just being a dick. Don't follow up a few days later and be like, "what the fuck, bro?" Give it a few weeks and follow-up with a short email ending with a question. Who knows? Your email could have ended up in their spam folder, or you had the wrong email address.
The goal is the move the cards along the columns and book as many interviews as you can consistently. It's not just a podcast marketing strategy, but it's also a way to come up with content and guests.
8. Make a Video To Promote Your Podcast
Difficulty Level: Hard but fun
The real idea here is to do something no one has ever done to promote a podcast. I did this for Listen Money Matters, and I did it again for the Driven podcast.
Up until this time in the online marketing space, I've created three different rap videos which you can see here, here, and below.
When this video first came out, it flopped. No one watched it even though we promoted the hell out of it. I believe that it was a combination of people assuming it would have been shitty and not being funny enough.
The truth is, this video did more for our show than just about any other form of podcast marketing we tried.
Over the course of the year, this video gained us attention when other websites started linking to it. Both Quartz and The Telegraph wrote about it, bringing very little traffic, but a ton of street cred and link juice.
Not everyone will create a rap video, but this is an exercise of thinking outside of the podcasting world to do some smart promotion.
9. Buying A Podcast Audience
Difficulty Level: Lame
If you got some extra cash burning a hole in your pocket, go ahead and buy some Facebook ads. I've been using Facebook ads for my other projects and find them to work on occasion. However, they are not worth the effort and are very short-term. I'd much rather focus on creating content that will live on the internet forever and consistently bring me new listeners for the rest of my existence.
Facebook ads worked for us when we had Mr. Money Mustache on our show. He has a HUGE audience and rarely does interviews. We created a great show with him, and his fans LOVED it. They shared it on Reddit, Facebook, and his forum. He also shared it on his massively large Twitter account. All of which got us a quick fuck-ton of new listeners. All we did was leverage it for a short time.
We bought a few Facebook ads that promoted this episode to people who were fans of Mr. Money Mustache, and for just a few hundred bucks, we were able to capitalize on that ONE episode.
We tried it a few more times with other guests and didn't get nearly the same response. That episode continued to be linked to and talked about on social media without us having to buy any more Facebook ads.
If you're still interested, here's a great post from Jon Loomer about how to promote a podcast using Facebook Ads.
10. Focus On Your Show Notes
If you're anything like me, creating show notes for your episodes is the most dreaded task of publishing a podcast. The truth is, you should take your show notes just as seriously as you take your show.
Treat your show notes like real blog posts that provide legitimate value and useful links. You will start ranking in Google for certain episodes with this tactic.
I'm not talking about transcripts. Sure, they provide more words for SEO value, but if they are not cleaned and formatted and provide real value, then you are wasting your time and money. Write something new. Turn your episodes into legible content. Provide links to the things you talk about in your show. Not as bulleted lists, but with some context.
If you don't want to write show notes, you should hire someone to write them for you. You can start by reaching out to your audience because they already listened to your show. Or you can hire a kick-ass freelance writer. They listen, perform additional research, and turn each one of the episode posts into incredible SEO bait, helping to reel in more listeners via Google.
29 More Podcast Marketing Gimmicks
I listed out each gimmick I've come across and added my thoughts.
1. Repeat Your Most Popular Podcast Episodes
We looked at what episodes got the most downloads and tried to create similar episodes in the future. We also tried different types of episodes like Q&As and measured to see if we should continue doing them.
2. Improve The Audio Quality of Your Podcast
It'll set you apart from a lot of other shows and make you more likely to get featured since there are employees at iTunes listening. I'm an audio engineer so I take audio seriously and so should you.
Use your ears. If it sounds good, then it probably is. Invest in a good mic. I recommend the Audio Technica ATR 2100 and a good intro USB mic. If you want to get serious, invest in a good USB mixing board (I use a Mackie ProFx8) and a dynamic mic (I use the Shure SM7B which is a standard broadcast mic used by Marc Maron).
3. Write Good Show Notes
It helps SEO in the long run. Each of our episode show notes had over 500 words and some rank very high on Google bringing us listeners via search. I like this Gimmick.
4. Try HelpAReporterOut.com and/or RadioGuestList.com
These are easy to sign up for and worth checking out to see if there are opportunities to be interviewed. It's also an easy way to find podcast guests if you're trying to find an expert on a particular topic.
These are easy to sign up for and worth checking out to see if there are opportunities to be interviewed. It's also an easy way to find podcast guests if you're trying to find an expert on a particular topic.
5. Create More Podcast Episodes
It works well to speed up growth, but it can lead to burn out. We started with producing an episode once a week for the first eight months.
Then in May of 2014, we experimented with doing a daily episode for the next 31 days and our downloads exploded. We continued daily but got burned out. Daily can be very good for making money but I don't recommend it anymore. It's overwhelming.
6. Use YouTube to Publish and Promote Your Podcast
I like the idea, but more as a means for exclusive content as a giveaway to people who sign up for your email list. Marc Maron creates two-minute video clips to promote each episode with just a simple still image.
YouTube is the second largest search engine, but I'm not sure how much YouTubers will convert over into loyal podcast subscribers. I won't be doing this, but I'm not against it.
7. Join or Create a Podcast Network
Sure, why not. As long as you have creative control over your show.
8. Participate in Podcast Awards
Lame, but easy enough.
9. Post in Similar Communities
I would only recommend this if you're extremely passionate and enjoy participating in Facebook Groups or Forums based on your topic. I'm not much of a writer and find a hard time with this, so for me, it's not worth the agony of writing.
10. Answer Questions on Quora
Sounds like a lot of work for little payoff.
11. Add a Link To Your Podcast in Your Email Signature
This one is a no-brainer. Probably won't get you much, but easy enough to do once and leave it alone.
12. Submit to Social Networks Like StumbleUpon, Pinterest, Reddit, etc
From experience, I can tell you that Reddit is the only good source on this list. StumbleUpon can suck it, Pinterest is the wrong crowd, and Google+ is dead.
13. Add Share Buttons To Your Show Notes
Yes, but make them yourself instead of using the Javascript-heavy ones provided by each social media network. I recommend installing Font Awesome on your site and creating your own share links using this.
14. Promote Your Podcast With Google Adwords
If you're not selling something with a direct ROI, avoid this. Too expensive.
15. Use Facebook Ads, Sponsored Tweets, or Promoted Pins
I'm not just a fan of paying for fans.
16. Get More Podcast Reviews on iTunes and Stitcher
There is this notion that the more reviews your podcast has, the higher you are ranked in iTunes. However, there is no proven correlation.
In fact, outside studies done by Libsyn (podcast hosting software) suggests that reviews hold little weight as compared to hitting the "Subscribe" button. Although, one could say that the more reviews you have, the more one is persuaded to subscribe, but the bottom line is reviews don't hold weight when it comes to the ranking algorithm.
What that means is you should absolutely get more reviews because, in turn, that will help you get you more subscribers.
17. Create a Series of Episodes Telling a Story
Podcasts like Serial or S-Town do well because each episode makes you want to listen the next one.
The show LOST was notorious for leaving cliffhangers with the promise that they'd be resolved in the next episode, so of course, you'd tune in. LOST was like a drug that left you itching and half dead in an abandoned house.
18. Leave Feedback and Reviews on Other Podcasts
John Lee Dumas left a review on our podcast. I don't think he ever heard a single episode. He put his show name in there. I don't really see the value in this.
19. Speak at Events (Not Just Podcasting Ones)
Sure, get out of your comfort zone and promote. I wouldn't speak solely to promote your podcast though. That won't have a great ROI. But speaking to build up your personal brand is a good idea, especially if you're paid for it.
20. Go To Events (Not Just Podcasting Ones)
Yes, get out of the podcast studio and meet your fans. This is life-changing and had a profound affect on me as a podcaster.
21. Create and Grow an Email List
If you're trying to build a blog/podcast, you should be collecting emails. You should email your fans letting them know that a new episode is live if they want to be notified for that. Give them options. Offer them exclusive content for signing up, like bonus episodes or videos.
Use Mailchimp. It's free at first.
22. Cross Podcast Promotion
Create something special for your favorite podcasts. I remixed The Fizzle Show theme music as a metalcore tune (as you know, I'm a fan of metalcore) and created the theme music for The $100 MBA Show and Podcast Movement.
I also would record bumpers for our friendly rival Stacking Benjamins. Have fun and cross-promote. Every podcaster should be your friend, not your competitor.
Find a niche that has dabbled in giving advice about your subject (e.g. a podcast about marketing that has done an episode about how they produce their podcast) and get them to link to you.
23. Reply To Every Comment On Your Website
You should be connected with your listeners. If anyone tweets, comments, or emails you, respond quickly. This pays off in word-of-mouth promotion.
24. Create Your Own Podcast App
App stores are just another directory. I don't believe it's worth the time and money to create an app to promote a podcast unless you were making money on it. The marketing overlap seems pretty low.
25. Create Audience Podcast  Promotion Tools
I think creating an online street team is a brilliant idea. Come up with fun ways to have your fans promote your show and reward them with a point system or actual merchandise. Create banners they can put up on their own websites.
26. Add Tweetable Text To Your Podcast Show Notes
This is easy enough to add in your show notes. We did this for all of our episodes but saw very little activity from them. The tweetable text has to be really good and valuable for this to work. Don't make inside jokes tweetable. Lesson learned.
27. Get Business Cards For Your Show
I've said this before and I'll say it again. The business card is dead. Don't waste the money.
28. Sell Swag
I think it's a good idea to give away cool swag to your listeners. They will be blown away by this gesture making them more loyal to your show. Always look to build brand ambassadors. Word of mouth is the best marketing.
29. Give Out T-shirts
We thought long and hard about doing this and our listeners wanted us to. I say go for it. I doubt anyone has ever seen someone wearing a t-shirt of a podcast and started listening to it. It's a good idea to give out shirt for free to your listens to build a loyal army of word-of-mouth promoters.
If You Loved This Guide, Please Share It!
Phew! That was a lot. I'm glad you made it through. How do you feel?
Are you excited? Do you have a game plan? I know I'm pumped and ready to start promoting!
Share this with your podcasting friends. Remember, we're all friends here. Let's help each other out and make podcasting even bigger. When we ban together, it helps out everyone. Power in numbers.
Enjoy!
Matt Giovanisci
I own three authority sites across different niches, including Swim University, Brew Cabin, and Money Lab. They earn a combined total of roughly $1,000,000 a year. I design and code all my sites. Write the words. Film and edit the videos. Produce the podcasts. Illustrate the graphics. And I have a small team that helps too.