I'm going to create 30 short, vertical videos in a row across Instagram, TikTok, and YouTube. Each video will deliver a pool maintenance tip in under 60 seconds for my flagship brand, Swim University.
The goal of this challenge is to grow my social media following and beef up my YouTube subscribers during peak pool season.
But why spend time chasing these so-called "vanity metrics?" Two words: Brand Momentum.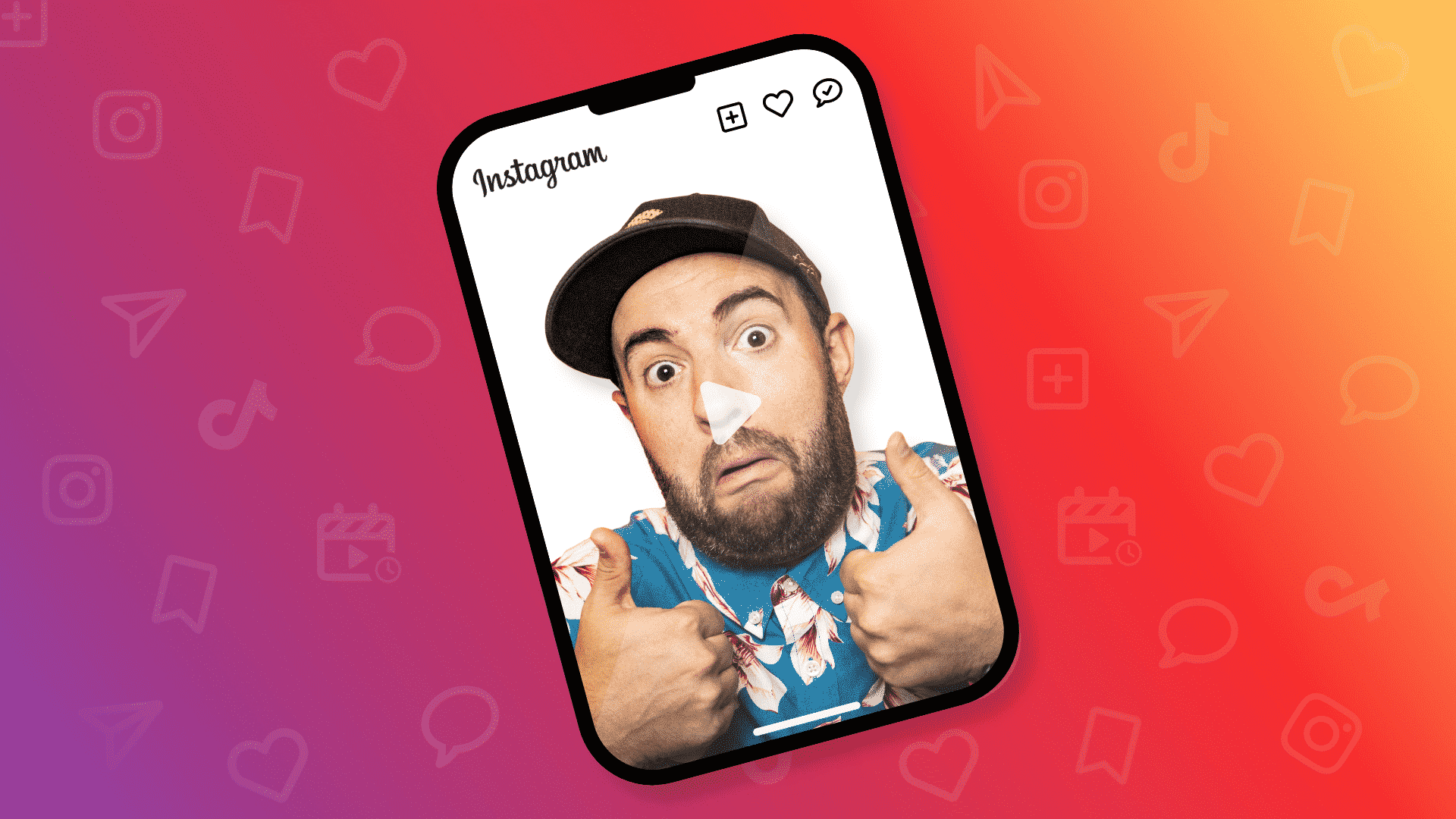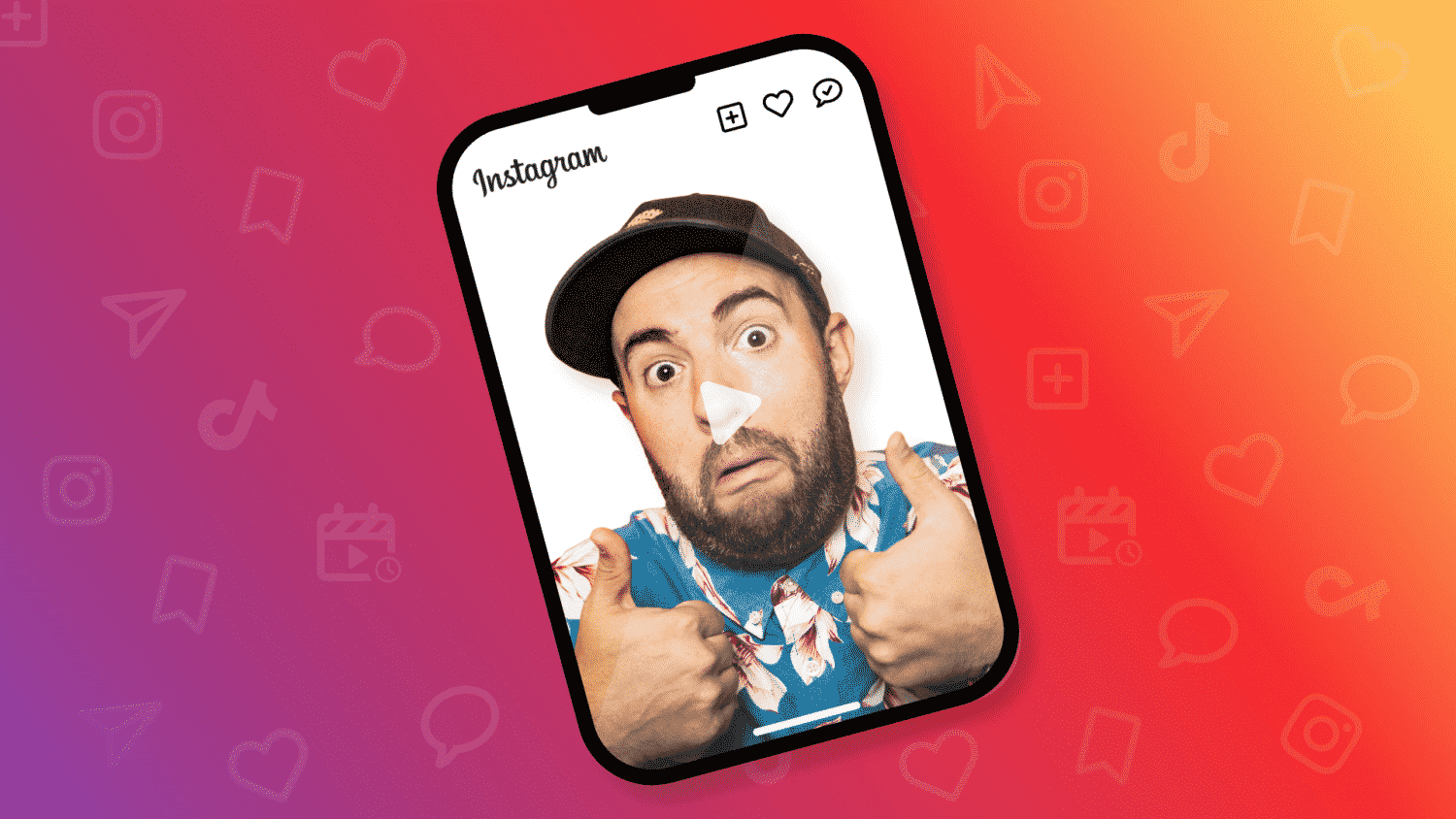 What is Brand Momentum?
Brand momentum is a measure of the quality of the brand and how good they are at out-growing its competitors. Think of it as the public perception of an up-and-coming and trustworthy brand that's seemingly everywhere all at once.
This reminds me of Pat Flynn's "Be Everywhere" strategy that he coined back in 2011. Here's episode 28 of the Smart Passive Income podcast talking about it.
Brands with momentum typically have higher sales than their competitors. This is common with Direct-To-Consumer (DTC) brands like AllBirds, Graza, and HopLark (all products I've bought thanks to their work on Instagram).
The goal is to show brand strength, vision, and popularity without spending a ton of money. And this is my wheelhouse!
This strategy is part of my Untouchable Business Model of creating high-quality content across a wide distribution network and collecting those people into my ecosystem.
The Plan to Create 30 Short Videos for Instagram, Tik Tok, and YouTube
For the last few months, I've been spending more time on Instagram and Tik Tok just doing research. I look for content that stops me from scrolling and I ask myself why. I've been taking screenshots and recordings of the content that tickles my fancy.
I've also been learning what makes a good reel from other creators like Kevin Espiritu of Epic Gardening. He even made a video about how he makes reels.
Some of the tips I learned from my research include:
Videos must be short 30-60 seconds.
Start with a scroll-stopping image (motion, human, interesting shot) and story beat (a question or what the video is about).
Quick editing with no more than 3 seconds per shot.
Follow a basic structure: Setup, meat, punchline.
Use text to add extra value and eye-catching motion.
Hashtags don't work anymore.
Add humor.
The caption should contain 3-4 paragraphs of extra, in-depth information and behind-the-scenes content.
End the video with a CTA like there's more info in the caption or ask a question in the comments.
So with these ideas in mind, I sat down to create a kick-ass short video.
View this post on Instagram
This worked! Reels provide a much greater reach than traditional posts on Instagram. At the time of posting it, I only had about a hundred followers. But this post had a reach of 4,901 plays.
Now, I needed a plan to make creating more videos like this. So I sat down with Steph (my GF) and came up with the plan for how to batch create 30 short videos.
1. Make a List of  Video Topics
On day 0 of the challenge, we sat at the kitchen table and came up with 35 pool care tips. I wrote them all down in Asana.
Each card will act as a "home" for the video content.
2. Film All The Intros and Outros At Once
Here's a little secret. I've been running Swim University since 2006. I started the site because I've been working in the pool industry since I was 13 years old. However, I have never owned a swimming pool myself.
Most of the content we produce contains brand-agnostic graphics and animations. And all of the b-roll we've filmed over the years came from friends who own pools.
I have more than enough footage and animations to create the meat of the reels. But I want to add a human element to every reel. So I'll be filming all the intros and outros using a green screen.
3. Write Short Scripts in Asana Cards
In order to make the videos quick and to the point, I'll be writing mini scripts for each video. And I plan to record the voice-overs using my iPhone to make it feel like everything was created with my phone.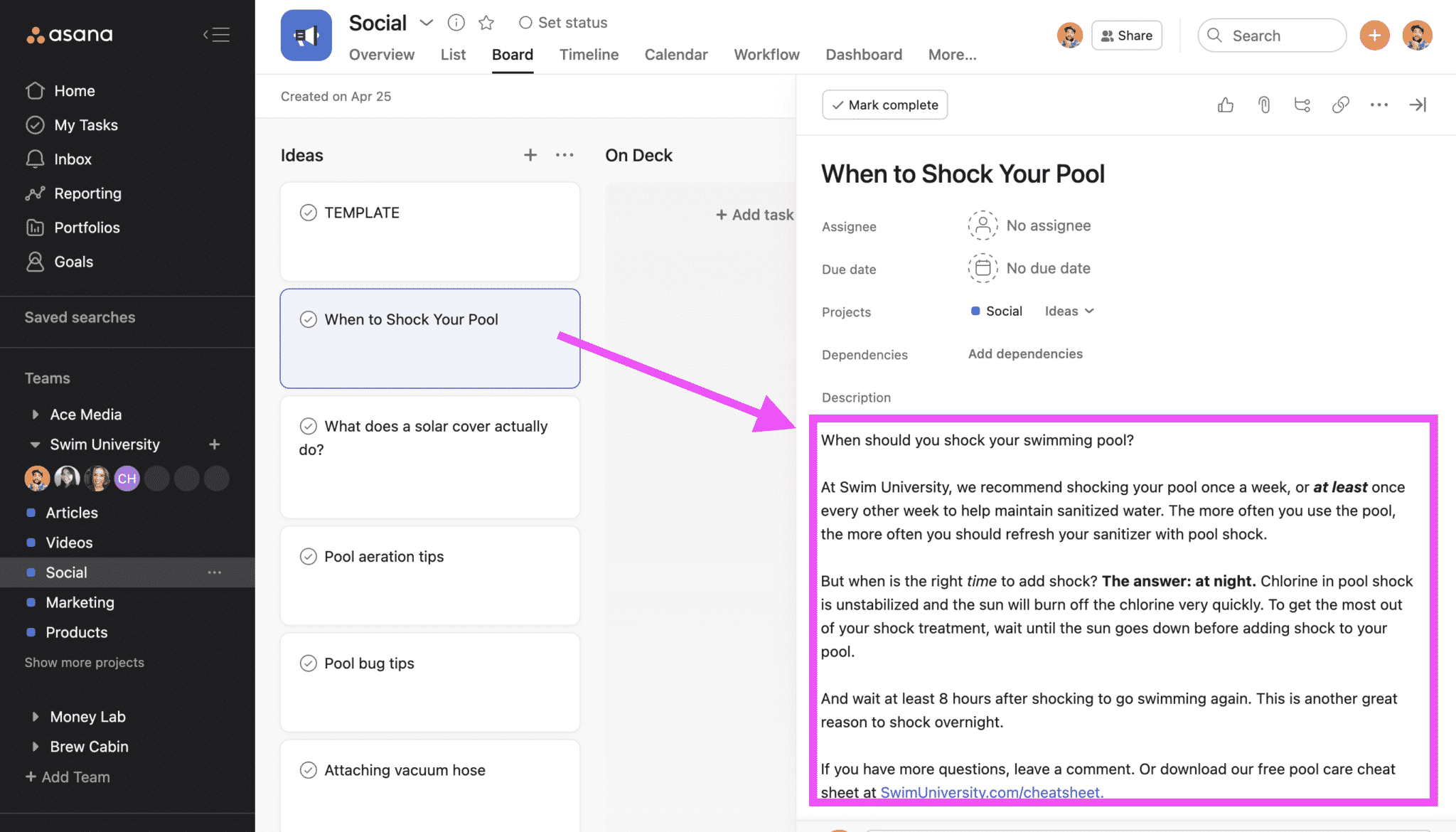 4. Edit Videos in Adobe Premiere
I don't like doing work on my phone. So I'll use Adobe Premiere to edit all the videos. This will give me quick access to all the footage and graphics I'll need to make the video.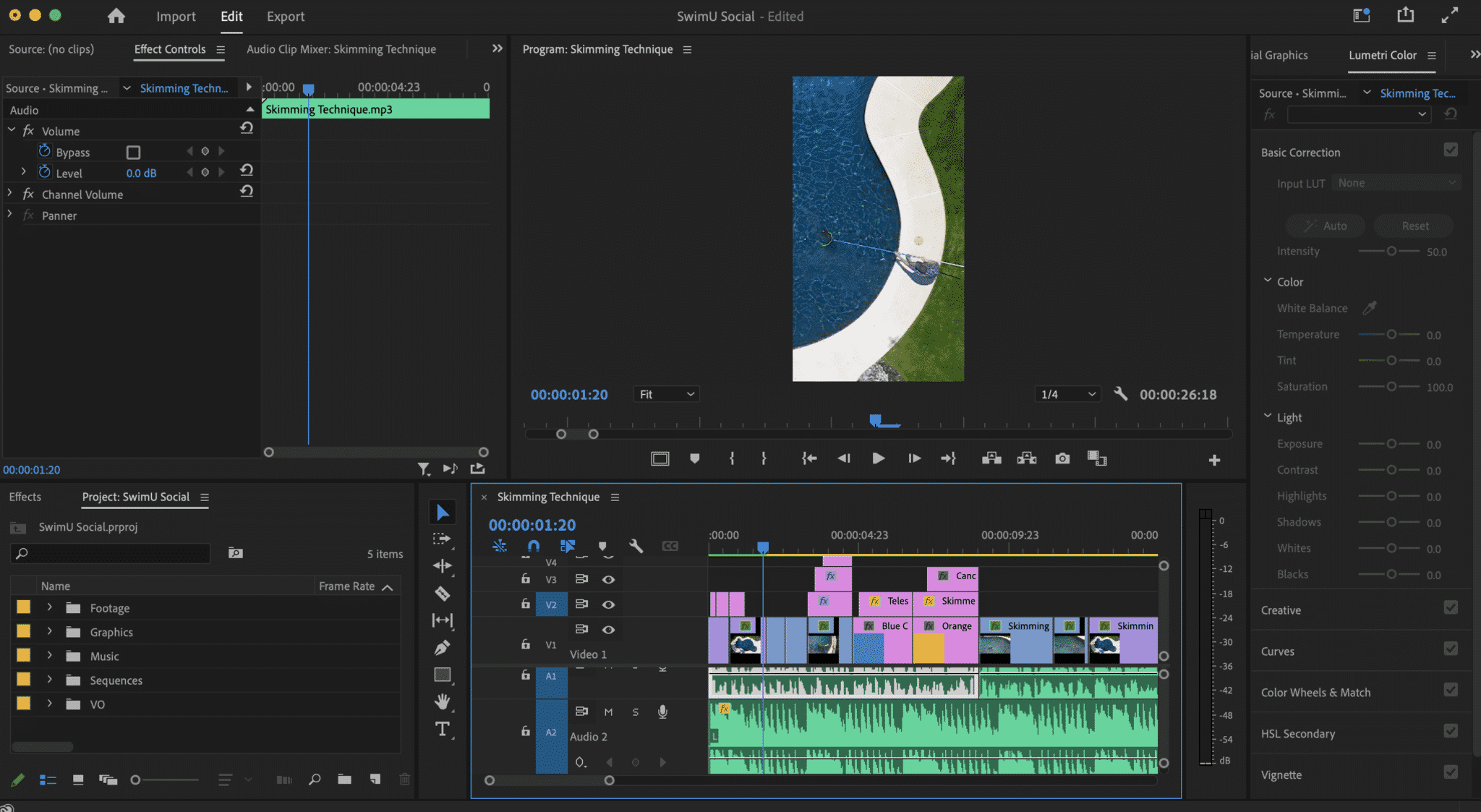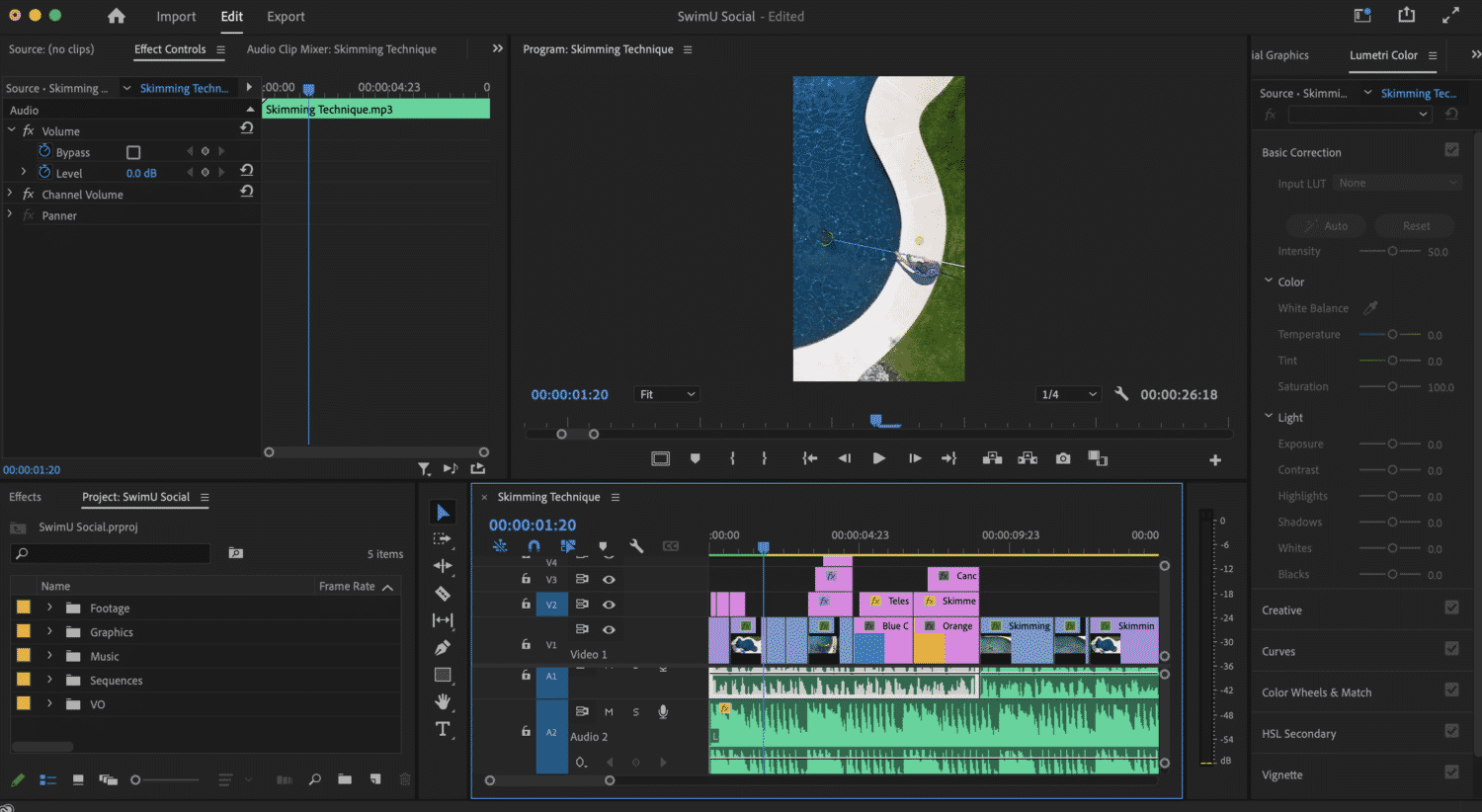 5. Publish on Instagram, TikTok, and YouTube
Once the videos are exported, I'll upload each one to the original Asana card. Using my phone, I'll download the video from the Asana card and copy the script for the captions.
Optimize The Perfect Blog Post That'll Rank and Convert!
Download this cheat sheet and optimize the underperforming posts and pages on your website to increase your rank, link clicks, and leads. Click here if you need more convincing.
Download The FREE Cheat Sheet
The First Short Video Experience
The first attempt was a little clunky. I had to get all the pieces in place. But now that I got the first one done, the next one should be faster and easier.
I published this video on Instagram, TikTok, YouTube, Facebook, Twitter, and even LinkedIn. And within minutes, the video got 89 likes on Instagram (and I only have 500 followers as of posting). That's an insane return. Let's hope it continues to spread.
Here's a video breaking down the entire process of making this first video.
Matt Giovanisci
I own three authority sites across different niches, including Swim University, Brew Cabin, and Money Lab. They earn a combined total of roughly $700,000 a year. I design and code all my own sites. Write the words. Film and edit the videos. Produce the podcasts. Illustrate the graphics. And I have a small team that helps too.
Optimize The Perfect Blog Post That'll Rank and Convert!
Download this cheat sheet and optimize the underperforming posts and pages on your website to increase your rank, link clicks, and leads. Click here if you need more convincing.
Download The FREE Cheat Sheet