In 2022, I wanted to buy and flip a website as a Money Lab challenge. But I've had a hard time finding a site to buy. Most don't pass my quality checklist. I'm very anal.
So instead of buying a site, I'm going to fix a neglected site I already own. I'm treating this site as if I just bought it and need to recoup my investment as fast as possible.
Essentially, taking every online course I offer and putting them to the test!
What's The Neglected Niche Site?
I started a homebrewing site in 2017 called Brew Cabin. I designed and built the site myself and hired a small team of writers to create content.
Within a few months, I gave up on it. Not because it wasn't working, I just didn't have the time or resources to dedicate to it.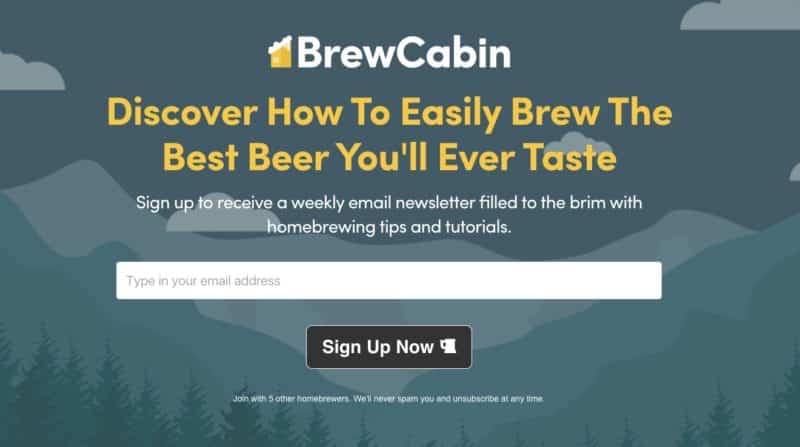 Flash forward to 2018, I redesigned the site, brought on a partner, and tried to make the site profitable in under a year.
Needless to say, that didn't work either.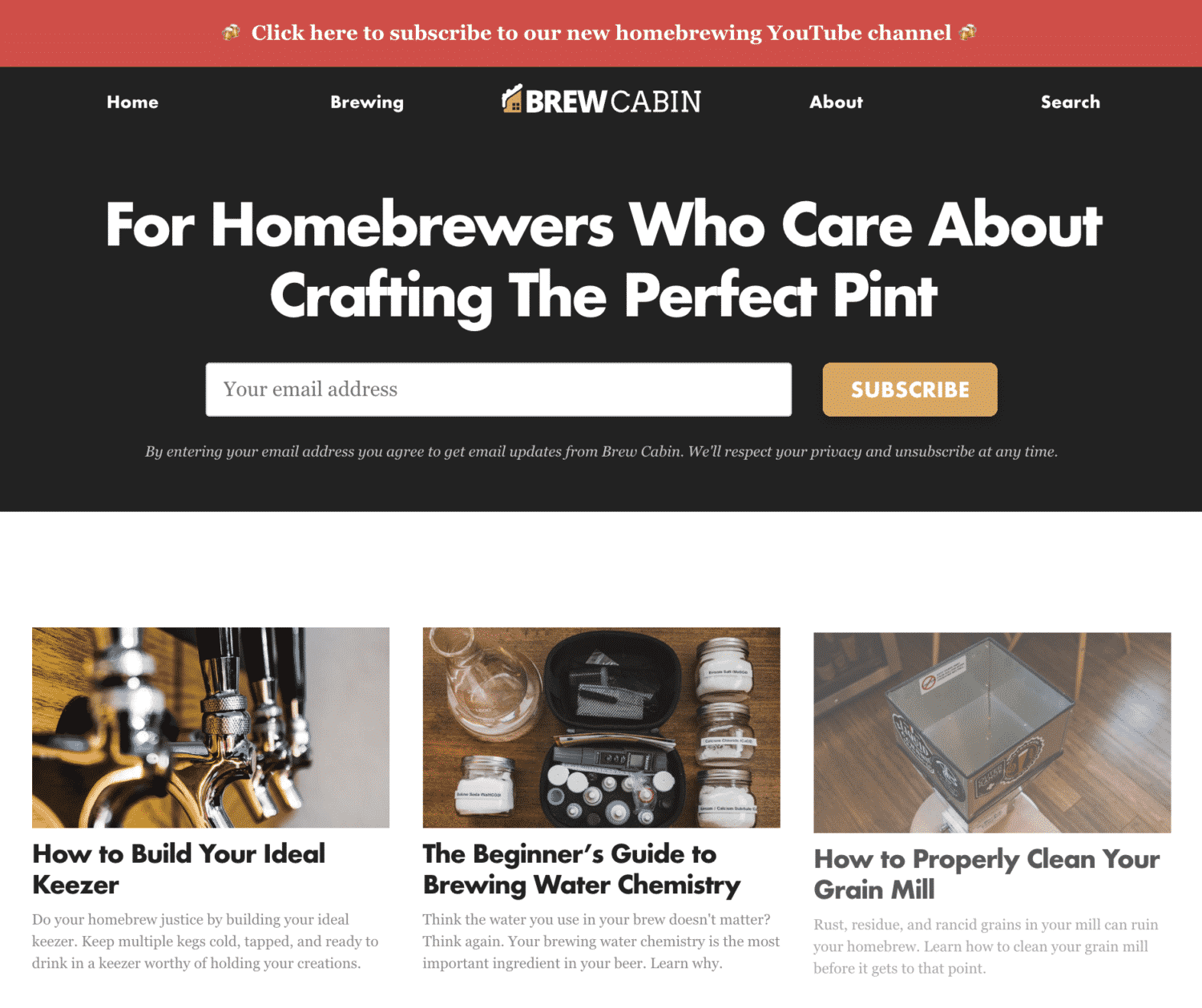 Since 2018, I just watched the traffic grow for a few years without adding any new content. Then in 2021, I watched it fall fast.
2018 Traffic: 105,483 Unique Visitors
2019 Traffic: 351,982 Unique Visitors
2020 Traffic: 468,992 Unique Visitors
2021 Traffic: 197,773 Unique Visitors
I put together a podcast episode detailing the plan for this challenge. So if you enjoy listening instead of reading, click the play button below.
What's The Current Status of The Site?
Up until 2021, the site earned 100% of its revenue through affiliate marketing. Both with Amazon Associates and an online homebrew store.
2018 Affiliate Revenue: $4,975.00
2019 Affiliate Revenue: $9,494.46
2020 Affiliate Revenue: $11,896.14
Then in 2021, I launched my first digital product. It was an advanced all-grain brewing video course called Level Up All Grain. This was good timing as affiliate revenue started to drop.
2021 Affiliate Revenue: $4,909.11
Since traffic was dropping, so was the affiliate revenue. Not to mention a lot of products being out of stock because of supply chain issues during the pandemic.
But the course revenue made up the difference along with some income from YouTube ads (I started the Brew Cabin YouTube channel at the end of 2020).
2021 Course Revenue: $5,395.50
2021 YouTube Ad Revenue: $409.57
The 2021 Revenue total, despite the loss in traffic, was down only 9.8% decrease from 2020. Like I said, good timing with launching the course.
What's The Traffic and Revenue Goal?
Honestly, I'm in a good starting position. The site still has some traffic (roughly 10,000 visitors per month). And it's earning roughly $10,000 a year.
If I were to sell this site right now, I might be able to get a little over $30,000 for it. Not fucking bad. But I'm not selling it.
Homebrewing is my true passion. I literally built a brewery in my garage in 2020 and I try to brew a beer every week.
I have plenty of ideas to improve this site including:
A quick redesign of the site using Carbonate 2.0.
New and updated content by creating an editorial calendar (and possibly hiring a writer to help).
Implementing a better email marketing strategy to gain more subscribers and sell more products.
Creating and selling more of my own products including online courses and more.
Beefing up the affiliate marketing play by updating content, implementing a better strategy using Lasso, and adding more affiliate programs.
My Obvious Pick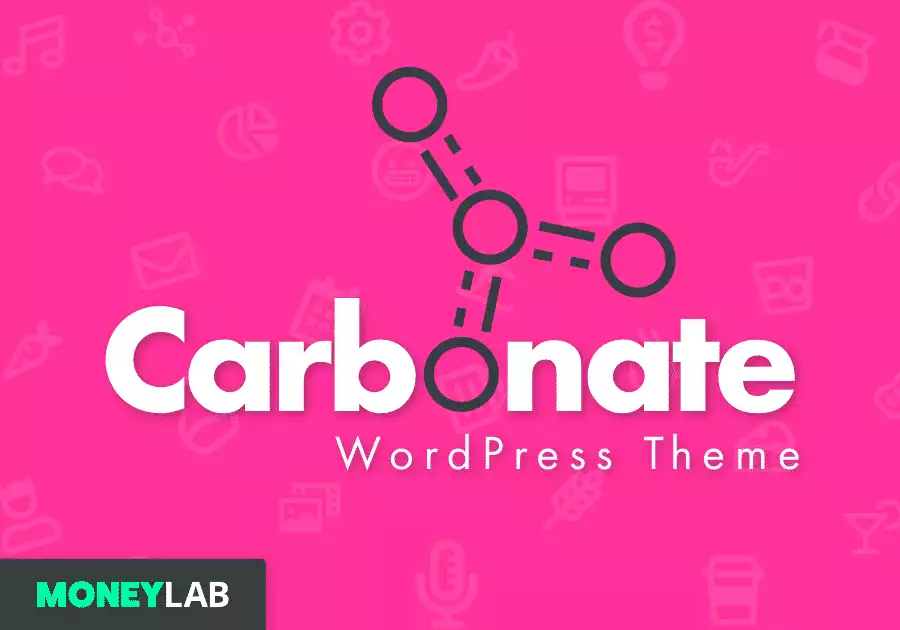 Realistically, I think I can double the revenue in 2022. But my stretch goal is to get it to $50,000 a year.
Again, I'm treating this site as if I just bought it for $30,000 and need to recoup my investment as fast as possible. I'm using every trick up my sleeve and every lesson I put into my courses.
Stage 1: Fix The Leaky Bucket
What does this mean? Well, before I spent my time and dime creating and updating content to gain traffic, I need to optimize the site to convert that traffic into money.
Create a more compelling lead magnet to attract and increase email subscribers.
Reorganize the website by installing my Carbonate WordPress Theme for better internal SEO and page speed.
Improve the Level Up All Grain sales page to help increase sales.
Stage 2: Fill The Bucket
When the current traffic is converting better and earning more revenue, I can increase the traffic and know my efforts will pay off.
Improve and optimize content that's close to ranking and will make money.
Create an editorial calendar for new content using keyword research.
Stage 3: Grow The Bucket
Ok, this metaphor is a little fucked, but bear with me. In this stage, I'll continue publishing new content (where I can add more affiliate links) and create more products to sell.
Improve subscriber onboarding email automation to increase course sales and boost affiliate commissions.
Improve the evergreen newsletter for more affiliate link clicks and course sales.
Create quarterly flash sale email automations to increase course sales.
Add 1-2 more courses to sell.
Look into offering my own white-labeled products.
Let's get started!
Create a More Compelling Lead Magnet
Before 2021, the offer to subscribe to my email list was just, "Subscribe to our FREE Homebrewing Newsletter," with a form. It appeared at the top and bottom of every post, including the homepage.
Then, after performing the Gazillion Dollar Sales Funnel experiment and seeing success on my other sites, I decided to add a lead magnet to improve my subscriber opt-in rates.
Miles Beckler's advice to me was to create a compelling lead magnet to get people to subscribe because "nobody wants more email."
The Original Video Lead Magnet
I thought it would be a good idea to compile all my time-saving brewing techniques into a video lead magnet.
I thought this would convert like gangbusters! But sadly, it did not. I learned quickly that FREE video lead magnets don't work well across all my brands. My guess is because every video on YouTube is free. And everyone knows it.
Here's a week's worth of opt-in conversion data for the video lead magnet:
2,838 Visitors
6 Subscribers
0.2% Conversion Rate
The New Cheat Sheet Lead Magnet
I decided to try a cheat sheet. I sat down in silence and thought about all of the things I'm constantly looking up when I'm brewing. I wanted to craft a cheat sheet I would actually print and use in my brewery.
I designed the whole thing in Adobe XD and exported a full-color version and a print-friendly version (that doesn't waste all your printer ink).
You'll notice the image is bigger, the title is short and punchy, and I replaced the built-in email form with a button to a landing page.
With the old form, I was getting a lot of bot signups. The button sends people to a LeadPages landing page where I can make a better pitch for the offer and add a ReCaptcha form to stop bots from submitting shitty subscribers.
Here's a week's worth of opt-in conversion data for the cheat sheet lead magnet:
2,866 Visitors to the website
49 Subscribers
1.7% Conversion Rate
When you compare the week with the video lead magnet versus the cheat sheet, each saw the same number of visitors. But if I do the math, the new cheat sheet lead magnet saw a 750% increase in traffic-to-subscriber conversions.
That's a HUGE improvement! And such a simple update.
Reorganize the Website
I don't need to improve the speed or design of the site, but there are a few improvements I want to make for better on-page technical SEO including:
Minor design tweaks for a more uniform brand.
More navigation links in the header with easy access to log into the courses.
More categories and tags for better internal linking and navigation.
More links in the footer for better internal linking.
Improved about page that shows I'm a serious homebrewer.
I'll be implementing my Carbonate 2.0 WordPress theme to accomplish this. Now let's take a look at the before and afters.
Brand Refresh
I updated the site colors. The orange (primary) and blue (secondary) colors felt a little muted before. I made them a bit brighter. See if you notice a difference?
On top of that, I made sure all images and buttons have a slightly rounded edge.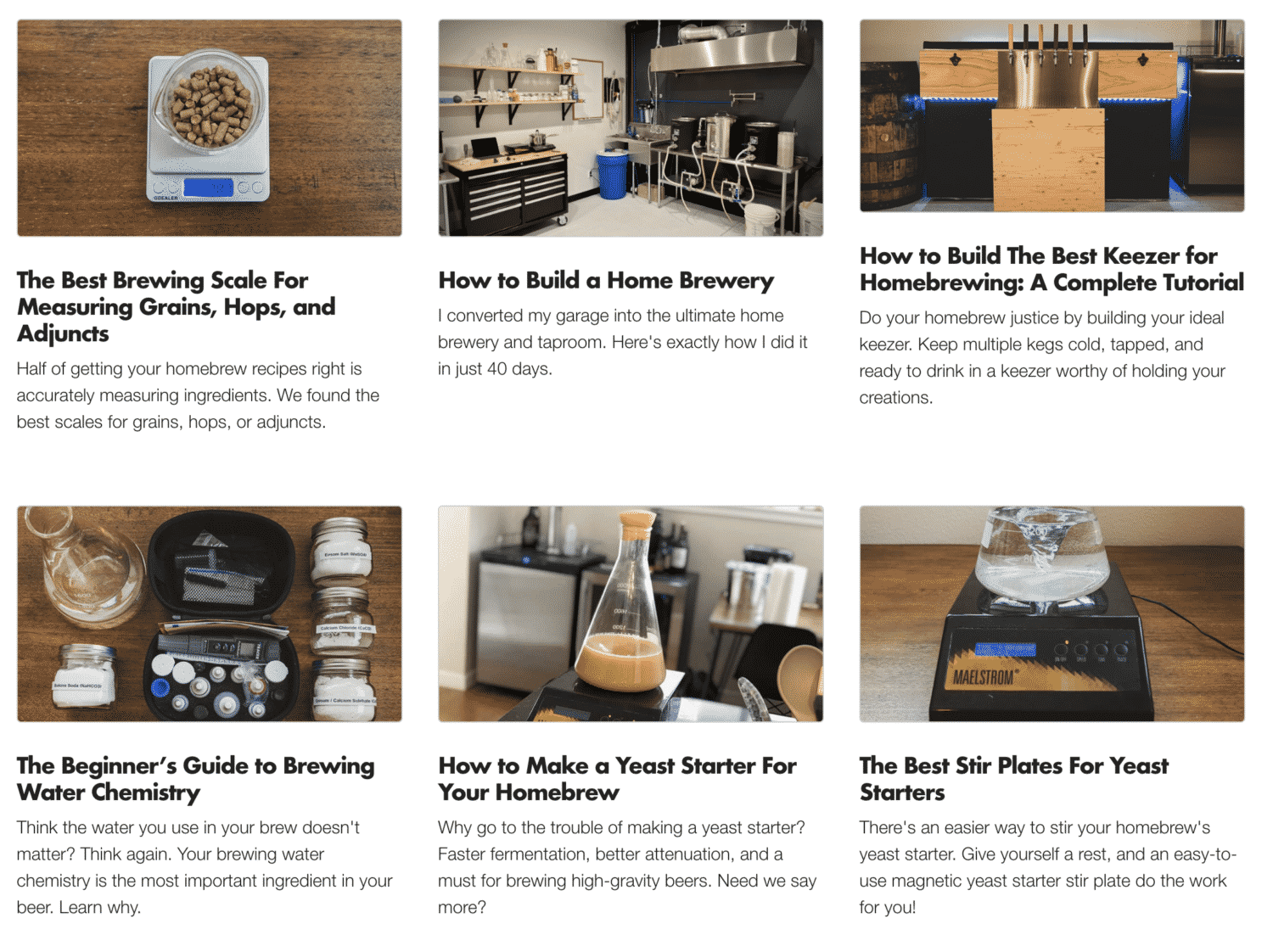 Navigation and Internal Linking
The original navigation was based on my Carbonate 1.0 design. The logo was placed in the middle with 2 links on each side. This looks fine, but it limits the number of links you can have. Plus, no room for a specialized CTA.

I updated to Carbonate 2.0 which places the logo to the left and a specialized CTA button to the right. And in between, it gives you plenty of room for more navigation links.
So I added another category page to the new navigation and changed "Brewing" to "Homebrewing" because that's a better keyword for the site. And I now have room for even more navigation links in the future.
I also updated the footer with a bunch of links to my best content, company pages, and my social media accounts.
Improve The Course Sales Page
Now that I'm getting more signups, that means more people are visiting my one-time-offer (OTO) page to get 50% off my course. So I'm going to make some improvements to hopefully boost my sales conversion rate.
This page is hosted on Leadpages. I host all my sales pages and one-off landing pages there. Mainly because it's super easy to build on and I don't need those pages to rank. Otherwise, I'd build them on my WordPress site.
Leadpages also allow me to A/B test pages to see what converts better. But for this task, I'm just gonna make the improvements and call it a day. I think anything will be better than what I have. Here are the changes I'm making:
Better overall design.
Write a more compelling headline.
Include multiple CTA buttons to buy the course at 50% off.
Write better sales copy that tells a story.
Great new graphics for the product.
List out all the modules and lessons.
Add a money-back guarantee.
Here's a before and after video of the changes I've made to the sales page.
Creating The Sales Video
Once I finished updating the sales page design and copy, I created a quick sales video. Since I didn't have a sales video at all, any sales video would be good.
Therefore, I didn't create a script. All I did was take my DSLR equipped with a microphone out to my brewery and hit record.
Everything in the video below was completely off the top of my head.
I probably filmed for about 15 minutes. But most of the time spent on this video was done in post. There, I crafted the message out of all the copy I spit out.
You'll notice all the zoom cuts to hide the edits. I also added some lower thirds, music, and a few animations just to keep the energy up.
In total, this video took me about 2 hours to make. And it's exactly two minutes.
The one last thing I had to do is duplicate the sales page. I created the OTO page in LeadPages. And then copied everything over to the original page hosted on Podia.
Here's the Podia sales page version.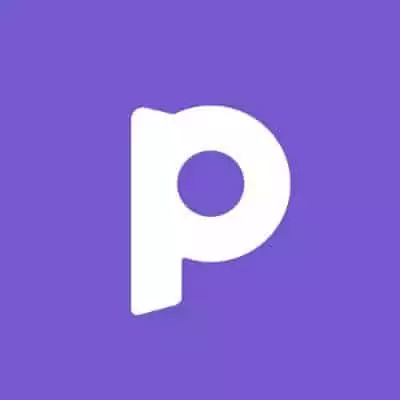 Podia: Digital Product Hosting
Everything you need to sell online courses, downloads, and memberships without worrying about the tech. This is what I use to host all my online courses.
Start A Free Trial
Matt Giovanisci (me) earns a commission if you click this link and make a purchase at no additional cost to you.

Results From Updating the Sales Page
I love building in public. The main reason is getting real-time feedback on my work. After improving my course sales page, and putting out the video above, I got this comment on YouTube that I think really helped me out.
That simple headline change was crucial. The headline along with my new sales video bumped up my OTO conversion rate up to 1.5%. Originally it was about 0.5%.
In the week since this page and video have been up, I've got 3 sales. That may not seem like a lot, but that's usually the number of sales I get in a month! So far, these improvements have helped fix the leaky bucket.
Improve and Optimize Content
Coming soon!
Create an Editorial Calendar
Coming soon!
Matt Giovanisci
I own three authority sites across different niches, including Swim University, Brew Cabin, and Money Lab. They earn a combined total of roughly $1,000,000 a year. I design and code all my sites. Write the words. Film and edit the videos. Produce the podcasts. Illustrate the graphics. And I have a small team that helps too.